PHILIPPIANS: EPISTLE OF JOY
By
Jim Gerrish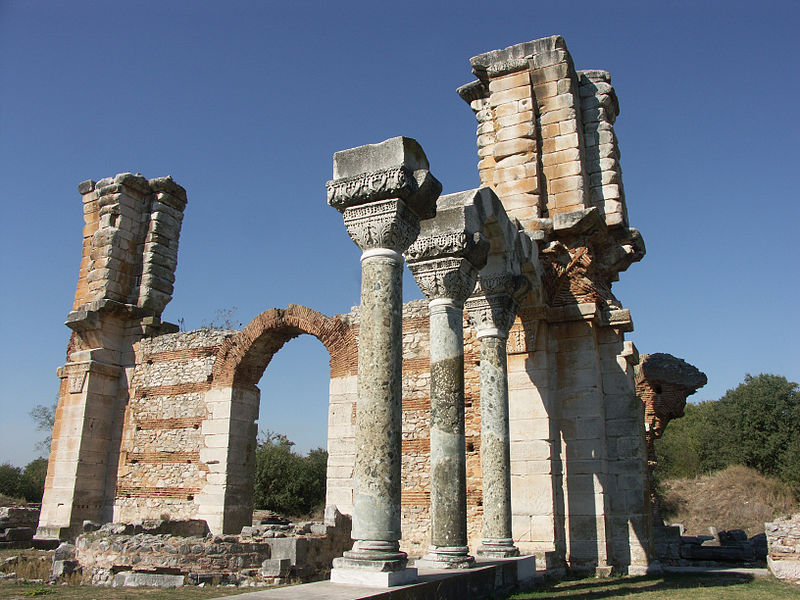 Basilique_B_à_Philippes (at Philippi)
Wikimedia Commons
Copyright © Jim Gerrish 2014
PHILIPPIANS INTRODUCTION
The Philippian letter is part of the group of Paul's epistles written while he was prisoner in Rome around AD 60-62.  Thus they are called the Prison Epistles. These letters are made up of Ephesians, Philippians, Colossians and Philemon.  It is thought that Philippians was written in the latter part of this prison period. 1   Unlike many other letters of Paul, this one is more of a personal and informal letter.  Over the centuries, it has endeared itself to the hearts of many Christians and still stands as one of Paul's most popular letters.
Paul's ministry at the Macedonian city of Philippi was not by his own direction.  We learn in Acts 16:6-10, that Paul was intent on going to Bithynia but was re-directed by the Holy Spirit with a vision, to cross over and introduce the gospel into Europe. In Acts 16:9, Paul tells of his vision of a man saying, "Come over to Macedonia and help us."  Immediately, Paul and his party set out to sea toward the port city of Neapolis and then on to Philippi. Because Paul obeyed and went to Europe, the gospel has come to us in the West.
Philippi was an important city and we can understand why the Spirit of God directed Paul and his party there.  The city was established by Philip II of Macedon in 356 BC.  This Philip was the father of the famous world conqueror, Alexander the Great.  We can understand why Philip was interested in this city.  It controlled a main entrance into Europe from Asia and was situated on what would later become the ancient Roman turnpike called the Egnatian Way.  This great roadway covered a total distance of about 1,120 km (696 miles / 746 Roman miles). 2   Of course, Philip was probably interested in the rich farmland in the area as well as the presence of gold in the nearby hills.  In 168 BC the city and the remainder of Macedonia came under the control of Rome.
Much later, it was at Philippi that Octavian (Augustus) and Mark Anthony defeated the assassins of Julius Caesar (42 BC).  After the battle, Philippi became a Roman colony (cf. Acts 16:12) and its residents became Roman citizens. 3
It was thus to this Roman colony that Paul and his party were directed by the Holy Spirit on the Second Missionary Journey (AD 49-52).  Paul's usual practice was to take the gospel first to the Jews (Rom. 1:16).  This seemed impossible at Philippi since there was obviously no Jewish synagogue there. 4  Instead, Paul found a band of God-fearing women who met for Sabbath prayer at a nearby river.  From this small but faithful group the church at Philippi was formed and began to meet in the house of Lydia, a seller of expensive purple cloth (Acts 16:14, 40).
The missionary band met the usual resistance in the city and soon Paul and Silas were imprisoned.  Miraculously, they were freed from chains and as a result of this miracle the Roman jailor was converted, along with his whole family.  So, from its outset, the church at Philippi was born in suffering.
The church at Philippi became one of Paul's most beloved churches, often sending gifts and relief for his missionary work.  When Paul was at last confined to prison in Rome the church sent Epaphroditus to him with a gift and encouragement.  Unfortunately, Epaphroditus got dreadfully sick and almost died while with Paul.  The letter of Philippians was sent back to Philippi, probably with the recovered Epaphroditus.  The letter is an informal one, sent from a friend to his friends.  Paul's great longing and hope was that he would soon be released from Roman prison and be reunited with his dear friends at Philippi (1:26; 2:24).
CHAPTER 1
Paul and Timothy, servants of Christ Jesus, To all the saints in Christ Jesus at Philippi, together with the overseers and deacons:"  Philippians 1:1   
As Paul lingered under Roman house arrest, we see that Timothy, one of his favorite helpers and trouble-shooters, was present with him.  He was undoubtedly well-known to the Philippians (Acts 16:10-12).  We should be aware however that the letter is not from Timothy but from Paul.
Because of his very close relationship to this church, it was not necessary for Paul to use his customary designation of "apostle."  Instead, he refers to Timothy and himself as "servants."  This is the Greek word douloi and it simply means "slaves."  It was the normal description of Christians in the first century.  The Methodist evangelist William Godbey sees a close connection to the term "slave" with the account of Exodus 21:5-6, where a freed servant is unwilling to leave his master.  In this account the master then shall take him to the doorpost of the house and pierce his ear.  He would then remain the man's servant always.  Godbey mentions the flow of blood as the slave is nailed to the door and remarks how closely this follows the account of our being crucified with Christ. 1
Today as servants or slaves of God, how eagerly we must remain with an ear toward the doorpost of our Master Jesus.  As Proverbs 8:34-35 says, "Blessed is the man who listens to me, watching daily at my doors, waiting at my doorway.  For whoever finds me finds life and receives favor from the LORD."
Here, as is customary throughout the New Testament, Paul refers to the believers in Philippi as "saints."  This has become a very confusing term for folks in our age.  When we think of saints we tend to think of those supremely holy figures in the stained glass windows of churches or of some deceased individual who has become beatified by the Pope.  In the New Testament, saints were just plain Christians who had become justified and sanctified by their simple belief in Christ. The eminent theologian Karl Barth says of the term: "'Holy' people are unholy people who nevertheless as such have been singled out, claimed and requisitioned by God for his control, for his use, for himself who is holy." 2
Paul was following the normal letter style of his age.  Although it may sound a bit stilted in our day, we can be thankful "that in a Pauline letter the opening paragraphs are not meaningless pleasantries, like 'Dear John' and 'Sincerely yours,' but powerful expressions of the gospel and critical guides to the proper understanding of the letter…" 3
This letter is addressed to the saints "in Christ Jesus."  This is a very important theological expression to Paul.  The expression "in Christ Jesus" is said to occur 48 times in the New Testament.  Other kindred expressions like "in Christ," appear 34 times and "in the Lord" occurs 50 times.  This expression is called the "essence of Christianity." 4    We must understand that our position of being "in Christ" did not just begin in recent times.  The scripture says, "For he chose us in him before the creation of the world to be holy and blameless in his sight…" (Eph. 1:4).
In his letter Paul singles out overseers and deacons.  Interestingly, this is the first time that Paul does this in his headings.  It is also interesting that after mentioning the two church offices he says nothing else about them. 5  It has become especially clear in modern scholarship that overseers, are the same as bishops and elders.
"Grace and peace to you from God our Father and the Lord Jesus Christ" (1:2).  We have mentioned in other places that grace (charis) and peace (eirene) must be in that exact order.  Grace must come before peace.  There can be no real peace unless one has experienced the grace and forgiveness of God offered to us all in Jesus Christ.  It is interesting that Paul is taking two words for greeting, one from the Greek world and the other from the Hebrew world, and is uniting them together here. 6
The influential English pastor and writer, F.B. Meyer, says, "This is the tenderest of all the Epistles. There is no chiding or rebuke.  It is suffused throughout with words of good cheer, of joy and peace, though it was written in bonds to which the apostle makes frequent reference (Phil. 1:7; 13-16). There is no trace of despondency or gloom…" 7   This letter is a joyous one from friend to friends, since this church was closer to Paul than all the others.  This epistle is even called the Epistle of Joy. 8
PAUL'S THANKSGIVING AND PRAYER
I thank my God every time I remember you.  Philippians 1:3  
Paul's thanksgiving has touched people and strummed heart-strings through the ages.  I well remember how my wife to be, when we first began to date in college, gave this precious verse to me. She said it fully expressed her feelings about me.  It meant so much then and we both continue to feel this way about each other after 57 gloriously happy years of marriage.
We might wonder today if we bring joy or sorrow to other people.  We might ask ourselves if our pastor thanks God every time he remembers us.9   Hebrews 13:17 charges us: "Obey your leaders and submit to their authority. They keep watch over you as men who must give an account. Obey them so that their work will be a joy, not a burden, for that would be of no advantage to you."  
Paul continues in his thanksgiving saying, "In all my prayers for all of you, I always pray with joy because of your partnership in the gospel from the first day until now…" (1:4-5). It is a wonderful thing when we can pray for others and not just for ourselves.  The prolific commentator and Greek scholar, William Barclay relates a touching story about this:
 George Raindrop in his book No Common Task, tells how a nurse once taught a man to pray and in doing so changed his whole life, until a dull, disgruntled and dispirited creature became a man of joy. Much of the nurse's work was done with her hands, and she used her hands as a scheme of prayer. Each finger stood for someone. Her thumb was nearest to her, and it reminded her to pray for those who were closest to her. The second finger was used for pointing and it stood for all her teachers in school and in the hospital. The third finger was the tallest and it stood for the     V.I.P.s, the leaders in every sphere of life. The fourth finger was the weakest, as every pianist knows, and it stood for those who were in trouble and in pain. The little finger was the smallest and the least important and to the nurse it stood for herself. 10
We see here that Paul prayed for other believers with joy.  Prayer was no tiresome and dreary thing for him.  The distinguished Greek scholar, A.T. Robertson, reminds us how joy (chara) is the keynote of this whole epistle.11  It is truly amazing that Paul could remember so many people in so many churches and how he could pray so earnestly for people he had never met in person.  When we consider the many church problems and burdens that must have been on this great apostle's mind, we simply wonder how he could have concerned himself with all these people.  We wonder how he could pray for others at all, and pray for them with joy, considering that he himself was languishing in confinement.
In this verse we also run into the word for partnership or fellowship (koinonia).  This is a very important term in the New Testament and it has several meanings.  It expresses the idea of community, and that in contrast to pleonexia, which speaks of that selfish or grasping spirit so prevalent in our age.  Koinonia is the common expression for loving Christian fellowship.  However, it also speaks of a business partnership or even a marriage partnership where all things are shared.  It even speaks of our relationship with God. 12  In this verse the term seems to apply to partnership or sharing in the gospel. 13   There are several places in the New Testament where the word has to do with giving (cf. Rom. 15:26; 2 Cor. 8:4; 9:13; Heb. 13:16).  It may be a new idea to us that "fellowship" has a great deal to do with sharing with others or even sharing in the expense of ministry work.
Today at least 70 percent of Christians do not seem to think that the fellowship of the church is important. 14  They find it easy to drop out of regular fellowship and they refuse to share in the work of the church.  Perhaps Cyprian, the Bishop of Carthage, was not so far off when he said, "He can no longer have God for his Father, who has not the church for his mother." 15   No doubt, Cyprian was thinking more in terms of the Catholic Church and how people were being scattered by heresy and persecution, but the statement has relevance for us today, as Christians are being scattered once more by heresy and by the divisive pressures of this present evil age.  The evangelist Ray Stedman says here, "There is no such thing as a solitary Christian, one who has no relationship with anyone else…one of the first signs the scriptures tell us of new life in Christ is that we love the brethren."  16
So Christian fellowship or koinonia has many faces.  It is sharing in prayers (Phil. 1:19), in financial support (Phil. 4:10), in witness (Phil. 1:27; 2:15), in suffering for Christ (Phil. 1:29-30), in maintenance of one another (Phil. 2:3-4) and in worship together (Phil. 2:17-18). 17 It is really a beautiful and "all inclusive" word.
The apostle now continues with one of the great, faith-building verses of the New Testament.  He boasts, "…being confident of this, that he who began a good work in you will carry it on to completion until the day of Christ Jesus" (1:6).  F. B. Meyer once said: "As we go into God's great workshop we find nothing that bears the mark of haste or insufficiency of power to finish, and we are sure that the work which his grace has begun, the arm of his strength will complete. It is easy to pray for a soul when you know that God also is at work perfecting it." 18
This great verse has been a favorite of many. The popular Reformed theologian, James Montgomery Boice, felt it was one of the three most important verses in the Bible.  Certainly, it assures even the most timid Christian that God will bring him or her through to the end.  In theology this is known as the perseverance of the saints.  The theologian, Louis Berkhof remarked about this saying: "It is, strictly speaking, not man but God who perseveres.  Perseverance may be defined as that continuous operation of the Holy Spirit in the believer, by which the work of divine grace that is begun in the heart, is continued and brought to completion.  It is because God never forsakes his work that believers continue to stand to the very end." 19
We see in this verse that the Lord will complete us, guard us and deliver us victoriously to the Day that is to come.  The concept of the Day of the Lord is a very common one throughout the Bible.  It is expressed in many ways, as "the day of our Lord Jesus Christ" (1 Cor. 1:8); "the day of the Lord Jesus" (1 Cor. 5:5; 2 Cor. 1:14); "the day of Christ" (Phil. 1:10; 2:16); "His day" (Lk. 17:24); "the day that the Son of Man is revealed" (Lk. 17:30); "the revelation of our Lord Jesus Christ" (1 Cor. 1:7); "when the Lord Jesus shall be revealed from heaven" (2 Thess. 1:7); "in the presence of the Lord Jesus at His coming" (1 Thess. 2:19).20  This expression designates the end of history when God will judge all nations and when the kingdoms of this world will become the kingdoms of our Christ.
In scripture we see that Christians were being prepared to meet the Lord on that day—to stand the test and pressures of that day and meet the Lord in total victory.  How tragic that we seem to have lost this whole important concept in the modern and postmodern church.
SHARING GOD'S GRACE
It is right for me to feel this way about all of you, since I have you in my heart; for whether I am in chains or defending and confirming the gospel, all of you share in God's grace with me.  Philippians 1:7
We really get a feel of New Testament love in this verse.  Paul, the famous apostle, was no doubt a man of many cares, concerns and with weighty decisions pressing upon him, as any top executive would be.  Yet, he had time to hold individual saints in far off places in his heart.  Of course, there is a lot of difference in having people in our hearts and just in our heads.  We know that we have passed from death to life when we can love others like this (1 Jn. 3:14).
Once more we see the meaning of Christian fellowship (koinonia).  As we mentioned, it is a sharing together in suffering as well as sharing together in the work of the gospel.  The famous early preacher John Chrysostom (c. 347–407) advised: "Hast thou seen thy brother in trial? Hold out a hand!  Hast thou seen thy teacher in conflict? Stand by him!" 21
"God can testify how I long for all of you with the affection of Christ Jesus" (1:8). Paul's feelings for others were not just a surface and passing thing.  He was a "passionate lover of Christ's people." 22 The Greek word for Paul's deep feelings of others is splagchna and this might compare to our expression "gut feeling."  The Greeks believed that the seat of a person's emotions was located in the upper intestines, including heart, liver and lungs. 23  It is a deep-down feeling that Paul is expressing here.  It was no doubt somewhat akin to the feeling Jesus must have had when he died on the cross for each of us.
LOVE THAT ABOUNDS
And this is my prayer: that your love may abound more and more in knowledge and depth of insight, Philippians 1:9  
It is always interesting how Paul prayed for people.  He didn't say, God bless Joe, God bless Mary, and so forth.  He prayed that people would abound with knowledge and deep understanding.  One of his great prayers is found in Ephesians 1:17-19.  He prays:
I keep asking that the God of our Lord Jesus Christ, the glorious Father, may give you the Spirit of wisdom and revelation, so that you may know him better.  I pray also that the eyes of your heart may be enlightened in order that you may know  the hope to which he has called you, the riches of his glorious inheritance in the saints, and his incomparably great power for us who believe….
What a difference it would make in the church if we all prayed for each other in this fashion!  Paul is very concerned that Christians increase in knowledge.  The word here for insight is epignosis, and it means a full, complete and experiential knowledge. Professor emeritus, Gordon Fee, says: "The primary sense of the word translated knowledge is not so much 'knowledge about' something as the kind of 'full' or 'innate' knowing that comes from experience or personal relationship." 24  Peter tells us (2 Pet. 1:5-7) that we should be diligent to add certain things to our faith.  We should first add goodness, but second we should add knowledge.  Christians are not generally so intent on doing this today.
Christian love is to abound and increase in knowledge. The term for "abound" is perisseuō, and it conveys the idea of overflowing and becoming a perpetual flood. 25
Paul continues with his prayer, "…so that you may be able to discern what is best and may be pure and blameless until the day of Christ," (1:10).  Divinity Professor, Frank Thielman, sums it up saying, "Paul's basic requests for the Philippians, in other words, is that they might express their love in ways that show both a knowledge of how to obey God's will generally, and more specifically, of how to make moral decisions based on God's will in the give-and-take of everyday living." 26  Christians need discernment in this age of spiritual deception.  The term for discern is dokimazaō and it is a term from metallurgy.  It was a means of testing coins and precious metals in the fire in order to prove their
worth. 27
The word pure or sincere used here is eilikrinēs.  It means "that which is judged in sunshine."  28  Many things can look good in the shade.  When I buy strawberries in the open markets I like to get them in the bright sunlight.  Immediately, the quality of the item is evident in the bright sun.  Too many Christians are walking in the shadows today.  We need to walk directly into the light of Christ and all the shadows will be behind us.  People will then see us for what we really are and hopefully they will see Christ in us.
The idea is that we may be pure and blameless unto the Day of Christ.  This is a concept that is almost lost in our modern and postmodern churches as we have mentioned.  Much emphasis is placed upon escaping the world, but almost no emphasis is placed on meeting Christ on that great day and presenting our spiritual fruit to him.  This simply must change.  In Israel we used to watch the devout Jews inspect their citrons and palm branches at Tabernacles (Sukkot).  We were amazed to see some of them using magnifying glasses to make sure the specimen they would wave before the Lord were complete and perfect.  There must be a lesson for us in this, since Tabernacles is an end-day festival and clearly speaks of the Lord's coming.
The apostle finally finishes his long sentence saying that we should be, "filled with the fruit of righteousness that comes through Jesus Christ— to the glory and praise of God" (1:11).  Fruit is such a wonderful and glorious symbol.  It happens so naturally, providing the branch is joined to the tree or vine.  The tree does not grunt in pain as it produces fruit.  It happens so naturally and so beautifully.
The Lord in his return will not be looking for the gifts he distributed among us but he will be looking for fruit.  As John says, he will be looking for "fruit," "more fruit" and "much fruit" (Jn. 15:2-5).  Gifts pass away but fruit remains (1 Cor. 13:8).
What kind of fruit will he be looking for?  We have several lists in the Bible.  In Galatians 5:22-23 we find a very familiar list: "But the fruit of the Spirit is love, joy, peace, patience, kindness, goodness, faithfulness, gentleness and self-control. Against such things there is no law."  We might ask, how many gentle people do we know today?  How many gentle leaders do we have around?  Then, how about patience and self-control?  There is not much of either in our "instant gratification" society.  We read of more fruit in Ephesians 5:9 where it says, "(for the fruit of the light consists in all goodness, righteousness and truth)."  In James 3:18 we read, "Peacemakers who sow in peace raise a harvest of righteousness."
The great Farmer of the earth will soon return to inspect and gather in his harvest.  Will he find only dried up prunes of self-pity on our trees, or sour grapes of wrath on our vines?  Will he find beautiful delicious apples and sparkling ripe oranges in their stead?  Will the Farmer of the ages be able to say, "…Well done, good and faithful servant…!" (Matt. 25:23).
ADVANCE THROUGH SUFFERING
Now I want you to know, brothers, that what has happened to me has really served to advance the gospel.  Philippians 1:12  
No doubt, the saints at Philippi were greatly concerned about Paul since they had sent Epaphroditus to him with a gift. Now, Paul is reassuring them that not only is he doing well but the gospel is advancing because of his condition.  Most of us, unlike Paul, would probably have used the opportunity of the epistle to complain about being chained in jail, about being cold and having poor food.  We need to remember always the words of Jesus: "But seek first his kingdom and his righteousness, and all these things will be given to you as well" (Matt. 6:33).
Paul adds: "As a result, it has become clear throughout the whole palace guard and to everyone else that I am in chains for Christ" (1:13).  At the end of the Book of Acts, Luke informs us of Paul's Roman imprisonment.  He tells us: "For two whole years Paul stayed there in his own rented house and welcomed all who came to see him.  Boldly and without hindrance he preached the kingdom of God and taught about the Lord Jesus Christ" (Acts 28:30 -31).  Other scriptures make clear that this was a house arrest.  Many commentators feel that although Paul had freedom to minister, he was nevertheless chained to a Roman soldier as was the custom at that time.  Barclay describes this chain saying: "The halusis was the short length of chain by which the wrist of a prisoner was bound to the wrist of the soldier who was his guard." 29
It appears that by this time considerable suspicion was arising about Paul and the Christians of Rome.  Soon Nero would bring about a very severe persecution upon them. 30 However, it seems here that much of the suspicion about Paul was dispelled because of his exemplary conduct.  Paul had begun to make a favorable impression on the palace guard.  This word praitōriōi can be a reference to the special Praetorian Guard or it can also refer to the palace of Caesar.  Eventually this guard became so powerful that they became the "king makers" of the empire. 31
We can just imagine the impact it had upon soldiers to be chained to the great apostle Paul.  They were privileged to listen as he recounted his miraculous conversion to others.  When he bowed for prayer the soldier necessarily had to bow with him and listen as he prayed and praised God.  Since the soldiers rotated on four-hour shifts, 32  we can understand how the gospel began to reach the whole elite Praetorian Guard.  Robertson thinks that there were as many as ten thousand of these special guards, although they were not all located in Rome. 33
While we do not know how many of them came to the Lord, we do know that Paul made a great impact upon them and the whole palace.  Paul Kretzmann, Lutheran pastor and Concordia professor, comments: "It had become manifest in Rome that Paul was a prisoner only for the cause of Christ and for no other reason. He was not guilty of any crime, but had been made captive only because he preached Christ. The fact of his innocence had become generally known in the entire body-guard of Caesar." 34
We can no doubt think of instances where the messenger of the gospel had to labor under extreme conditions and perhaps was persecuted or even imprisoned.  Still, somehow the gospel bore fruit.  Warren Wiersbe, Bible teacher, conference speaker and prolific writer, tells of Susannah Wesley, the mother of nineteen children.  Somehow in all her bondage of motherhood she managed to produce John and Charles and through them changed the British Isles.  He tells of Fanny Crosby who was blinded as a youngster but despite her chains of darkness went on to become a mighty force for God through her wonderful hymns and gospel songs. 35 Although these were "chained," the gospel was not chained, and so it was with Paul.
"Because of my chains, most of the brothers in the Lord have been encouraged to speak the word of God more courageously and fearlessly" (1:14).  So Paul's imprisonment turned out to be a success story.  Rather than feeling sorry and concerned for Paul, the brothers and sisters now had occasion to praise the Lord for his chains.
In recent years, Thomas Oden visited the much persecuted church of Cuba.   He learned that after 35 years of miserable oppression the Methodists had grown from 6,000 to 50,000 members.  He saw it as nothing short of a spiritual revolution.  The best efforts of Fidel Castro had not succeeded in stamping out the church. Even in a bad economy the members were able to rejoice that Cubans could easily see the difference between the people of God and those who were trying to live without faith. 36
SELFISH AND AMBITIOUS PREACHERS
It is true that some preach Christ out of envy and rivalry, but others out of goodwill. The latter do so in love, knowing that I am put here for the defense of the gospel.  Philippians 1:15-16  
It seems that there was a lot of jealousy among preachers even in the first century.  Some preached from goodwill but others out of envy and rivalry.  Paul's attitude here is amazing.  He simply rejoiced that the gospel was preached, regardless of who preached it.  If we could but have Paul's attitude today it would quickly end a lot of ministerial contention.
Sometimes the gospel is declared in strange ways.  Balaam heard the word of the Lord from a lowly donkey (Num. 22:27-30).  In the last days we see an eagle (an unclean bird) proclaiming the truth of God in the airwaves (Rev. 8:13).  Maybe some of the TV preachers are still getting the word out despite all their seeming pretense and hoop-la.
Godbey tells this true story that happened in the ministry of Seth Meade.  Meade was an early Methodist preacher in the US.  In his former unsaved days he and a companion were traveling on horseback through the wilds of the Carolinas and headed for their home in old Virginia.  Since their money was exhausted they were perplexed about how they were to survive.  They thought of hiring themselves out or even begging.  Then they hit upon the idea of pretending to be preachers.  After all, Seth's father was a Methodist circuit rider under Bishop Asbury.  They agreed to this plan and were soon directed to a home where there was a celebrated Methodist class leader.  They expected that there they could at least get some free food and lodging.
When they arrived at the class leader's home they promptly introduced themselves as preachers.  To their surprise the Methodist leader in great excitement sent his several children in all directions bidding them to announce to everyone that two Methodist preachers were in his house and that there was to be a meeting.  The poor wayfarers were almost scared to death.  In their desperation, Seth decided that he was able to do some preaching since he remembered some of his father's old sermons.   It was decided that his friend could do the praying.  Soon the house became filled as people poured in from all directions.  Seth's friend quickly backed out on the praying, but the people began to sing uproariously and pray vociferously as Methodists were prone to do in those days.
Seth in his testimony of that night says that he started off with one of his father's old sermons but it turned out to be the hardest work he had ever done.  He says:
At the expiration of ten minutes he lost his whereabouts, recognizing himself and environments about midnight, when the house was roaring with the shouts of new-born souls, commingled with the groans and cries of penitents stretched out on the floor. Among those who had passed triumphantly from death to life    were he and his companion, both of whom from that notable hour became Methodist preachers… Seth says the people told him that when he  had preached about ten minutes, an awful conviction fell on them, pervading the entire congregation, many falling on the floor; meanwhile he spoke about two hours, literally preaching himself into the kingdom. 37
The word of God has power even in the mouths of pretenders.  The Spirit can move even in the midst of a seeming unspiritual situation.
"The former preach Christ out of selfish ambition, not sincerely, supposing that they can stir up trouble for me while I am in chains" (1:17).  These people were probably not Judaizers or Gnostics, but were supposedly Christians.  They were just selfish, ambitions trouble-makers in the church.  Stedman tells of some selfish Christians he once met in the mountains of West Virginia.  They were complaining how terrible things were and what an awful year they had experienced in the church, with many setbacks.  Stedman says they then smiled and said, "But thank God, the Methodists haven't done any better." 38
REJOICING WHEN CHRIST IS PREACHED
But what does it matter? The important thing is that in every way, whether from false motives or true, Christ is preached. And because of this I rejoice. Yes, and I will continue to rejoice, Philippians 1:18  
The great sixteenth century reformer, John Calvin, says, "God sometimes accomplishes an admirable work by means of wicked and depraved instruments." 39  We think of John Wycliffe (d. 1384) who was insistent upon translating the Bible into the language of common people.  He was persecuted severely by the authorities and finally burned at the stake by supposed Christians.  However, through his life, his work and sterling testimony, the word of God has been published, preached and proclaimed to countless millions.
Paul continues, saying: "for I know that through your prayers and the help given by the Spirit of Jesus Christ, what has happened to me will turn out for my deliverance" (1:19). The apostle was never under the illusion that he could do the work of God without the prayers of God's faithful people.  Many times in his ministry he asked for prayers from the churches (cf. 1Thess; 5:25; 2 Thess. 3:1-2; 2 Cor. 1:11). Meyer says, " …The angels visited Sodom, laid their hands on Lot, and led him forth because Abraham, yonder on the heights, was pleading with God that if there were ten righteous, he would not destroy the city, not knowing that God was more eager to save Sodom than he to pray for it." 40
The term "deliverance" used here is the Greek term sōtēria, and it most often means "salvation" in a spiritual sense.  However, in its usage here it speaks of the physical sense as it is often employed in the Old Testament. 41
"I eagerly expect and hope that I will in no way be ashamed, but will have sufficient courage so that now as always Christ will be exalted in my body, whether by life or by death" (1:20).  The word Paul uses for "eagerly expect" is the unusual Greek term apokaradokia.  It means to look eagerly, intensely while turning away from everything else and fixing one's desire on only one thing.42  Paul was determined to exalt Christ whether he lived or died.
Thielman comments upon this verse in relation to our age saying: "The culture of the Western world at the turn of the twenty-first century, with its elevation of personal freedom and individual rights above virtually every other ideal, does not provide a friendly environment for the development of the notions that Paul expresses here, and we are who are products of that culture will have to resist the temptation to soften the impact of this passage." 43
LIVING OR DYING IN CHRIST
For to me, to live is Christ and to die is gain. Philippians 1:21  
Here, as well in other verses like 1:23, 2 Corinthians 5:8 and 1 Thessalonians 4:14, the apostle makes clear that he expects to pass from this earth directly into the presence of Jesus.  This effectively does away with the idea of "soul sleep" a notion which is still held by a few denominations.  This idea is based on two or three rather obscure passages like Ecclesiastes 9:5.  The above verse also does away with the idea of an intermediate state of existence after one dies. This was very much a teaching of the Old Testament in the idea of Sheol (Greek Hades), the abode of the dead.  It appears that both the righteous and unrighteous dead were there, but were not in the same place.  The righteous were in Abraham's bosom while the wicked were being punished already in the flames (Lk. 16:20-31).  In the Old Testament all these were awaiting the sacrifice of Jesus on the cross with their final redemption and/or judgment.
There has been some confusion in the church about this.  Polycarp, the early martyr (69-155), said of the saints: "They are in their due place in the presence of the Lord." 44  However, others like Hippolytus (c. 205) spoke like several of the fathers saying: "But the righteous (who will obtain the incorruptible and unfading kingdom) are indeed presently detained in Hades, but not in the same place with the unrighteous." 45  Certainly Paul was not speaking about an intermediate state in this verse.  He was expecting to immediately be with the Lord and receive great reward or gain. 46
Perhaps we should look at Ephesians 4:8-10 in order to clarify this further: "This is why it says: 'When he ascended on high, he led captives in his train and gave gifts to men.'  (What does 'he ascended' mean except that he also descended to the lower, earthly regions?  He who descended is the very one who ascended higher than all the heavens, in order to fill the whole universe.)"  Indeed, Jesus descended to Hades, but he ascended, taking the faithful captives of Hades in his train (cf. Isa. 25:8).  In the Book of Revelation (and before the return of the Lord) the righteous are pictured as being in heaven with Jesus (cf. Rev. 4:9-11; 6:9-11; 7: 9-10).
The statement of Paul, "For to me, to live is Christ and to die is gain" hits us like a thunderbolt.  Wiersbe says: "Philippians 1:21 becomes a valuable test of our lives:  'For to me to live is ____ and to die is _____.'  Fill in the blanks yourself." 47  How will we answer this test in our postmodern age?  Will we have to say, "For me to live is my job…for me to live is football…for me to live is making money or having fun.?"  If we say such things, then to die is dreadful.  Such a thing as death is almost unthinkable for postmoderns who are assured that they must possess life, liberty and the pursuit of happiness always.
"If I am to go on living in the body, this will mean fruitful labor for me. Yet what shall I choose? I do not know!  I am torn between the two: I desire to depart and be with Christ, which is better by far; but it is more necessary for you that I remain in the body" (1:22-24).  Paul seems in a quandary here.  His beaten, ragged and imprisoned body desires to be with the Lord.  Yet, the minister in him desires to stay on and help needy saints.
This desire of Paul is not in any way to be compared to the darkness and gloom of suicide, which is becoming quite a problem in our day, especially with the youth.  Paul absolutely had no thought of ending his own life.  For the Jewish culture then and even today, this was and is unthinkable.  Paul knew his life was in the hand of the Lord (Psa. 31:15).
We see the struggle of suicide in William Shakespeare's play Hamlet.  In the tragic play a despondent Prince Hamlet contemplates death by suicide. As he weighs the sorrows of life against the terrors of death he makes the famous sigh, "To be, or not to be, that is the question." 48  We can rest assured that there were no such thoughts in the mind of the great apostle.
God willing, Paul was ready to go home.  In 1862, John M. Neale wrote the words of the beautiful hymn, Safe Home, Safe Home In Port! The lines go:
     Safe home, safe home in port!

     Rent cordage, shattered deck,

     Torn sails, provisions short,

     And only not a wreck;

     But oh! the joy upon the shore

     To tell our voyage—perils o'er! 
Actually the word Paul uses here for "depart" in verse 23 is analuein.  It has the meaning of striking camp, pulling up the tent pegs and moving on.  It also has the nautical meaning of loosening the moorings, lifting the anchors and setting sail. 49
Paul was really in straits with his struggle.  In this same verse (v. 23) he uses the Greek word sunechomai.  This term describes a traveler caught in a narrow defile with a wall of rock on each side, being unable to turn but only able to go straight. 50
CHOOSING TO REMAIN AND LABOR
Convinced of this, I know that I will remain, and I will continue with all of you for your progress and joy in the faith, so that through my being with you again your joy in Christ Jesus will overflow on account of me. Philippians 1:25-26
In verse 24 Paul has clearly decided to remain and labor with the saints of God.  Many commentators today believe that Paul's two years of house arrest ended, and that around AD 63 or 64 he was then able to launch what we might call his Fourth Missionary Journey. 51  One of the places he was sure to go on this journey was to Philippi.  Also, he had essentially promised Philemon, at the church of Colossae in Asia Minor, that he would visit there after prison.  He had even asked Philemon to prepare a guest room for him (Phile.1:22).
In verse 26 the apostle uses a very strong word for the joy he expects feel over the Philippians.  The term is kauchema.  It is an expression that is difficult to translate into English.  It means "joy" but it also means that Paul will be able to "boast" or "glory" in the Philippians once he is again with them. 52
STANDING WORTHY OF THE GOSPEL
Whatever happens, conduct yourselves in a manner worthy of the gospel of Christ. Then, whether I come and see you or only hear about you in my absence, I will know that you stand firm in one spirit, contending as one man for the faith of the gospel …Philippians 1:27  
Paul uses an unusual expression with the words "conduct yourselves."  The Greek word is politeuesthe and it is a political metaphor.  We see it again in 3:20-21.  The people of Philippi were fortunate in that they were able to live in a Roman colony and thus be Roman citizens.53  No doubt, they must have felt a great deal of pride in this achievement.
It is interesting how Paul immediately applies this to their citizenship in heaven, charging them to walk worthy of the gospel.  After all, believers are citizens of the heavenly city as he will say later in 3:20 (cf. Eph. 2:19; Heb. 12:22).  With this we are reminded of that poem written by Paul Gilbert.
     You are writing a gospel, 
     A chapter each day,
     By deeds that you do, 
     By words that you say.

     Men read what you write,
     Whether faithless or true;
     Say, what is the Gospel
     According to you?
Some commentators feel that Paul is beginning to get to a main purpose of his letter and that is to urge unity among the Philippians. 54  Schism in the church is a common thing today but few Christians seem to realize that schism is a work of the flesh.  In Galatians 5:19-21 we see that "discord," "dissensions" and "factions" are all listed as acts of the sinful nature.  Unless the church is dealing with apostasy or doctrinal heresy there is very little reason for divisions to take place.
Paul says to these saints and to us that we must walk or live, "without being frightened in any way by those who oppose you. This is a sign to them that they will be destroyed, but that you will be saved— and that by God" (1:28).  With the word frightened (pturomenoi), the apostle is using the metaphor of a timid or scared horse. 55  I remember as a child how runaway teams of horses would sometimes come down the road, terrifying us children.  As Christians we must not yield to panic.  Obviously, the church at Philippi was beginning to experience some degree of persecution and suffering.
The apostle seems to be saying here that our faith and steadfastness is a sign of doom to those who persecute us (cf. 2 Cor. 4:7-12). This reminds us of a famous poem by Henry Wadsworth Longfellow entitled "Retribution."
Though the mills of God grind slowly;
Yet they grind exceeding small;
Though with patience he stands waiting,
With exactness grinds he all.
We must take care when we are persecuted not to lash out against our persecutors and try to avenge ourselves.  Vengeance belongs to the Lord as it is said in Hebrews 10:30: "For we know him who said, 'It is mine to avenge; I will repay,' and again, 'The Lord will judge his people.'" (cf. Deut. 32:35-36; Psa. 135:14).  Ours is not the way of vengeance but the way of love.  Fee says, "Through 'death on a cross' he not only 'saved us' but modeled for us God's way of dealing with the opposition – loving them to death." 56
"For it has been granted to you on behalf of Christ not only to believe on him, but also to suffer for him, since you are going through the same struggle you saw I had, and now hear that I still have" (1:29-30).  What a statement this is!  God has essentially given us a gift and that gift is suffering.  Each one of us has been granted suffering by God.  We are not to think that God himself is the author of suffering.  He is not the author of it but he does allow it in order to test our metal in the fire, that it might be stronger or in order to prune our tree, that it may be more fruitful.  Because suffering comes from God, at least indirectly we are to rejoice in our sufferings (1 Pet. 4:13).  We know that "suffering produces perseverance…" (Rom. 5:3).  We also know that, "…We must go through many hardships to enter the kingdom of God…" (Acts 14:22).  Tribulation and suffering are guaranteed for the true Christian (Jn. 16:33).  Paul had suffered to give birth to the Philippian church and they could expect no less.
CHAPTER 2
If you have any encouragement from being united with Christ, if any comfort from his love, if any fellowship with the Spirit, if any tenderness and compassion, then make my joy complete by being like-minded, having the same love, being one in spirit and purpose. Philippians 2:1-2
Paul's message here is really a continuation of 1:27-30.  Although this church was a model in many ways, and one dear to Paul's heart, there still seemed to be a ripple of strife and division in it.  We might ask, "Has there ever been a church anywhere and at any time, that such was not the case to some degree or another?"  Even the Jerusalem church, just after Pentecost, had some hard feelings over the neglect of its Grecian widows.  Christians are not perfect but they are on the perfect road.
It seems that in a good-natured way Paul is almost chiding the Philippians.  Of course they have encouragement in Christ and comfort in his love (cf. 2 Thess. 2:16; 2 Cor. 1:3).  Of course they have fellowship with the Spirit.  Of course they are experiencing tenderness and compassion toward others.  Paul says if all these things are true, then they need to be like-minded as well and they need to get along with each other.  That would make for one really happy apostle.
Apparently the Philippians were facing a double threat.  One might have come from without, in the form of false teachers (3:1-3).  The other might have come from within, in the form of squabbling between members (4:1-3).  Paul desired that they have real unity.  Wiersbe notes that there is a difference between unity and uniformity.  He says that real unity is a spiritual thing and comes from within and from the heart.  Uniformity, on the other hand, comes as a result of pressure from without. 1
In the early church it is said of them: "All the believers were one in heart and mind. No one claimed that any of his possessions was his own, but they shared everything they had" (Acts 4:32).  Paul is challenging the Philippians to be "like-minded," and of "one spirit."  The word used for the latter is sumpsuchoi, and it means being of one soul. The nineteenth century American theologian Albert Barnes says here, "Probably there is no single thing so much insisted on in the New Testament as the importance of harmony among Christians." 2  When there is unity in the body, God can do great things just as he did in the  earliest church.
"Do nothing out of selfish ambition or vain conceit, but in humility consider others better than yourselves"(2:3). David Guzik, pastor and web commentator, says of this verse that it "is completely contradictory to the attitude of the world, because lowliness of mind is about the least attractive thing to the thinking of this world…The ancient Greeks considered lowliness of mind to be a fault, not a virtue." 3  Today, our world takes pride in selfish ambition and vain conceit.  In this age of Darwinian Ethics it is accepted that one must gain success by stepping on the heads of the less successful.  After all, if we came from pond slime as the Darwinists say, it is only natural for us to be "slimy" in our ways.
Humility is almost frowned upon in this present evil age.  Sometimes it is even frowned upon in the church as parishioners try their best to advance in position, sometimes crushing or eliminating those weaker members they "use" in the process.  This was not always the case.  One of the greatest figures in the early church was Ambrose.  He was a scholar, as well as an office holder in the government and his reputation was superb.  When the bishop of the district died, there was great discussion as to who would succeed him.  In the confusion, a little child cried out, "Ambrose— bishop!"  Immediately the crowd took up the cry.  Rather than being swollen with pride, Ambrose was appalled.  He fled that night in order to avoid assuming the high church office.  It was only through the direct intervention of the Emperor that Ambrose finally agreed to become bishop. 4
"Each of you should look not only to your own interests, but also to the interests of others" (2:4).  Texas Baptist professor, Bob Utley, says, "Beware of individualistic religion. Christianity is a family experience." 5  Stedman says we should ask ourselves, "How much time am I giving to someone else's interests, if possible, giving priority to other's needs rather than my own." 6
We are to regard others as more important than ourselves.  We should rejoice when they rejoice and weep when they weep.  Does this mean that we must have an inferiority complex of some kind?  No indeed, but we need to have an accurate appraisal of ourselves and not think of ourselves more highly than we ought (Rom. 12:3).  Peter says we should clothe ourselves with humility (1 Pet. 5:5).  The reason is that God resists proud people and gives grace to the humble (1 Pet. 5:5-6).
The way of humility may seem the way of abject failure in our postmodern society.  However, the truth is much different.  Hendricksen says, "True Christianity is still the best answer to the question, 'How can I win friends and influence people?'" 7
FOLLOWING THE PATTERN OF CHRIST
Your attitude should be the same as that of Christ Jesus:  Who, being in very nature God, did not consider equality with God something to be grasped, but made himself nothing, taking the very nature of a servant, being made in human likeness. Philippians 2:5-7  
So we all need an attitude adjustment regarding self and its importance.  The seventeenth century Anglican commentator, John Trapp says, "Self is a great stickler, but must be excluded where love shall be maintained." 8   Paul sets before the Philippians and before us a wonderful and glorious example of how self is to be humbled.  It is the example of Christ Jesus.
Barclay says about this glorious section of scripture: "In many ways this is the greatest and most moving passage Paul ever wrote about Jesus…. this passage is one of the greatest reaches of theological thought in the New Testament." 9 Stedman says of it: "This passage on the glorification of our Lord Jesus is the Mt. Everest among the mountain peaks of revelation concerning the Person of Christ, the amazing story of how the eternal Son of God stepped out of eternity into time, and became a man as God intended man to be." 10 These scriptures make up a most astounding description of the incarnation.
Many scholars have considered this section as the remnant of a great early church hymn.  However, when we closely consider it, this does not seem to be the case.  The section does not appear to be something inserted into the text but rather it is intricately woven together with it.  It is missing one of the important characteristics of ancient hymns.  They were all traditionally hymns of praise, but this is not.  Also, Paul was perfectly capable of originating high-sounding prose and he didn't need to take it from another source.  Finally, no ancient Greek commentator of the church ever considered this passage as poetic. 11
Let us closely examine these incredible scriptures.  Paul says that Jesus was in the very nature of God, yet he did not try to grasp equality with God (v. 6).  The important Greek word used here for the nature or form of God is morphē.  It means the essential form which never changes.  It points to the unchangeable divine being of our Lord.12  The baby Jesus came to the earth as the Son of God, as God incarnate (Jn. 1:1; 14:9; Col. 1:15).
We note here that Jesus did not come in a grasping manner, trying to claim the glory and power of the Father.  The Greek word here in verse 6 is harpagmos.  This term can mean something robbed or snatched at.  Barclay says: "It can mean that he did not clutch at equality with God, as if to hug it jealously to himself, but laid it willingly down for the sake of men." 13 Only at the end of his earthly life when all was finished and as he faced the cross, did Jesus pray, "And now, Father, glorify me in your presence with the glory I had with you before the world began" (Jn. 17:5).
We remember that the first man Adam sinned because he tried to reach out and grasp equality with God by eating from the forbidden tree. 14 Thankfully, Jesus did not take such a path but rather chose the way of humility.  While the first Adam brought death and destruction to earth, the Last Adam, Jesus, became a life-giving spirit (1 Cor. 15:45).
Rather than grasping at the divine glory, Jesus emptied himself and became nothing, even taking the form of humankind and debasing himself to become a servant.  The word used here is also morphē.  Jesus didn't just become like a servant, he really became one.  Thus he completely fulfilled all the beautiful Servant Songs of Isaiah 42:1-9; 49:1-13; 50:4-11; and 52:13— 53:12.  Christ became a servant to the Jews (Rom. 15:8) and to all of us.  He became a pattern for his saints who are also called servants or slaves of God.  It was this picture that Paul wanted the Philippians to really understand.
He was made in the likeness of humankind (homoiomati) and in fashion (schema) of humanity.  The earlier form we mentioned (morphē) is the essential form and it never alters.  Thus Jesus had an unchangeable divine nature.  The word schema is different than morphē in that it changes with time and with circumstances.15
It is important that we try to understand the incarnation.  Many errors have developed in the church because of inadequate understandings.  The term "likeness" (homoiomati) has provoked endless debate.16  Some doubted that Jesus became a real human.  These thought that Jesus had some sort of phantom humanity.  This doctrine in church history is known as Docetism.  It is taken from the Greek word dokein which means to "seem."  According to this thought Christ did not have a real physical body and a real humanity.  His suffering, crucifixion and resurrection were mere illusions and thus not real. 17
Thus, over the centuries some have held on to the divine nature and lost the human nature of Jesus.  Others have held to the human nature and lost the divine nature.  We must see Jesus as truly divine and truly human if he is to be the Savior of humanity.  As Hebrews 4:15 says, "For we do not have a high priest who is unable to sympathize with our weaknesses, but we have one who has been tempted in every way, just as we are— yet was without sin."
What a story of self-humiliation for our sake.  2 Corinthians 8:9 says: "For you know the grace of our Lord Jesus Christ, that though he was rich, yet for your sakes he became poor, so that you through his poverty might become rich." "The incarnation of Christ Jesus represents the antithesis of this human drive to dominate." 18  "He not only gave up the right to enjoy his rights, he also assumed all the indignity, the injury, and hurt, all the rejection of an unbelieving world himself, without complaint. That's the key-without complaint." 19  We can only exclaim in the words of that old hymn, "Hallelujah, what a Savior!"
THE GREAT HUMILITY OF CHRIST
And being found in appearance as a man, he humbled himself and became obedient to death— even death on a cross!  Philippians 2:8  
The Philippians, as Roman citizens and living in a Roman colony, must have been appalled at the thought of Jesus being crucified.  No Roman citizen could suffer this punishment.  Crucifixion was reserved for the lower classes and slaves.  It was by far the lowest point one could stoop socially. 20  Even to the Jewish people, crucifixion was considered to be a curse (Deut. 21:23; Gal. 3:13). We can be sure that in the early centuries of the church, Christians would not have been found wearing crosses around their necks.  The cross was an unthinkable scandal.
Yet Jesus, the real man, lowered himself to suffer all the indignity and harrowing pain of crucifixion.  The Creator of the Universe, the Lord of Life would consent willingly to die a shameful death on the cross.  The cross proved something to men and to angels.  It demonstrated to humankind just how much God loves us all and just how far the Creator would go to redeem his creation.  It also showed the real depths of humanity's sin.  It proved to angels that God is a holy, righteous, just and loving God.
We must understand that the sin problem was not just an earthly problem but a heavenly one as well.  It involved the rebellion of God's angels.  John Stott says, "It is through the new creation (the church) that he [God] reveals his wisdom to angels." 21 We might wonder what kinds of things the angels are learning from the church.  Wuest suggests that they are pondering all the mysteries of redemption.  He suggests that it is only in the church that angels are able to come to an adequate comprehension of God's great grace. 22   We certainly see in scripture that angels are interested in the church and are watching it (cf. 1 Cor. 4:9; 11:10; 1 Tim. 5:21; 1 Pet. 1:12).
So, Christ's humility brought about a great victory in the heavens and also in the earth.     "Therefore God exalted him to the highest place and gave him the name that is above every name…" (2:9). After his deep humility, Jesus was greatly exalted, even to the right hand of God in heaven.  He was given a name above all other names.  Paul does not tell us what that name is, so there have been a lot of guesses about it.  It was obviously not "Jesus" or "Immanuel."  Jesus was a common name in the first century and Immanuel or Emanuel has been a common name through recent history. Among the Jews there was the holy Tetragrammaton or the four letters YHWH.  However, this name was so sacred that Jewish people refused to pronounce it.  Today, its proper pronunciation is forgotten.  In the centuries before Christ the Jews began to substitute Adonai (Lord) for the holy name.  The Septuagint, the Greek Old Testament, consistently substitutes Lord (kyrios) for the divine name. 23  We can be reasonably sure that this is the name Paul is speaking of.
Paul assures us "that at the name of Jesus every knee should bow, in heaven and on earth and under the earth, and every tongue confess that Jesus Christ is Lord, to the glory of God the Father" (2:10-11).  We know when Christ triumphantly returns to earth on his white charger, he will have a new name only known to himself (Rev. 19:12).  At his coming every knee will bow and every tongue will confess.  Kretzmann says, "The name of Christ, formerly despised and spoken with hissing and contempt, is now the reason and occasion of a far different behavior." 24 In fact, we can hardly imagine the scene as an almost totally rebellious humanity has to finally acknowledge that Jesus is really God and Lord of everything.  Humanity will have to suddenly acknowledge that all their plans of self-redemption are useless and that everything is lost, including their own souls.
WORKING OUT OUR SALVATION
Therefore, my dear friends, as you have always obeyed— not only in my presence, but now much more in my absence— continue to work out your salvation with fear and trembling, for it is God who works in you to will and to act according to his good purpose.  Philippians 2:12-13  
In this verse we catch again the closeness and warmness that the apostle had with the church at Philippi.  They were friends and there was a good deal of trust between them. They were happy to obey Paul out of their pure love for him.
It is a bit shocking for us when Paul instructs the Philippians to work out their salvation.  At first sight, this seems to go against the grain of Paul's gospel of grace preached and taught everywhere else.  Fee helps to clarify it saying: "This is therefore not a text dealing with individual salvation but an ethical text dealing with the outworking of salvation in the believing community for the sake of the world …they are able to do so because God himself is 'at work' (energon) in and among them. This does not mean that God is 'doing it for them,' but that God supplies the working power." 25
This passage has no connection with the idea of working for our salvation.  Rather, it has the idea of working because we are saved.  The great verse in Ephesians 2:8-10, makes this very plain saying: "For it is by grace you have been saved, through faith— and this not from yourselves, it is the gift of God— not by works, so that no one can boast.  For we are God's workmanship, created in Christ Jesus to do good works, which God prepared in advance for us to do."  Once again, we do not work to get saved but we work because we are saved.  God planned our work long ago.
Barclay says of the Greek word for work (katergazesthai) that it always conveys the idea of bringing something to completion.  It is if Paul were saying, "'Don't stop halfway; go on until the work of salvation is fully wrought out in you.' No Christian should be satisfied with anything less than the total benefits of the gospel." 26
We are told to work out our salvation with fear and trembling. This sounds strange and even a little scary.  However, in the Septuagint (LXX) these words would covey the idea of awe and concern in relation to God's activity (Exo. 15:16; Isa. 19:16; Psa. 2:11). 27
The secret underlying this verse is that it is after all God who is at work in the Christian life.  We could do no work without him.  God's Holy Spirit lives in each Christian (Jn. 14:16-17).  In a real sense both the Father and the Son have also come to live with us (Jn. 14:23).  Any work that we do is at God's direction and with his power. As is commonly said, "God works it in, so that we can work it out."
SHINING AS STARS
Do everything without complaining or arguing, so that you may become blameless and pure, children of God without fault in a crooked and depraved generation, in which you shine like stars in the universe… Philippians 2:14-15  
Here we run into a couple of sins that have besmirched the church's reputation many times over the centuries.  These sins are complaining and arguing.  Other translations describe these sins as murmuring and disputing or murmuring and arguing.  The word for complaining or murmuring is gongysmon.  While it occurs rarely in the New Testament it is used frequently in the Greek Bible or Septuagint.  It is particularly used as the Bible describes the desert wanderings of Israel.  They often complained about Moses' leadership, about their food, their water, etc. (cf. Exo. 16:2-3; Num. 14: 1-4). 28  This Greek term is used in 1 Corinthians 10:10-11, as Paul compares the people's grumbling with that of Israel.  Paul advises: "And do not grumble, as some of them did— and were killed by the destroying angel. These things happened to them as examples and were written down as warnings for us, on whom the fulfillment of the ages has come."
Grumbling got Israel sentenced of forty years of wandering in the wilderness.  How God must have hated to hear it when he had provided abundant direction, protection, food, clothing for them in the desert.  John Trapp, in his characteristic manner, describes these evils as he speaks of "wrath and rancor, or discontent, which makes men's lips like rusty hinges seldom to move without murmuring and complaining." 29
God wants us to keep on the sunny side of life and to carefully watch our mouths.  One foul word can start an evil avalanche.  If we can't say something positive, we had best say nothing at all.   Spurgeon recounts this story: "When Calvin was told that Luther had spoken ill of him, he said, 'Let Luther call me devil if he please, I will never say of him but that he is a most dear and valiant servant of the Lord.'" 30
Paul's great longing, his "magnificent obsession," was that the Philippians should "…become blameless and pure, children of God without fault in a crooked and depraved generation."  We no doubt remember that God gave a similar challenge to Father Abraham long ago, that he be blameless (Gen.17:1).  It was also said of Job (1:1, 8; 2:3) that he was a blameless person.  This subject is particularly appropriate for us today in the 21st century.  It seems today that the floodgates of evil have opened up before us.  We are flooded with complaints, cursing, greed, and filth of all kinds.
The internet alone is a compelling example of this depravity.  We are told that by 2007 a quarter of all internet searches were related to pornography.  The Nielson ratings of 2010 revealed that more than a quarter of all internet users in the US had visited a porn site.  That is almost 60 million people. 31 It is imperative that Christians turn their heads and hearts away from this evil.  Rather than become clouded over with evil, we Christians are to shine as stars in the heavens.  The Greek word for pure in this verse is akeraios and it means unmixed or unadulterated.32 How appropriate for our age.
Paul instructed the Philippians as well as us today to shine, "as you hold out the word of life—in order that I may boast on the day of Christ that I did not run or labor for nothing"  (2:16).  Light is such a wonderful thing, especially to those who are groping in the darkness.  I remember on one occasion our duck hunting party allowed darkness to close in upon us. That cold winter evening we were miles from home, all wading around in deep water frantically searching for our boat.  It seemed hopeless for us and it appeared that we were certain to spend the night in the deep, dark, cold backwaters.  After wandering aimlessly around for several minutes I was surprised to stumble right on to our boat.  I felt around in the darkness until I was able to connect the searchlight to the battery.  Suddenly the whole dark woods lit up with magnificent light.  That night we all made it safely and happily home.
This is the picture of the Christian.  We are in a dark, cold, hopeless world but we have something wonderful.  We have the light of Christ.  The world needs it desperately so we must let our light shine.  We must not hide it or only keep it for our own enjoyment.
Paul says something here that he refers to often in his writings.  He was looking forward to the Day of the Lord.  We dealt with this subject with some thoroughness in 1:6.  It seems that we have almost lost the whole teaching of the Day of the Lord in postmodern Christianity.  We need to understand that this was something critically important for Christians in Paul's day.  To sum up briefly, the earliest Christians were feverishly working and looking forward to the Day of Christ (cf. 1 Cor. 1:7-8; 5:5; 2 Cor. 1:14; 2 Thess. 1:7).  On that day the Lord would appear, giving them their great reward but at the same time he would judge the wicked.  On that day they would be made like Christ.  It was to be a wonderful day for the righteous.
Early Christians often looked at life as a race.  In a real sense Paul was like the life coach advising and helping them.  Today every few years we are treated to the Olympic Games.  In those races we see that people have trained and practiced much of their lives for the one event.  Often, the race is determined by as little as a few hundredths of a second.  That is the difference between gold and no gold in the race.  When we watch the Olympics we see how happy and proud the coaches are when their trainees win the gold.  The Olympic games are a good picture of the Day of the Lord and Paul uses it often in his writings.  Literally, we must endure to the end to be saved (cf. Matt. 24:13; Jas. 5:11). We must finish the race. How happy Paul would be to see his trainees win the race of life.
"But even if I am being poured out like a drink offering on the sacrifice and service coming from your faith, I am glad and rejoice with all of you.  So you too should be glad and rejoice with me" (2:17-18).  It seemed that Paul vacillated from time to time, wondering whether or not he would actually die in his imprisonment.  Here he seems to foresee himself being poured out like a libation.  When he actually did come down to death, in 2 Timothy 4:6, he uses the same expression again.  Shortly after that point Nero had him beheaded and his life blood was literally poured out.  We know that at this point his death was not imminent.
The Bible speaks much about drink offerings (Num. 15:1-10).  The drink offering was a libation of wine offered with every burnt offering made in Israel.  The drink offering was also very familiar to Gentiles in Paul's day.  Before and after each meal a libation was made and a cup of wine was poured out to the gods. 33  The service spoken of in this verse is the Greek word leitourgia.  This term speaks of an act of worship or of offering a sacrifice.34  Paul saw his ministry in this light as we see in Romans 15:16.  In this verse he sees himself, "…with the priestly duty of proclaiming the gospel of God, so that the Gentiles might become an offering acceptable to God, sanctified by the Holy Spirit."  Paul was being offered up and so were the Philippians.  They could rejoice together.
TIMOTHY
I hope in the Lord Jesus to send Timothy to you soon, that I also may be cheered when I receive news about you. Philippians 2:19  
As Paul often does, he begins to make some travel plans.  His plan is to soon send Timothy to the Philippians.  Undoubtedly, he would wait on this plan until his own jail sentence could be determined (v. 24). 35 
We know quite a bit about Timothy from the book of Acts and the books of 1 & 2 Timothy.  He was probably converted on Paul's First Missionary Journey and on the Second Missionary Journey he was ordained to be Paul's helper.  His name means "honoring God," and he certainly did that with his young life.  Timothy was half Jewish since his father was a Gentile.  He was blessed to have a believing grandmother and mother.  He was a young man who exercised good control of himself and therefore he had a glowing report from the people of the Lystra/Derbe area (Acts 16:2).  Paul was eager to get a message back from the Philippian church and Timothy was the one person who could do the best job of this.
"I have no one else like him, who takes a genuine interest in your welfare. For everyone looks out for his own interests, not those of Jesus Christ" (2:20-21).  Barclay says of this young man, "Timothy's great value was that he was always willing to go anywhere; and in his hands a message was as safe as if Paul had delivered it himself." 36 Timothy was a faithful trouble-shooter.  He loved and understood the churches, for he and Paul were of the same mind.
Paul seems to speak disparagingly of others around him as if they were only looking out for their own interests.  The commentator Mounce says of this situation: "Paul's 'no one' here is not a sweeping condemnation of fellow laborers, but it means that of those available there was no one like Timothy?" 37
"But you know that Timothy has proved himself, because as a son with his father he has served with me in the work of the gospel.  I hope, therefore, to send him as soon as I see how things go with me. And I am confident in the Lord that I myself will come soon (2:22-24).  Timothy was certainly no stranger to the Philippians since they had seen him at least three times (Acts 16:13; 19:22 & 20:3). The word for "proved" used of Timothy is dokimen and this term was used of testing gold and silver to ascertain whether or not they were fit for coinage. 38
We note once more that Paul himself is planning on a trip to Philippi sometime in the near future.  As we have said, a number of scholars feel that Paul was released from his first imprisonment in Rome sometime around AD 63.  He no doubt did make a trip to Philippi and probably on to Colossae as well as other places.  His great desire was also to make a trip to Spain as he says in Romans 15:24 & 28.
EPAPHRODITUS
But I think it is necessary to send back to you Epaphroditus, my brother, fellow worker and fellow soldier, who is also your messenger, whom you sent to take care of my needs. Philippians 2:25   
Paul has just talked about sending Timothy and now he is thinking about sending Epaphroditus back to Philippi.  He had come to Rome with a gift for Paul and with the expectation of staying on and assisting Paul.  Unfortunately he got sick in Rome.  Paul calls him a fellow soldier and minister (leitourgon).  As this section unfolds we will see Paul heaping praise upon this messenger.  The words leitourgon and apostolon (messenger) were titles of praise and honor.  No doubt, the church was discouraged because he could not fulfill his ministry to Paul.  For certain, Epaphroditus must have been discouraged about it.
"For he longs for all of you and is distressed because you heard he was ill" (2:26). Some scholars believe that Epaphroditus was getting homesick.  Perhaps he was so homesick that he had already left when Paul wrote the letter. 39  We cannot know any of this for sure of course. A likely scenario is that Paul sent the letter with Epaphroditus. 40
This little account brings up a question of great magnitude.  No doubt many will ask, why didn't Paul just heal this young man?  He had come to Rome specifically to serve the apostle.  It is likely that he contacted the dreaded Roman fever.  Kretzmann remarks about this illness saying that the fever was likely malaria which was prevalent in Rome.  This was a disease borne by mosquitoes from near-by swamps.  Malaria often ravaged the populace but it was especially dangerous for visitors who had no partial immunity to it. 41
"Indeed he was ill, and almost died. But God had mercy on him, and not on him only but also on me, to spare me sorrow upon sorrow" (2:27) It should have been a simple thing for the Apostle Paul to pray and heal his young servant.  How can we understand this?  How do we understand that faithful Timothy always suffered from a stomach ailment and Paul apparently could not heal him (1 Tim. 5:23)?  Then there was Trophimus, whom Paul had to leave sick at Miletus (2 Tim. 4:20).  Actually, Paul himself had a severe ailment that wouldn't go away, although he had asked the Lord three times to heal it (2 Cor. 12:7-9).
We need to understand some basic things about biblical healing.  Healing did not lie with the apostles but it came directly from God.  Even those with special gifts of healing could not heal without the hand of God.  Healing was often given for a sign to unbelievers.  It was a sign confirming the word of God as we see in Mark 16:20.  It was not something especially given for the personal needs of God's people or his workers.42  Sometimes, God in his mercy chooses to heal miraculously.  My wife and I have both experienced miraculous healings on more than one occasion.
When Jesus was on earth, he had a perfect record of healing all those who came to him (cf. Matt. 8:16; 12:15; Mk. 6:55-56).  But we must remember that Jesus was and is God.  We are told in the Bible that gifts given to us (no doubt including gifts of healing) are all "in part" (1 Cor. 13:9-10).  They are "in full" only when the Perfect One is present.
It is unfortunate that the blessing of miraculous healing was stolen from the church in its early centuries.  I grew up in a denomination that was strong on believing the Bible, yet we did not believe in miraculous healing.  We mostly left healing to doctors and hospitals.  Fortunately, with the advent of the modern great revivals and especially with the Charismatic renewal, miraculous healing has been restored to many in the church.
However, when a truth is rediscovered, sometimes it is elevated until it is out of proportion to other truths. Miraculous healing became almost like a circus sideshow and there began to be many abuses of it.  Also, much false theology concerning healing began to circulate.  Some felt that if God heals all of our diseases (Psa. 103:3), then he must always heal.  These folks took the awe and wonder right out of the miraculous and tried to make it commonplace.  This resulted in a kind of legalism that left some people back in chains, bondage, arrogance and hypocrisy.
All of us need to be careful not to put God "in a box" so to speak over this matter.  I remember many years ago how some of our dear friends got caught up in the doctrine that God's will was to heal everyone all the time.  If God didn't heal, it meant that the sick person or the ministers involved didn't have enough faith.  Then we heard that these friends were at the hospital and that their son was near death with a seemingly fatal disease.  He had come to the hospital on a Flight for Life from an outlying city.  Some of us hurried to the hospital to be with them in their desperate hour.  As we were praying, our friends began to openly "cough up" and confess the erroneous doctrine responsible for their plight.  When I saw and heard this I took heart.  Although the doctors were giving little or no hope, I suddenly was filled with the assurance that the boy would get well. God gave me the courage to speak this out to everyone there. In a matter of hours their son dramatically improved and soon was able to leave the hospital with no permanent damage.
Healing is a miracle.  We should not hesitate to believe and pray for people around us to be healed as the Bible instructs us.  However, we must not get legalistic over the subject of healing.  This only leads to pride, hypocrisy and to other difficulties.  In the end it can greatly discourage the church.
Paul continues saying, Therefore I am all the more eager to send him, so that when you see him again you may be glad and I may have less anxiety" (2:28). This was a ticklish situation for Paul and no doubt he was greatly relieved to have Epaphroditus improving and on his way home.  It would have been rather difficult to care for a desperately sick person when you yourself were in house arrest and even in chains.
"Welcome him in the Lord with great joy, and honor men like him, because he almost died for the work of Christ, risking his life to make up for the help you could not give me"  (2:29-30).  As we have mentioned, it seems that Paul is going out of his way to honor this young man and to make sure the church honored him upon his return.
Paul says that Epaphroditus had come to Rome at the risk of his life.  The Greek word used here is paraboleusamenos and it is the term for gambling.  This young man had literally gambled his life in coming to see Paul. 43 Many times in the ancient world people greeted disease with terror and they expected to die.  James Burton Coffman, author and teacher, tells of a plague that broke out in Carthage some generations later.  When the plague began, the heathen threw out the bodies of their dead and fled the city in terror.  Cyprian was bishop at that time, so he and the church gathered to bury the dead and nurse the sick. 44  In the ancient world sickness was no small thing and Epaphoditus had paid a dear price in his ministry to Paul.
CHAPTER 3
Finally, my brothers, rejoice in the Lord! It is no trouble for me to write the same things to you again, and it is a safeguard for you. Philippians 3:1  
Here we may think Paul is sounding like a lot of preachers today.  They say "finally" and then go on preaching for another twenty minutes.  It looks like Paul is doing this since he repeats "finally" once more in 4:8.  We can be assured this is not the case.  The Greek expression for "finally" is "to loipon."  It does not mean "finally" in today's manner of expression but instead it is a transition to another subject and has the meaning of "furthermore," or "as to what remains." 1  This verse with the words "write the same things to you again," may indicate that Paul had written at least one other letter to the Philippians.2   It is possible that a number of Paul's letters were lost.
Once more, Paul emphasizes the theme of the letter and that is rejoicing in the Lord. Their joy was a joy in Jesus that no one could take from them (cf. Jn. 16:22).  Paul the good teacher repeats the themes of joy and rejoicing often in the letter (1:4, 18, 25, 26; 2:2, 17, 18, 29; 3:1; 4:1, 4, 10).  Barclay points out, "We do not tire of the foods which are the essentials of life. We expect to eat bread and to drink water every day; and we must listen again and again to the truth which is the bread and the water of life." 3
Christians in the first century seemed to have a lot more joy than we have in our society.  In fact, today many people, including a number of Christians, are quite depressed.  In the US, 2.4 billion prescriptions are written each year. It is of note that 118 million or these, or the largest group, are for anti-depressants. 4   We need to hear again and again the great truths of the gospel that can revive our joy in the Lord.
"Watch out for those dogs, those men who do evil, those mutilators of the flesh" (3:2). Alexander Maclaren comments here: "This outburst is very remarkable, for its vehemence is so unlike the tone of the rest of the letter…that is calm, joyous, bright, but this is stormy and impassioned, full of flashing and scathing words." 5   Paul calls these people "dogs."  In our soft and luxurious western societies we may not get the full meaning of his term.  Stedman says, "The reference to dogs is not to the pampered, shampooed, manicured pets we have today. These were not cultured canines." 6  Dogs were detested in the Greco/Roman society.  They were also detested in ancient Israel.  The Rabbis often referred to the Gentiles as "dogs."  Male prostitutes were also called "dogs" (cf. Deut. 23:18).
In Ancient Greek, Roman and Israelite societies dogs represented the low-life.  Barclay says, "The dogs were the pariah dogs, roaming the streets, sometimes in packs, hunting amidst the garbage dumps and snapping and snarling at all whom they met…the dog stands for everything that is shamelessly unclean." 7  I can remember taking my walks on the hills above the Sea of Galilee and running in to packs of dogs devouring the garbage.  I always considered myself fortunate that these curs didn't turn away from their garbage and turn on me.
The dogs Paul is speaking of here though were not low-life animals but the two-legged variety.  They were men who were teaching evil things.  They were mutilators of the flesh, insisting that born-again Christians would have to undergo circumcision and keep the commands of the law to really be saved.  We remember in Paul's experience, when he began to encounter these types as early as in his ministry with Barnabas at Antioch (Acts 15:1).  In fact, the great Jerusalem Conference of mid-century was called together to deal with this very problem.  The conference ruled in favor of Paul, that Gentiles would not have to be circumcised (Acts 15:1-29; Gal. 2:1-10).  However, these legalistic enemies continued to pursue the ministry of Paul.  They are generally referred to as Judaizers.
In the second and third verses of this chapter we have two Greek words.  The first in verse two is katatome and it has the meaning of cutting to pieces or mutilating.  The second word in verse three is peritome, which means circumcision or cutting around.8  Under the Old Covenant peritome was not only permitted but was required for all Jewish males.  However, with the advent of the New Covenant, this rite was fulfilled by the spiritual "circumcision of Christ" (Col. 2:11). This involved the crucifixion or cutting off of the fleshly life along with the new birth in the Spirit, as pictured in baptism.  For the newly born Christian to return to circumcision was considered a mutilation of the flesh, which was forbidden in Leviticus 21:5. Furthermore, it brought such a person under the curse of the law as seen in Galatians 3:10.
In a very real sense the position taken by the Judaizers was the easy way out for them.  By taking such a position they would be accepted by Judaism, which at the time had favor with the Roman government.  Christianity was "the new kid on the block" so to speak and had no acceptance with Rome.  The Judaizers were choosing the way of compromise in order to avoid persecution (cf. Gal. 5:11). 9
"For it is we who are the circumcision, we who worship by the Spirit of God, who glory in Christ Jesus, and who put no confidence in the flesh— though I myself have reasons for such confidence" (3:3-4a). As we have pointed out, Christianity could boast of a spiritual circumcision performed by Christ.  This circumcision fulfilled and far exceeded circumcision in the flesh.  It was a spiritual circumcision of the heart (Deut. 10:16; Rom. 2:28-29), of the ears (Jer. 6:10) and of the lips (Exo. 6:12).  This circumcision also has to do with worship since it made possible worship in Spirit and in truth (Jn. 4:23).  The spiritually circumcised Christian is done with the flesh and fleshly ways.  Such a person will no longer be content to reproduce according to the flesh.
So far as the flesh and fleshly achievements were concerned Paul had a great list of accomplishments.  No doubt, the false teachers were boasting in such things and Paul takes this opportunity to outdo them so far as such accomplishments are concerned.
PAUL'S FLESHLY ACCOMPLISHMENTS
If anyone else thinks he has reasons to put confidence in the flesh, I have more: circumcised on the eighth day, of the people of Israel, of the tribe of Benjamin, a Hebrew of Hebrews; in regard to the law, a Pharisee…  Philippians 3:4b-5  
Paul as a Hebrew was a thoroughbred.  He was circumcised on the eighth day as the law required (cf. Gen. 17:12 ff. & Lev. 12:3).  Thus he was not a proselyte but a true Israelite.  This was a day when many Jews were unable to trace their Jewish descent but Paul had an unquestioned pedigree. 10  He could trace his lineage all the way back to the tribe of Benjamin.  The tribe of Benjamin had many distinctions.  Benjamin and Joseph were favorite sons of Jacob.  This tribe remained with Judah and did not join the revolt of Jeroboam (1 Kings 12:21).  The territory of Benjamin lay mostly to the north of Jerusalem but its boundary passed through parts of the sacred city (Jud. 1:21).
Paul calls himself "a Hebrew of Hebrews."  No doubt part of this distinction was that he fluently spoke the ancient Hebrew language (Acts 21:40).  Many Jews were so assimilated in the Gentile world that they had to labor to learn and speak the ancient tongue. 11
The apostle also calls himself a Pharisee.  The Pharisees were a small and elite group probably never numbering over six thousand.  Barclay calls them "the spiritual athletes of Judaism." 12  They were the devoted keepers of the law and considered themselves "separated" from all others. They prided themselves in being the strictest sect (Acts 26:5).
Paul continues with his pedigrees saying: "as for zeal, persecuting the church; as for legalistic righteousness, faultless" (3:6).  Paul was such a zealous Pharisee that he even persecuted the church (cf. Acts 8:3; 9:1,13,21; 1 Cor. 15:9; Gal. 1:13-14,23; 1 Tim. 1:13).  When he finally returned to Jerusalem after his spectacular conversion the church continued to be afraid of him.  No doubt, this was for good reason.  He had probably placed many of the local Christians in jail and it is possible he had caused the death of some. 13
As for legalistic righteousness, Paul was perfect.  Barnes says, "we are left to the fair presumption that, if any man could be saved by his own works, he was that man." 14
THE SURPASSING GREATNESS OF CHRIST
But whatever was to my profit I now consider loss for the sake of Christ. Philippians 3:7   
This argument of profit and loss or gain and loss was a Rabbinic way of looking at things and would have been recognized as such by the Jews and Judaizers.  This type of speech was also used by Jesus when he talked about losing one's life to save it (Mk. 8:35; Mat. 16:25; Lk. 9:24; Jn. 12:24-25).  Jesus asked what it would profit a man to gain the whole world if he lost his own soul in the process (Mk. 8:36; Matt. 16:26; Lk. 9:25). 15
His former way of life as a zealous Pharisee may have delighted the Jerusalem Jews, his teacher Gamaliel and the whole Sanhedrin, but it was a total loss in the sight of the holy God and of Heaven.  Interestingly, the word for "gain" is in the Greek plural but the term for "loss" is in the singular.  All Paul's gains were counted as one big loss. 16
After reading this verse we all may wish to take inventory of our lives.  What things are we really counting on in life, and what are the things we cannot do without?  Would we list our background, education, good name, family standing, money in the bank, other financial holdings, fame, physical assets, personality?  If we are looking toward these things we will likely never be able to get hold of God's riches that are in Jesus Christ. 17
Some have no doubt felt that Paul is here talking like a madman.  Some have even thought that Paul had epileptic seizures.  Perhaps he was in one of these.  When someone suggested this to Charles Spurgeon he remarked: "Oh, blessed epilepsy. Would that every man in London could have epilepsy like that." 18
"What is more, I consider everything a loss compared to the surpassing greatness of knowing Christ Jesus my Lord, for whose sake I have lost all things. I consider them rubbish, that I may gain Christ… (3:8). For Paul, nothing remotely compared to Christ. Barnes mentions that "It is by no means improbable that he had been excommunicated by the Jews; and that he had been disowned by his own family." 19  Even today, when Jewish people convert to Christianity their family may disown them and even hold a mock funeral for them.  Paul was willing to lose it all for Christ.
Paul was willing to consider all his accomplishments as rubbish when compared to Christ. The Greek word for rubbish is skubala.  It is a term of uncertain etymology, and it may mean dung (skōr) or what is thrown to dogs (es kunas ballō).  It could describe any kind of refuse.20
Paul wanted to know Christ, "and be found in him, not having a righteousness of my own that comes from the law, but that which is through faith in Christ— the righteousness that comes from God and is by faith" (3:9). Here Paul begins to hit upon relationship with Jesus, which is the key to real religion.  He will talk much more about this in the next verse.  He is not willing to trust in his own righteous or in his legalism.  Godbey remarks here saying of legalism that it is "Satan's greased plank, on which he shoots millions through the churches into hell…The great masses of church members at the present day are dumb in the pews, from the simple fact that they have no experiences to tell; they are depending on 'church loyalty,' legal obedience, and good works to save them." 21
There has been much discussion in the commentaries about Paul's concept of righteousness (dikaiosune).  Barclay says it is difficult to find an English word that conveys all the meaning of righteousness.  He notes that the basic problem of human life is to find fellowship with the Creator, so he nearly always uses "righteousness" to signify a right relationship with God.22  Righteousness is a gift of God that comes by his grace, through faith in Jesus and in his saving work for us. (Rom. 3:21, 23, 25; 5:15-16; 2 Cor. 9:15; Eph. 2:8; 3:7; Rom. 6:23).
KNOWING CHRIST
I want to know Christ and the power of his resurrection and the fellowship of sharing in his sufferings, becoming like him in his death, and so, somehow, to attain to the resurrection from the dead.  Philippians 3:10-11  
Here is the very essence of true religion—to know God and to know him personally and intimately.  We see this kind of knowing in the Old Testament.  In Genesis 4:1, we read that Adam "knew" his wife Eve.  The Hebrew expression used is "yada."  Even in the Old Testament it was a word for knowing intimately.  Here the New Testament term is ginoskein and it almost always speaks of a personal knowledge.  This is not an intellectual knowledge but a personal experience of another person.  It actually speaks of a most intimate knowledge of another.23
On one occasion in Israel, the President of the United States was visiting the nation.  A delegation of people was assembled to meet him and the delegation included government officials, other important people as well as some religious leaders.  The leader of our Christian organization was selected to greet the President, along with another of our friends who was a church leader.  Our director was on one end of the receiving line and the church leader was on the other end.  When the President arrived and began to greet those in line he stopped and began a long conversation with our friend who was the church leader.  Our director noticed how the dignitaries in line began to grow agitated and they wondered who the church leader was that the President of the US would spend so much time with him.  Later, our director learned that the church leader had gone to school with the President and as a child they were friends.  The church leader "knew" the President as no other person in the line that day.
So the critical concept in religion is whether or not we know Jesus Christ on a personal basis.  That implies a lot of things like a true conversion, long hours spent in the word of God, intimate prayer times, and other things mentioned in this verse.  At the Judgment we see many "religious" folks in line to greet Jesus.  Surprisingly, Jesus says to them "…I never knew you. Away from me, you evildoers!" (Matt. 7:23).  The day is surely coming, perhaps in the Millennial Era, when God will say, "They will know me from the least of them to the greatest…" (Jer. 31:34).
It is a bit surprising that Paul felt he needed to know Jesus better.  For sure, if Paul needed to know him better, then we certainly do.  Perhaps Paul was reflecting the very thing he prayed for others in Ephesians 1:17, "I keep asking that the God of our Lord Jesus Christ, the glorious Father, may give you the Spirit of wisdom and revelation, so that you may know him better." To know Christ is a never ending challenge and will go on through eternity. If all about him could be written the whole world could not contain it (Jn. 21:25).
There are some important ways that we can know Jesus better.  We can begin to realize the awesome power of his resurrection. As Fee says, "…the power inherent in Christ's resurrection guarantees our own resurrection." 24  We can also begin to experience the fellowship or sharing of his sufferings.  Fee also says, "Christian life is cruciform in character." 25  To each true believer there is a cross to bear.  In another place Paul says, "I have been crucified with Christ and I no longer live, but Christ lives in me. The life I live in the body, I live by faith in the Son of God, who loved me and gave himself for me" Gal. 2:20).   There is a way, quite unknown to us, that we share in the suffering of Christ and somehow actually fill up that suffering (2 Cor. 1:5; 4:10-11; Gal. 6:17; Col. 1:24).
As we suffer with Christ we also begin to conform ourselves to his death.  2 Timothy 2:11-12 says: "Here is a trustworthy saying: If we died with him, we will also live with him; if we endure, we will also reign with him. If we disown him, he will also disown us…."  To die with Christ is to die to our own fleshly natures and to the sin that afflicts us.  It is to die to all those passions and desires that are of this present evil age.  What can the devil do to a dead person?  He can only kick at such a one in disgust and walk away.
There are two aspects of our death in Christ.  First our death is perfect passive as Paul speaks of it in Galatians 2:20. In some way unknown to us we died with Christ almost two thousand years ago (Rom. 6:8).  We now need to reckon or count ourselves as dead (Rom. 6:11). So there is a past and present aspect of our death with Christ.  Paul sums it up saying, "I die every day…" (1 Cor.15:31).  When we starve and deny our old man we are dying with Christ in a very real sense.
It is of note that some scholars have been a bit baffled about the expression, "somehow, to attain the resurrection." They have felt that after all his confidence, Paul is here showing a bit of uncertainty and a few have thought that he might be trying to gain the resurrection by his own efforts.  This is not the case. "Some commentators believe that Paul's 'somehow' (ei pos) contains no element of uncertainty about whether he will experience the resurrection, only about the way in which he will reach the resurrection— whether by martyrdom, by Christ's coming, or by a natural death." 26
The word for "resurrection" used here is an interesting one that is used nowhere else. The Greek expression reads, "the resurrection out of the dead."  This speaks of the first resurrection or that of the righteous, who come out from the midst of the other dead. 27  The second resurrection will be of the wicked dead who will then face judgment.
PRESSING TOWARD THE GOAL
Not that I have already obtained all this, or have already been made perfect, but I press on to take hold of that for which Christ Jesus took hold of me.  Philippians 3:12  
The British Methodist theologian and scholar, Adam Clarke, says here that from the 11th through the 17th verses, Paul is alluding continually to the great contests of the Olympic games. 28  The apostle may throw us into some confusion by his usage of the expression "made perfect."  The Greek word for "perfect" is teteleiomai (from teleioo).  This term does not speak of abstract perfection but something closer to functional perfection, or that a person is adequate for a given purpose.29
Over the centuries there has been a good deal of confusion concerning the idea of perfection.  In the Calvinistic or Reformed tradition there remains the notion of Galatians 5:17, that there is still some remnant of corruption in every believer.  This would be the case until the final day of redemption.  John Wesley (1703-1791), on the other hand, taught that perfection should be attained in this life, but was somewhat cloudy as to the details of this attainment.
Wesley and Calvin were of different minds about how close the believer could come to the ideal of undivided devotion to God in this life, but the emphasis of both lay on the ideal itself and on the necessity of striving for it, not on whether or not one could reach it.  Paul's emphasis on not attaining perfection until the final day appears to favor Calvin's understanding of sanctification. 30
Paul has not yet reached the goal but he is pressing on to take hold of it.  Calvin says of him, "he thinks of nothing but Christ — knows nothing else — desires nothing else — is occupied with no other subject of meditation." 31  It appears that Paul here is looking at the work of his apostolic ministry as he does in other places (cf. 2:16; 1 Cor. 9:24-26).  His great obsession is to be able to present his congregations blameless before the Lord on that final day (1:10; 2:14-18; 1 Cor. 1:8; 1 Thess. 2:19; 3:13; 5:23). 32
We might ask ourselves if we have such a desire in our hearts to be complete in our faith and to endure to the end, thus winning the race of life.  Wiersbe says of this: "Many Christians are self-satisfied because they compare their 'running' with that of other Christians, usually those who are not making much progress." 33  Others may get a little proud about their progress.  Thielman remarks, "Paradoxically, only those who understand their lack of perfection…have reached spiritual maturity (teleios)." 34
FORGETTING WHAT IS BEHIND
Brothers, I do not consider myself yet to have taken hold of it. But one thing I do: Forgetting what is behind and straining toward what is ahead, I press on toward the goal to win the prize for which God has called me heavenward in Christ Jesus. Philippians 3:13-14  
Paul had a true appraisal of himself and realized his shortcomings.  It is important that we do the same and not become proud of our status in Christ.  Paul knew he had a ways to go.
Meyer says of this: "The nearer the saint comes to the perfect life, the farther he feels from it. It is only when we have climbed the foothills that we realize how lofty the mountain summits are…" 35
The apostle is continuing with the imagery of the Olympic Marathon races here.  When we watch the Olympics on TV we realize how carefully and thoroughly the participants have trained themselves.  We cannot help but notice how focused they are on the goal ahead.  They do not turn to watch the crowd, nor do they usually glance behind them.  In 1954 at Vancouver B.C. two racers, Roger Bannister and John Landy, were involved in the famous "miracle mile."  This was the first time two racers ran the mile in under four minutes.  Landy had been in the lead all the way, but as he came to the finish he looked back over his shoulder to see where Bannister was.  At that precise moment Bannister dashed past him on the other side and won the race. 36
In order to win the race we must forget the things that are behind. No doubt, a lot of things are involved here.  These might include past failures that weigh on the mind.  Wiersbe says, "We cannot change the past, but we can change the meaning of the past…Too many Christians are shackled by regrets of the past…" 37  Paul had to forget all his past achievements in the flesh and even his great failures, for these would only weigh him down.  The scripture says "… let us throw off everything that hinders and the sin that so easily entangles, and let us run with perseverance the race marked out for us. Let us fix our eyes on Jesus, the author and perfecter of our faith…" (Heb.12:1-2).
Paul was "straining toward what is ahead," and pressing toward the goal.  Robertson says this is a "metaphor of a runner leaning forward as he runs." 38  It is a picture of a runner "straining every nerve to reach the goal." 39  It is truly amazing how miniscule the time difference is between the Gold Medal and the Silver one.  In the 2014 Sochi Olympics Downhill race, the time differential between gold and silver medals was six one-hundredths of a second.  In the Super-G it was thirty one-hundredths of a second.  Literally in these races there is not a hundredth of a second to lose.
We see in this scripture that Paul was doing one thing and one thing only.  To be successful in the spiritual world we must focus…focus…focus.  We must focus on the race and on the finish line.  We must focus on the heavenly kingdom and the heavenly call. As Colossians 3:2 tells us, we must set our minds on things above (cf. Heb. 3:1).  This focus on the important things is illustrated by Dwight Moody, the evangelist:
Before the tragedy of the Chicago fire in 1871, Mr. Moody was involved in Sunday school promotion, YMCA work, evangelistic meetings, and many other activities, but after the fire, he determined to devote himself exclusively to evangelism. "This one thing I do!" became a reality to him.  As a result, millions of people heard the gospel.  The believer must devote himself to "running the Christian race."  No athlete succeeds by doing everything: he succeeds by specializing. 40

 
TAKING THE MATURE VIEW
All of us who are mature should take such a view of things. And if on some point you think differently, that too God will make clear to you. Philippians 3:15  
Once more we run into the Greek word teleioi which is here translated "mature."  This is a much safer translation than "perfect" as we have seen.  To be mature, is to finish the race.  It is to complete the task assigned to us on earth.  To be mature is to run the race according to the rules.
At the 1912 Olympics in Stockholm, he [Jim Thorpe] won the Pentathlon and the Decathlon, and was undoubtedly the hero of the games.  But the next year officials found that Thorpe had played semiprofessional baseball and therefore he had forfeited his amateur standing.  This meant that he had to return his gold medals and his trophy, and that his Olympic achievements were erased from the records. 41
To be mature is to keep a proper and godly balance between heaven and earth.  Fee says, "Although Paul's focus is altogether on the heavenly prize, his running shoes make regular contact with terra firma." 42
We see in this passage that the mind or mindset (phroneo, phroneite) is very important. Not only does Christ help us in the race of life but we are told that we have the mind of Christ (1 Cor. 2:16).  Trapp says, "Different measures of knowledge and holiness are given to the saints at different times. We are narrow mouthed vessels, and cannot receive all at once." 43
"Only let us live up to what we have already attained" (3:16).  Paul could command the church with great confidence: "Follow my example, as I follow the example of Christ" (1 Cor.11:1).  Not so many pastors in our modern and postmodern times have been able to advise the flock to walk as they walk.
PAUL'S GREAT EXAMPLE
Join with others in following my example, brothers, and take note of those who live according to the pattern we gave you. Philippians 3:17  
In many places, Paul speaks of how he follows the example of Christ and he invites others to follow his example (cf. Phil. 4:9; 1 Cor. 4:16; 1 Thess. 1:6; 2 Thess. 3:7, 9).  He was a serious imitator of Christ (1 Cor. 11:1).
Paul says that we should take note (skopos) of those who live according to this pattern.  The Greek word skopos means to look at, behold, watch or contemplate. 44  We see in this verse that there is a pattern of sound doctrine (tupon), as well as the doctrine itself.  In 2 Timothy 1:13, Paul speaks of this as an outline or standard of his teaching.  It is almost like a blueprint by which all correct teaching should be measured.  All who refused to live by the pattern of righteousness should be noticed, marked and avoided.  Robert Neighbour, the Baptist pastor and missionary, remarks here saying, "As high as the heavens are above the earth so high are the conceptions of the new life above the old." 45
"For, as I have often told you before and now say again even with tears, many live as enemies of the cross of Christ. Their destiny is destruction, their god is their stomach, and their glory is in their shame. Their mind is on earthly things" (3:18-19). It seems that scholars are in doubt as to who this group of people might be.  They are obviously not sincere Christians.  They are probably not Judaizers, however, errant Judaism would tend to glorify certain foods and make them almost as gods.  More than likely, these were some Gnostic elements that were certainly widespread throughout the ancient world. 46 After all, the main road system of that day ran through Philippi, and eventually all types of folks would show up on the Philippian church doorstep.    
The Gnostics believed, as many Greeks did, that the flesh amounted to nothing and that the spiritual world was all that mattered.  Some Gnostics were aesthetic to the extreme but others thought that since the flesh was unimportant, it really didn't matter what a person did with it. 47 These people indulged the flesh to the maximum.  They would certainly fit Paul's description here.  The apostle had encountered this type of people on other occasions (cf. 1 Cor. 6:12-20; Rom. 6:1).  If these folks had any Christian background at all, they were certainly not in the mood to take up the Lord's cross of self-denial (Matt. 16:24-26).
We see that Paul was weeping about this situation.  When will we ever learn to weep about the sins of our day?  The Psalmist wept over those who broke God's law.  He cried: "Streams of tears flow from my eyes, for your law is not obeyed" (Psa. 119:136).  The Prophet Jeremiah wept over the sins of Israel (Jer. 13:17).  It is no joking matter that many people in our present evil age worship the belly-god.  Statistics show that in the US we have over 60 percent of our people overweight.  My wife and I were watching some old Billy Graham crusades on TV and suddenly we were shocked at how thin people were back in the 60s and 70s.  Today, most of the people in such a public gathering would be waddling along toting all their extra fat.
Occasionally my wife and I go out for dinner.  Recently a friend gave us a Christmas gift allowing us to visit one of the really good steak houses.  We were astounded when they brought the salad in what looked like a small washbasin for each of us.  The salad would have been a large meal in itself.  This seems to be the pattern in US restaurants.  They serve massive amounts of food, no doubt in hope that our gluttonous society will frequent their establishments.  We realize every time we go out to eat that judgment is coming on the US for such excesses. Trapp in his curt manner mentions, "Nabal, Dives, and others, that digested in hell what they ate on earth." 48
We also see that there is a mindset involved in all this abuse.  These have their minds set (phronountes) on earthly things.49  Paul speaks of such folks in Romans 16:18: "For such people are not serving our Lord Christ, but their own appetites. By smooth talk and flattery they deceive the minds of naive people."  We can say with certainty today that the cross needs to fall over our bellies.  Some of our feasting needs to be turned into fasting.
CITIZENS OF HEAVEN
But our citizenship is in heaven. And we eagerly await a Savior from there, the Lord Jesus Christ, Philippians 3:20  
Paul is here speaking in a manner that the Philippians could easily understand.  As we have mentioned, Philippi was a Roman colony.  It was likely made up of retired soldiers who had served Rome faithfully.  Because of this, Rome granted them citizenship. In these Roman colonies, the people wore Roman dress, spoke Latin, and observed Roman morals.  They were ruled by Roman magistrates and Roman justice was administered. It is as if Paul is saying to the Philippians, "Just as the Roman colonists never forget that they belong to Rome, you must never forget that you are citizens of heaven; and your conduct must match your citizenship." 50
We see this mindset demonstrated in our father Abraham.  It is said of him in Hebrews 11:9-10, "By faith he made his home in the promised land like a stranger in a foreign country; he lived in tents, as did Isaac and Jacob, who were heirs with him of the same promise. For he was looking forward to the city with foundations, whose architect and builder is God."  Peter also says of us that we are aliens and strangers in this world (1 Pet. 2:11).
Paul continues describing the lordship and rulership of Christ saying, "who, by the power that enables him to bring everything under his control, will transform our lowly bodies so that they will be like his glorious body" (3:21).  Christ will change these lowly bodies of our humiliation. He will do this because of the working of his mighty power (energeian).  No doubt this is alluding to the day of Christ's revelation spoken of in 1 Corinthians 15:51-52, "Listen, I tell you a mystery: We will not all sleep, but we will all be changed— in a flash, in the twinkling of an eye, at the last trumpet. For the trumpet will sound, the dead will be raised imperishable, and we will be changed."
The early church looked and longed for this coming day of Christ with great anticipation. They knew Jesus would bring everything under his control.  Even the emperor and all those who were causing trouble for the Philippians would be brought under his control. 51  It was for this reason that the early Christians had such joy.  May we focus once more on the resurrection that our joy may return.
CHAPTER 4
Therefore, my brothers, you whom I love and long for, my joy and crown, that is how you should stand firm in the Lord, dear friends!  Philippians 4:1  
Reflecting on what Paul has previously said, he now brings closure.  The English Baptist minister and lecturer, Peter Pett, sees the whole section of verses 1-9 as a kind of summary of the whole letter.1  The Philippians are Paul's precious brothers and sisters whom he loves dearly.  They are his joy and crown.  The crown (stephanos) mentioned here is the crown of victory rather than the king's crown (diadema). The Philippians were looked on as a kind of trophy of Paul's notable apostolic race (Phil. 1:6; 4:1; 1 Thess. 2:19). "They were the present proof that he had indeed not run in vain, and were the guarantee of the genuineness of God's work through him." 2  No doubt, one of Paul's greatest joys was the thought that he could present Christians and churches as mature and complete in Christ on the Day of the Lord.
The Philippians are to stand firm in the Lord (stēkete).  In chapter 3:12-15, he was urging them to run with all their might and now he is urging them to stand still.  We might see this as a picture of the runner standing with utmost focus and concentration just before the signal is given to begin the race.  There are times in our lives when we need to stand quietly before the Lord as we gain his understanding and strength for what lies ahead.
"I plead with Euodia and I plead with Syntyche to agree with each other in the Lord" (4:2).  Paul now, for the first time, begins to name some of the Philippians.  His profound concern is about divisions in the church and he has already mentioned this on several occasions (1:27, 2:1-4, 14). 3  There has been a great deal of speculation about Euodia and Syntyche, as to who they really were.  Since the Philippian church began with some devout women who worshipped God by the riverside (Acts 16:13-15), we might assume that these two were some of them.  Apparently they were prominent members of the church, and their divisions were posing a serious threat to unity.  Some have proposed that they were husband and wife but both names are feminine in the Greek language.  Paul also uses feminine pronouns to refer to the two.4
It has been proposed by many that these two women were deaconesses in the church at Philippi.  There is considerable evidence that the early church had ministering women in such an office.  Barnes mentions Romans 16:1, and 1 Timothy 5:9, to back up his argument that there was such an office.  These women apparently cared for the female members of the church. 5   Other writers such a Lightfoot, Clark and Faussett agree with Barnes.  However, the matter of deaconesses is still an unsettled one for many commentators.
"Yes, and I ask you, loyal yokefellow, help these women who have contended at my side in the cause of the gospel, along with Clement and the rest of my fellow workers, whose names are in the book of life"(4:3).  Now Paul presents us with another mystery.  Who is the loyal yokefellow?  Obviously, he was someone very well known to the apostle.  Perhaps he was also well known to the whole church.  The Greek word Paul uses is suzugos, and some commentators feel that this could even be a personal name.  However, the Greek scholar William Barclay turns thumbs down on this idea.  There was, in fact, no name in the Greek world that matched with this. 6
Utley, suggests that this loyal yokefellow was none other than Luke.  Luke accompanied Paul on many of his journeys.  We can know when Luke was on the journey by the famous "we sections" of Acts.  Utley notes that these "we sections" here start and stop at Philippi.  He suggests that Luke may have stayed on there to minister. 7  Of course, we don't really know who this person was.  He could have even been Epaphroditus.  He could have also been a beloved pastor known to Paul at Philippi.
We note that these two women had actually worked with Paul in some manner.  When we look at how restrictive it was for women in ministry at Ephesus (1 Tim. 2:11-15) and at Corinth (1 Cor. 11:3-16), we might wonder how this could be.  Barclay points out that things were much different in Macedonia.  Women had a freedom there that was not in Greece.  It seemed that women in Macedonia were not hesitant to take a leading role in the church. 8  Fee adds that in Macedonia, women even took a much larger role in public life than elsewhere in the Roman Empire. 9   If they indeed had some leading role, it would certainly magnify the disagreement they had with one another and in time affect the
whole church.
It seems that Paul is full of mysteries here in Philippians.  He mentions that these women worked along with him and with one Clement.  Again, we have no idea who this man was.  Several commentators, even those in early times, felt this was Clement of Rome, the famous leader of the church there. 10  Unfortunately, Rome is a great distance from Philippi.  Clement was also a common name so there is very little chance of a match here.
This mysterious Clement along with other fellow workers have their names written down in the Book of Life.  They may be unknown to men but they are not unknown to God.  The Book of God he speaks of is mentioned in Exodus 32:32-33.  Also it is referred to in Psalms 69:28 and in Revelation 3:5; 13:8; 20:12, 20:15; 21:27; & 22:19.  It is interesting today that Jewish people still greet each other just prior to the Day of Atonement with the words, L'Shanah Tovah Tikatevu (May you be inscribed in the Book of Life for a good year); or with Gemar Chatimah Tovah (May your final sealing in the Book of Life be good).
LIVING A LIFE OF REJOICING
Rejoice in the Lord always. I will say it again: Rejoice!  Philippians 4:4  
Here we have the theme of Philippians once more clearly stated.  It is the theme of having joy and rejoicing. Paul has mentioned it several times already (cf. 1:25-26; 2:17-18; 3:1).  He has in fact mentioned this theme in every chapter, and he will still mention it again in this chapter (4:10).  Christian joy and rejoicing are much unlike any so-called "joy" in this world.  The world's joy fades and passes away often leaving people in great sadness.  The joy of the Lord abides forever.  In John 16:22 Jesus says, "… no one will take away
your joy."
The joy of the Lord is not based on circumstances but upon the Lord himself.  It was true even in the Old Testament that God's people could rejoice regardless of their circumstances.  Habakkuk says, "Though the fig tree does not bud and there are no grapes on the vines, though the olive crop fails and the fields produce no food, though there are no sheep in the pen and no cattle in the stalls, yet I will rejoice in the LORD, I will be joyful in God my Savior" (Hab. 3:17-18).  How much more are we now able to rejoice since we know the Lord Jesus and delight ourselves in his salvation.
Christianity has often robed itself in black and has presented a long face to the public.  One of our friends, who was noted for her quips, thought that black must be the devil's favorite color.  Christian joy is not robed in black and neither does it have a long face.  The Christian is to be filled with joy and laughter and this joy is contagious.  Neighbour says in rhyme, "We need to let our lives and our lips express, the Holy gospel we possess."  11
"Let your gentleness be evident to all. The Lord is near" (4:5).  The Greek word here for "gentleness" is "epieikeia,"and it has various meanings. Matthew Arnold calls it a "sweet reasonableness." 12  Barclay says that it is a most untranslatable word.  It can mean moderation, patience, softness, modesty or forbearance.  He says of the one who possesses it that such a one, "…knows when not to apply the strict letter of the law, when to relax justice and introduce mercy." 13  We immediately think of our Lord and his encounter with the woman caught in adultery.  The strict letter of the law required that she be stoned to death.  Yet, Jesus surprised everyone by forgiving her and instructing her to leave her sinful life (Jn. 8:3-11).
Our gentleness or reasonableness is based on the fact that the Lord is near.  Christians are to live with the expectation of his coming.  In Revelation 3:20, Jesus is pictured as standing at our doors. 14  All this reminds us of the Aramaic term maranatha (come Lord Jesus) as seen in 1 Corinthians 16:22.
"Do not be anxious about anything, but in everything, by prayer and petition, with thanksgiving, present your requests to God" (4:6).  This command about not being anxious is surely a needy one for our age.  The writer and minister, Max Lucado, in speaking on the 700 Club noted that children today have the anxiety level of the psychiatric patients back in the 1950s. 15  We are beset with many worries and fears in our society.  Of course, a cure for anxiety is prayer, petition and thanksgiving to the true God.  We should be able to cast all our cares upon the Lord. (Psa. 55:22; 1 Pet. 5:7).
Wiersbe says that "worry is the greatest thief of joy" and that "worry is an inside job." 16 We strictly bring it upon ourselves.  Most of the things we worry about will never happen and most of these things are simply not true anyway. "Dr. Walter Cavert reported a survey on worry, indicating that only 8 percent of the things people worried about were legitimate matters of concern!  The other 92 percent were either imaginary, never happened, or involved matters over which the people had no control anyway." 17
So, we do not pray enough.  That is our big problem.  The second problem is that we are not thankful.  We might want to remember how many gifts we have given to others for various occasions and how few times these folks have ever bothered to say "thanks."  Jesus in his great compassion once healed ten lepers of their awful disease.  He was surprised that only one of the ten returned to thank him.  That man fell on his face before Jesus and glorified God with a loud voice.  He was not even Jewish but was a Samaritan (Lk. 17:12-19).  The Lord waits for our thanksgiving.  We need to continually thank him.  This in itself is a good medicine against fear and anxiety.
"And the peace of God, which transcends all understanding, will guard your hearts and your minds in Christ Jesus" (4:7).  When we pray with thanksgiving and cast our cares upon the Lord, his great peace comes upon us.  It is like the peace that comes upon the lake after a mighty storm.  It is a peace beyond our understanding and it has its origin in God.  This peace will guard our hearts.  The picture here from the Greek language is that of a military sentinel standing guard over a city, or a military garrison stationed on the inside of a city. 18
We think of that wonderful verse in Isaiah 26:3-4, "You will keep in perfect peace him whose mind is steadfast, because he trusts in you.  Trust in the LORD forever, for the LORD, the LORD, is the Rock eternal."  We think of the Lord's own words in John 14:27, "Peace I leave with you; my peace I give you. I do not give to you as the world gives. Do not let your hearts be troubled and do not be afraid."
GETTING GOOD THINGS INTO OUR THOUGHT PATTERNS
Finally, brothers, whatever is true, whatever is noble, whatever is right, whatever is pure, whatever is lovely, whatever is admirable— if anything is excellent or praiseworthy— think about such things. Philippians 4:8  
Paul does an amazing thing in this section.  He lists a number of virtues that are often found in the vocabulary of pagan philosophers.  As Thielman notes: "Paul's list of virtues… assumes that the world contains many good qualities that merit the believer's consideration and affirmation.  It also assumes that the pagan world has some notion of good and bad, right and wrong, duty and irresponsibility, beauty and ugliness, honor and shame." 19  Fee also notes that the believer should embrace the good wherever it is found, but he should be careful to embrace it in a discriminating way.  He continues saying, "It is decidedly not Paul's view that only what is explicitly Christian (be it literature, art, music, movies or whatever) is worth seeing or hearing. Truth and beauty are where you find them." 20  After all, despite what this world says, truth is truth, and the truth of the Lord will endure.
Let us take a look at this list of virtues.  First on the list is truth itself.  As we have pointed out on other occasions, there is a big problem with this term today.  In the last half-century the postmodern philosophers have cheapened this word until it is almost meaningless.  Truth for them is ever-changing and relative.  We might call it "false truth," or "broken truth."  Before we can speak effectively to this generation we must first come to an understanding with them as to what truth actually is.  Of course, as Christians, we know that Jesus is the truth (Jn. 14:6) and that the truth of the Lord endures forever (2 Jn. 1:2).  Clearly, these philosophers have exchanged the truth for a lie as Paul warns in Romans 1:25.
Next on Paul's list of virtues is "noble" (semnos).  Sometimes this is translated as grave, venerable, serious or dignified.  Barclay describes it as, "a person who…moves throughout the world as if it were the temple of God." 21  Paul then brings up the word "right" or "righteous" (dikaios).  Barclay describes this virtue as "duty faced and duty done." 22  Then Paul mentions "pure" (hagnos).  This term could best be described as holy, chaste or innocent. 23  These people are the morally undefiled.
Paul goes on with his list speaking of things that are lovely or lovable (prosphile).  This would include those things which are pleasing, agreeable, or amiable. 24   Then there is the word "admirable" (euphema).  This term could be translated praiseworthy or commendable.  Barclay says, "It literally means fair-speaking, but it was specially connected with the holy silence at the beginning of a sacrifice in the presence of the gods. It might not be going too far to say that it describes the things which are fit for God to hear." 25From this Greek root we get our words euphemistic and euphemism.
Paul has two more expressions for us and they are "excellent" and "praiseworthy."  Excellent (arete) was the important classical Greek word for "virtue" or "moral excellence." The Greek Septuagint avoided it, and Paul uses it only here.  Fee sees this as evidence that Paul did not totally shy away from the language of the Greek moralists. 26
The last term Paul uses is "praiseworthy," or "praise" (epainos) as it is listed in several popular translations.  This word has a pretty standard meaning and there is no need to comment further upon it.
Paul's challenge is that we think upon these types of things.  We can certainly see how such thoughts would be much better than a mind filled with pornography or selfish ambition.  The Jewish Rabbis felt that the mind was the seed-bed of the soul. 27  The Bible does say of man, "For as he thinks in his heart, so is he…" (Pro. 23:7 NKJ).  Barclay says, "it is a law of life that, if a man thinks of something often enough, he will come to the stage when he cannot stop thinking about it." 28  How true the little lines of Ralph Waldo Emerson that go like this:
Sow a thought and you reap an action;

sow an act and you reap a habit;

sow a habit and you reap a character;

sow a character and you reap a destiny."
"Whatever you have learned or received or heard from me, or seen in me— put it into practice. And the God of peace will be with you" (4:9).  It is such a blessing for the sheep when the shepherds can recommend that the flock follows them and imitates them in everything.  It seems that so few leaders can do this or say it today.
The church at Philippi must remember what they have learned from Paul.  The word "received" (paralambano) probably is a technical term and has to do with the sacred traditions that Paul had handed down to them. 29
As the people are faithful in doing these things, the God of peace will be with them.  This is Paul's favorite title for God as we see in Romans 16:20; 1 Corinthians 14:33; and 1 Thessalonians 5:23. 30  Trapp speaks of this peace of God saying, "This peace, like David's harp, drives away the evil spirit of cares and fears." 31
PAUL'S THANKFUL HEART
I rejoice greatly in the Lord that at last you have renewed your concern for me. Indeed, you have been concerned, but you had no opportunity to show it. Philippians 4:10  
In our western culture we may wonder why Paul has waited until near the end of the letter to thank the Philippians for their gift.  We would likely do that first of all.  We need to remember that the people of this church lived in an orally-based culture.  The letter was read before the whole congregation and Paul's thankfulness would be the last thing ringing in their ears. 32  John Dummelow, who edited a very popular Bible commentary in the early twentieth century feels that the Philippians may have been a bit grieved over the reception of the gift,33 and perhaps Paul was trying to smooth this out.
Apparently there had been some lagging from the Philippians concerning sending gifts to Paul.  The apostle in his joy excuses this, supposing that they lacked opportunity.  This was not the 21st century and it was not always possible to find a messenger going from one city to another.  Of course there was no regular mail service.  Paul was delighted that their care was renewed.  The word he uses is a picture of plants blossoming after some dryness. 34
"I am not saying this because I am in need, for I have learned to be content whatever the circumstances" (4:11).  Despite what many prosperity teachers say today, we have proof here and in other places, that Paul was sometimes in need (cf. 2 Cor. 11:27).  Even Jesus was hungry on occasions (Mk. 11:12).  Paul had learned the secret of being content with an empty stomach or a full one.  For the word "content" the apostle uses another of those well-known term from the Stoic philosophers, the word autarkes.  To the Stoics, it meant self-sufficient, but to Paul it meant "Christ-sufficient." 35
We need to understand a little about the prison system in the Roman world.  Prisons of that day did not provide all the luxuries that are offered today.  Prisoners could not complain about their food rations in a Roman prison because there were none. 36 Prisoners were left to their own means and to whatever provisions would be brought in by friends and relatives. Obviously, with such a system it was quite possible to go hungry.
Most people in the first century were certainly not wealthy.  Christians did not desire wealth per se and like Jesus they knew the dangers of having wealth.  Many probably took on the attitude of Proverbs 30:8-9, "…give me neither poverty nor riches, but give me only my daily bread.  Otherwise, I may have too much and disown you and say, 'Who is the LORD?' Or I may become poor and steal, and so dishonor the name of my God."  Apparently, Paul looked on wealth in just this way.
Wiersbe notes that, "Prosperity has done more damage to believers than has adversity." He reminds us of the church in Revelation 3:17 that was "rich" and had need of nothing. 37  Long ago, one of the things that discouraged me from continuing in the normal ministry was hearing how a $10,000 chandelier in one wealthy church fell and broke all to pieces.  How can such things be justified when most of the world is in want?  Richard Foster once said, "anyone with enough money to buy a book is wealthy relative to the rest of the world." 38
"I know what it is to be in need, and I know what it is to have plenty. I have learned the secret of being content in any and every situation, whether well fed or hungry, whether living in plenty or in want" (4:12).  Here Paul is living out the testimony he would later make to Timothy, saying, "…godliness with contentment is great gain" (1 Tim. 6:6). The expression, "I have learned the secret," is the Greek memuēmai.  It is a word that was commonly used in the mystery religions, 39 and it had the meaning of being initiated.
We gather from this section that the apostle was very circumspect about finances.  In those days there were charlatan philosophers everywhere.  The second century satirist Lucian tells of them saying: "They collect tribute, going from house to house, or, as they themselves express it, they 'shear the sheep' and they expect many to give, either out of respect for their cloth or for fear of their abusive language." 40
Through all his trials Paul had learned the secret of contentment that so few know today.  Stedman tells the story of a Quaker who put a sign on his house saying that he would give it to anyone who could prove that he or she was content.  After a while there was a knock at the door from a man who had seen the sign and who wanted claim the house.  The man claimed complete contentment.  The Quaker replied, "Friend, if thee is so content what does thee want with my house?" 41  I remember hearing the story of a farmer who said he would be content if he just had all the ground that joined his land.
Now Paul comes out with the verse that is known and cherished by Christians everywhere.  He says, "I can do everything through him who gives me strength" (4:13).  "T. R. Glover said, 'The Stoics made of the heart a desert, and called it a peace.' …The Stoic said, 'I will learn to be content by a deliberate act of my own will.' Paul said, 'I can do all things through Christ who infuses his strength into me.'" 42
Guzik warns us here saying: "Unfortunately, many people take this verse out of context and use it to reinforce a 'triumphalist' or 'super-Christian' mentality, instead of seeing that the strength of Jesus in Paul's life was evident in his ability to be content when he did suffer need… We must always also put this precious statement of faith in connection with John 15:5, '…apart from me you can do nothing.'  With Jesus we can do all things, without him we can't do anything." 43
SHARING IN THE MINISTRY
Yet it was good of you to share in my troubles.  Philippians 4:14  
Here once more Paul uses the koinonia language of sharing that he began in 1:5. Commentators have noted in this section that there is a proliferation of commercial terms (vs. 14-18) having to do with friendship and benefits one to another.  With these understandings friends could be expected to help one another even if there was personal sacrifice involved. 44
The Philippians had entered into such a relationship with Paul as he shared the gospel in distant places.  They shared with him when he ministered at Thessalonica, a city about 90 miles (140 k.) to the west on the Via Egnatia. 45
"Moreover, as you Philippians know, in the early days of your acquaintance with the gospel, when I set out from Macedonia, not one church shared with me in the matter of giving and receiving, except you only; for even when I was in Thessalonica, you sent me aid again and again when I was in need." (15-16)  Obviously, the Philippians had shared with Paul often in the early days after he had visited them.  Paul even boasted about their giving to the Corinthians (2 Cor. 8:1-5).  The apostle had also supported himself by working with his hands making tents (1 Thess. 2:9; 2 Thess. 3:7-9).
Early Christian ministries had a much different system of support than most ministries have today.  Cyrpian, of Carthage, in the third century was the first writer to mention the practice of ministerial support.  The practice, however, did not become a widespread thing until the eighth century. 46   It appears that early ministries subsisted largely by faith, as a few still do today.  After all, if ministers share spiritual things, it is only fair that they should receive carnal blessings from their flocks as in 1 Corinthians 9:11.
"Not that I am looking for a gift, but I am looking for what may be credited to your account" (4:17). Paul is still speaking in the commercial language we mentioned earlier. 47  It is wonderful that the apostle could have such a view of material gifts.  He was more interested in the Philippians getting credit than receiving the gift himself.  There is a promise in  Hebrews 6:10 about this which says, "God is not unjust; he will not forget your work and the love you have shown him as you have helped his people and continue to help them."
Paul continues: "I have received full payment and even more; I am amply supplied, now that I have received from Epaphroditus the gifts you sent. They are a fragrant offering, an acceptable sacrifice, pleasing to God" (4:18).  With his statement "I have received full payment" Paul finishes the usage of the commercial metaphors. 48  Some have insinuated that the apostle was not truly thankful for the gifts sent to him but this verse should dispel that idea.  He considered the gift "a fragrant offering."  This compares very closely with the offerings made in ancient Israel (cf. Gen. 8:21; Exo. 29:18, 25, 41; Lev. 1:9).  In offerings of old, God was said to have smelled the "re-ach ni-ho-ach," or the pleasing, and satisfying odor of the sacrifice.  This gives us an indication of how some offerings can be made even in the church today as we help other Christians in their work.
Jesus says in Matthew 10:41-42: "Anyone who receives a prophet because he is a prophet will receive a prophet's reward, and anyone who receives a righteous man because he is a righteous man will receive a righteous man's reward.  And if anyone gives even a cup of cold water to one of these little ones because he is my disciple, I tell you the truth, he will certainly not lose his reward."  Also, we read in Hebrews 13:16: "And do not forget to do good and to share with others, for with such sacrifices God is pleased."
The Philippians were probably people with average means, with exception of Lydia and a few others.  Yet, they accrued for themselves immense rewards from the hand of God.  John Trapp tries to describe this saying:
As a bird with a little eye, and the advantage of a wing to soar with, may see far wider than  an ox with a greater; so the righteous with a little estate, joined with faith and devotion, may feel more comfort and see more of God's bounty than one of vast possessions, whose heart cannot lift itself above the earth. 49
"And my God will meet all your needs according to his glorious riches in Christ Jesus" (4:19).  No doubt millions of sincere believers over the centuries have clung to this verse as they have waited for the Lord to supply their needs.  We should note that this verse is talking about our needs and not our wants.  Oft times, God even supplies some of our wants.
Stedman remarks: "Someone has said that at the beginning of this [20th] century the average American wanted 72 things, 18 of which he regarded as necessary. But by the mid-century mark, 1950, the list of American wants had grown to 496 things, 96 of which he regarded as absolute necessities." 50
We should not forget the Lord's own rule in matters of giving and receiving.  He says in Luke 6:38, "Give, and it will be given to you. A good measure, pressed down, shaken together and running over, will be poured into your lap. For with the measure you use, it will be measured to you."
Paul now gives his benediction: "To our God and Father be glory for ever and ever. Amen" (4:20).  It is said that Paul always has a doxology along with his theology.
PAUL'S FINAL GREETINGS
Greet all the saints in Christ Jesus. The brothers who are with me send greetings. Philippians 4:21  
Paul ends with a general salutation here and not with greetings to lists of people as he does for instance in the Book of Romans.  Perhaps, since the church at Philippi was so dear to him, the list would have just been too long.  Coffman says, "If Paul saluted a few friends by name at the end of this epistle, it would have been an insult to a hundred others whom he personally knew in Philippi." 51
It is entirely possible that the apostle wrote this last section in his own handwriting as he did in several of his epistles.  This was his technique of authenticating his letters (cf.1 Cor. 16:21; Gal. 6:11; Col. 4:18; 2 Thess. 3:17; Phm. 1:19). 52
"All the saints send you greetings, especially those who belong to Caesar's household. The grace of the Lord Jesus Christ be with your spirit. Amen." (4:22-23)  Robertson seems amazed at the ending here.  He remarks how, "…this obscure prisoner who has planted the gospel in Caesar's household has won more eternal fame and power than all the Caesars combined. Nero will commit suicide shortly after Paul had been executed. Nero's star went down and Paul's rose and rises still." 53
The mention of Caesar's household must have been a huge encouragement to the church at Philippi.  Barclay enlightens us on this saying:
It is important to understand this phrase rightly. It does not mean those who are of Caesar's kith and kin. Caesar's household was the regular phrase for what we would call the Imperial Civil Service; it had members all over the world. The palace officials, the secretaries, the people who had charge of the imperial revenues, those who were responsible for the day-to-day administration of the empire, all these were Caesar's household.  It is of the greatest interest to note that even as early as this Christianity had penetrated into the very center of the Roman government.  54
Thus, Paul ends his short but joyous epistle to the first church in Europe, the church of the Philippians.  Barclay says, "It was to be another three hundred years before Christianity became the religion of the empire, but already the first signs of the ultimate triumph of Christ were to be seen. The crucified Galilean carpenter had already begun to rule those who ruled the greatest empire in the world." 55
__________
Notes
Several sources I have cited here are from the electronic media, either from websites or from electronic research libraries.  Thus in some of these sources it is not possible to cite page numbers.  Instead I have cited the verse or verses in each chapter of Philippians (e.g. verse v. 2:1 or vs. 3:1-2) about which the commentators speak. 
INTRODUCTION
1.  Gordon D. Fee, Philippians, The IVP New Testament Commentary (Downers
Grove IL:  Inter-Varsity Press, 1999), p. 35.
2.  http://en.wikipedia.org/wiki/Via_Egnatia
3.  Bob Utley, Paul Bound, the Gospel Unbound: Letters from Prison (Colossians, Ephesians and Philemon, then later, Philippians), Introduction, Bible Lessons International, 2013, http://www.freebiblecommentary.org/new_testament_studies/VOL08/VOL08.html
4.  Frank Thielman, Philippians, The NIV Application Commentary (Grand Rapids: Zondervan Publishing House, 1995), p. 17.
Thielman notes, "Presumably, not enough Jewish men lived in Philippi to form a synagogue…"
CHAPTER 1
1.  William Godbey,  William Godbey's Commentary on the New Testament, Commentary on Philippians, 1896-1900, vs. 1-3. "http://www.studylight.org/com/ges/view.cgi?bk=49&ch=1".
2.  Quoted in Thielman, Philippians, p. 48.
3.  Ibid., p. 33.
Fee (p. 39) adds here: "Letters in the Greco-Roman period had this pattern in reverse, with a threefold salutation at the beginning: "Gordon, to his father: Greetings." Very often the next item in the letter was a wish (sometimes a prayer) for the health or well-being of the recipient. Paul's letters, which follow this standard form, usually include a thanksgiving report and sometimes, as here, a prayer report (telling his recipients specifically how he prays for them).
4.  William Barclay, The Letters to the Philippians, Colossians, and Thessalonians, Revised Edition, (Louisville, KY: The Westminster Press, 1975), p. 11.
5.  Fee, Philippians, p. 42.
6.  Barclay, The Letters to the Philippians, Colossians, and Thessalonians, p. 12.
7.  F. B. Meyer, Meyer's Devotional Commentary on Philippians, vs. 1:1-2.  http://www.studylight.org/com/dcp/view.cgi?bk=49&ch=1.
8.  Barclay, The Letters to the Philippians, Colossians, and Thessalonians, pp. 9-13.
9.  Warren W. Wiersbe, The Wiersbe Bible Commentary, NT (Colorado Springs CO: David C. Cook Co., 2007), p. 628.
10. Barclay, The Letters to the Philippians, Colossians, and Thessalonians, p. 14.
11. A. T. Robertson, Robertson's Word Pictures of the New Testament (Broadman Press, 1932, 33, Renewal 1960) , v. 4. http://www.studylight.org/com/rwp/view.cgi?bk=49&ch=1.
12.  William Barclay, A New Testament Wordbook (London: SCM Press Ltd., 1955), pp. 71-74.
13.  Fee, Philippians, p.47.
He says: "[koinonia] Its basic sense here, then, is 'participation in the spread of the gospel,' which in light of verse 7 very likely carries the further connotation of doing so in 'partnership with Paul.'"
14.  Wade Clark Roof and William McKinney, American Mainline Religion, Its Changing Shape and Future (Rutgers, The State University, 1987).
15.  https://www.christianhistoryinstitute.org/incontext/article/cyprian/
16.  Ray C. Stedman, Ray Stedman Expository Studies, Commentary on Philippians, 2010, vs. 1:1-11. http://www.studylight.org/com/rsc/view.cgi?bk=49&ch=1″.
17.  Peter Pett, Peter Pett's Commentary on the Bible, Commentary on Philippians, 2013, 1:vs. 3-5.  http://www.studylight.org/com/pet/view.cgi?bk=49&ch=1.
18.  Meyer, Meyer's Devotional Commentary on Philippians, vs. 1:5-11.
19.  Quoted in Herbert W. Bateman IV, Gen. Ed., Four Views on the Warning Passages in Hebrews (Grand Rapids: Kregel Publications, 2007), pp172-173
20.  Utley, Paul Bound, the Gospel Unbound: Letters from Prison,vs. 1:1-6.
21.  John Chrysostom, Homilies of St. John Chrysostom, Epistle of St. Paul The Apostle To The Philippians, p. 187. http://www.ccel.org/ccel/schaff/npnf113.iv.iii.i.html.
22.  Fee, Philippians, p. 51.
23.  Barclay, The Letters to the Philippians, Colossians, and Thessalonians, pp. 1:17-18.
24.  Fee, Philippians, p. 53.
25.  Robertson, Robertson's Word Pictures of the New Testament, v. 1:9.
26.  Thielman, Philippians, p. 41.
27.  Utley, Paul Bound, the Gospel Unbound: Letters from Prison,vs. 1:9-11.
28.  Albert Barnes, Barnes' Notes on the New Testament, Commentary on Philippians, 1870, v. 10. http://www.studylight.org/com/bnb/view.cgi?bk=49&ch=1.
29.  Barclay, The Letters to the Philippians, Colossians, and Thessalonians, pp. 21-22.
30.  Fee, Philippians, p. 60.
"This probably reflects the situation in Rome in the early 60s, when Nero's madness was peaking and the church there had begun to fall under suspicion, as Nero's pogrom against them just a couple of years later bears witness."
31.  Barclay, The Letters to the Philippians, Colossians, and Thessalonians, pp. 20-21.
32.  Fee, Philippians, p. 59.
33.  Robertson, Robertson's Word Pictures of the New Testament, v. 1:13.
34.  Paul Kretzmann, Kretzmann's Popular Commentary , Commentary on Philippians,  vs. 13-17, 1921-1922. http://www.studylight.org/com/kpc/
35.  Wiersbe, The Wiersbe Bible Commentary, NT, p. 361.
36.  Thielman, Philippians, pp. 70-71.
37.  Godbey, William Godbey's Commentary on the New Testament, Commentary on Philippians, vs. 1:15-18.
38.  Stedman, Ray Stedman Expository Studies, Commentary on Philippians, vs. 1:15.
39.  John Calvin, Calvin's Commentary on the Bible, Commentary on Philippians, 1840-1857, vs. 1:18. http://www.studylight.org/com/cal/view.cgi?bk=49&ch=1″.
40.  Meyer, Meyer's Devotional Commentary on Philippians, v. 1:19.
41.  Utley, Paul Bound, the Gospel Unbound: Letters from Prison, v. 1:19.
42.  Barclay, The Letters to the Philippians, Colossians, and Thessalonians, p. 26.
43.  Thielman, Philippians, p. 80.
44.  Alexander Roberts & James Donaldson, Eds., The Ante-Nicene Fathers, Vol. 1, (Grand Rapids: Wm. B. Eerdmans Publishing Company, 1956), p. 35.
Note: Bakers Evangelical Dictionary states that "Hades" in the NT translates "Sheol" in the OT.  http://www.biblestudytools.com/dictionaries/bakers-evangelical-dictionary/sheol.html
45.  Ibid., Vol. 5, p. 222.
46.  Larry D. Hart, Truth Aflame, A Balanced Theology for Evangelicals and Charismatics (Nashville: Thomas Nelson Publishers, 1999), p. 434.
Hart says: "The biblical evidence we have already examined clearly indicates that at death we enter directly into the presence of the Lord."
47.  Wiersbe, The Wiersbe Bible Commentary, NT, p. 633.
48.  Meyer, Meyer's Devotional Commentary on Philippians, vs. 1:21-26.
49.  Barclay, The Letters to the Philippians, Colossians, and Thessalonians, p. 28.
50.  Ibid., p. 27.
51.  Godbey, William Godbey's Commentary on the New Testament, Commentary on Philippians, v. 1:26.
52.  Fee, Philippians, p. 73.
53.  Ibid., p. 77.
54.  Stedman, Ray Stedman Expository Studies, Commentary on Philippians, vs. 1:17-30.
Also, see Wiersbe, p. 634.
55.  Robertson, Robertson's Word Pictures of the New Testament, v. 1:28.
56.  Fee, Philippians, p. 83.
CHAPTER 2
1.  Wiersbe, The Wiersbe Bible Commentary, NT, p. 635.
2.  Barnes, Barnes' Notes on the New Testament, Commentary on Philippians, v. 2:2.
3.  David Guzik, David Guzik's Commentaries on the Bible, Commentary on Philippians, 1997-2003, vs. 2:2-4. http://www.studylight.org/com/guz/view.cgi?bk=49&ch=1.
4.  Barclay, The Letters to the Philippians, Colossians, and Thessalonians, p. 32.
5.  Utley, Paul Bound, the Gospel Unbound: Letters from Prison, v. 2:2.
6.  Stedman, Ray Stedman Expository Studies, Commentary on Philippians, vs. 2:1-2.
7.  Quoted in James Burton Coffman, Coffman Commentaries on the Old and New Testament, Commentary on Philippians (Abilene, TX: Abilene Christian University Press, 1983-1999), v. 2:4. http://www.studylight.org/com/bcc/view.cgi?bk=49&ch=1″.
8.  John Trapp, John Trapp Complete Commentary, Commentary on Philippians, 1865-1868, v. 2:4. http://www.studylight.org/com/jtc/view.cgi?bk=49&ch=1.
9.  Barclay, The Letters to the Philippians, Colossians, and Thessalonians, pp. 34, 38.
10.  Stedman, Ray Stedman Expository Studies, Commentary on Philippians, vs. 2:5-11.
11.  Thielman, Philippians, pp. 112, 111.
He adds  (p. 123) that, "the fathers of the church, who spoke Paul's language as their native tongue, appear to have been unaware of any hymnic qualities in the passage at all."
12.  Barclay, The Letters to the Philippians, Colossians, and Thessalonians, pp.35-36.
13.  Ibid., p. 36.
14.  Utley, Paul Bound, the Gospel Unbound: Letters from Prison, v. 2:6.
15.  Barclay, The Letters to the Philippians, Colossians, and Thessalonians, p. 35.
16.  Fee, Philippians, pp. 6-7.
"This leads… to the troubling word likeness (homoioma), which is most likely used because of Paul's belief (in common with the rest of the early church) that in becoming human Christ did not cease to be divine…The dissimilarity lies with his never ceasing to be 'equal with God;' while 'like' us in being fully identified with us, he was not 'human' only. He was God living out a truly human life, all of which is safeguarded by this expression."
We might add here that Jesus could not share the sinful human nature with humanity.
17.  George T. Kurian, Ed.,  Nelson's New Christian Dictionary (Nashville: Thomas Nelson Publishers, 2001), p. 245.
18.  Thielman, Philippians, p. 129.
19.  Stedman, Ray Stedman Expository Studies, Commentary on Philippians, vs. 2: 5-11.
20.  Thielman, Philippians, p. 119.
21.  John R. W. Stott, The Message of Ephesians (Leicester, Eng. & Downers Grove, IL: Inter-Varsity Press, 1979), p.93.
22.   K. S. Wuest, Ephesians in the Greek New Testament: Wuest's Word studies from the Greek New Testament, (Grand Rapids: Eerdmans,1984, 1997), p. 94.
23.  Fee, Philippians, pp. 2:9-11.
Barclay adds here (p. 39): "The great title by which Jesus came to be known in the early Church was kurios"
24.  Kretzmann, Kretzmann's Popular Commentary, Commentary on Philippians,
vs. 2:9-11.
25.  Fee, Philippians, pp. 12-13.
26.  Barclay, The Letters to the Philippians, Colossians, and Thessalonians, p. 41.
27.  Pett, Peter Pett's Commentary on the Bible, Commentary on Philippians, vs. 2:12-18.
28.  Thielman, Philippians, p. 139.
29.  Trapp, John Trapp Complete Commentary, Commentary on Philippians, v. 2:14.
30.  Quoted in Guzik, David Guzik's Commentaries on the Bible, Commentary on Philippians, vs. 2:14-16.
31.  Natasha Vargas-Cooper "Hard core-the new world of porn is revealing eternal truths about men and women," in The Atlantic, Jan/Feb 2011, pp. 97-99.
32.  Barclay, The Letters to the Philippians, Colossians, and Thessalonians, p. 43.
33.  Ibid., p. 46.
34.  Barnes, Barnes' Notes on the New Testament, Commentary on Philippians,
vs. 2:17-18.
35.  Thielman, Philippians, p. 151.
36.  Barclay, The Letters to the Philippians, Colossians, and Thessalonians, p. 48.
37.  Quoted in Coffman, Coffman Commentaries on the Old and New Testament, Commentary on Philippians, v. 2:20.
38.  Ibid., v. 2:22.
39.  Thielman, Philippians, p. 57.
40.  Barclay, The Letters to the Philippians, Colossians, and Thessalonians, p. 49.
41.  Kretzmann, Kretzmann's Popular Commentary, Commentary on Philippians, vs. 2:25-30.
42.  Coffman, Coffman Commentaries on the Old and New Testament, Commentary on Philippians, v. 2:27.
43.  Barclay, The Letters to the Philippians, Colossians, and Thessalonians, p. 50.
44.  Coffman, Coffman Commentaries on the Old and New Testament, Commentary on Philippians, v. 2:30.
Fee notes here (p. 121): "In the Greco-Roman world people expected to die of disease or illness and were amazed by recovery."
CHAPTER 3
1.  Robert Jamieson,  A. R. Fausset & David Brown, Commentary Critical and Explanatory on the Whole Bible, Commentary on Philippians, 1871, v. 3:1   http://www.studylight.org/com/jfb/view.cgi?bk=49&ch=1
2.  Calvin, Calvin's Commentary on the Bible, Commentary on Philippians, v. 3:1.
3.  Barclay, The Letters to the Philippians, Colossians, and Thessalonians, p. 52.
4.  ABC TV News, July 31, 2007.
5.  Quoted in Guzik, David Guzik's Commentaries on the Bible, Commentary on Philippians, vs. 3:1-2.
6.  Stedman, Ray Stedman Expository Studies, Commentary on Philippians, v. 2.
7.  Barclay, The Letters to the Philippians, Colossians, and Thessalonians, p.  53.
8.  Fee, Philippians, p. 133.
9.  Wiersbe, The Wiersbe Bible Commentary, NT, p. 645.
10.  Kretzmann, Kretzmann's Popular Commentary, Commentary on Philippians,
vs. 3:4-6.
11.  Barclay, The Letters to the Philippians, Colossians, and Thessalonians, p. 59.
12.  Ibid., p. 10.
13.  Utley, Paul Bound, the Gospel Unbound: Letters from Prison, v. 3:6.
14.  Barnes, Barnes' Notes on the New Testament, Commentary on Philippians, v. 3:6.
15.  Pett, Peter Pett's Commentary on the Bible, Commentary on Philippians, v. 3:7.
16.  Citing Wuest, Guzik, David Guzik's Commentaries on the Bible, Commentary on Philippians, v. 3:7.
Thielman notes here (p. 70): "Paul does not mean that his Jewish upbringing, the law, and 'everything else were evil,' but that his attitude toward them was evil."
17.  Stedman, Ray Stedman Expository Studies, Commentary on Philippians, vs. 3:8-12.
18.  Ibid., Quoting Spurgeon, vs. 3:8-12.
19.  Barnes, Barnes' Notes on the New Testament, Commentary on Philippians, v. 3:8.
20.  Robertson, Robertson's Word Pictures of the New Testament, v. 3:8.
 21.  Godbey, William Godbey's Commentary on the New Testament, Commentary on Philippians, vs. 3:8-9.
22.  Barclay, The Letters to the Philippians, Colossians, and Thessalonians, p. 62.
23.  Ibid., p. 63.
24.  Fee, Philippians, p. 148.
25.  Ibid., p. 150.
26.  Thielman, Philippians, p.  173.
27.   Jamieson,  A. R. Fausset & David Brown, Commentary Critical and Explanatory on the Whole Bible, Commentary on Philippians, v. 3:11.
28.   Adam Clarke, The Adam Clarke Commentary, Commentary on Philippians, 1832,
v. 3:12.
Barclay says (p. 45): "There can be little doubt that, in Corinth and in Ephesus, Paul had been a spectator of these games."
29.  Barclay, The Letters to the Philippians, Colossians, and Thessalonians, p. 65.
30.  Thielman, Philippians, p.  212.
31.  Calvin, Calvin's Commentary on the Bible, Commentary on Philippians, v. 3:12.
32.  Thielman, Philippians, p. 196.
33.  Wiersbe, The Wiersbe Bible Commentary, NT, p. 647.
34.  Thielman, Philippians, p. 194.
35.  Meyer, Meyer's Devotional Commentary on Philippians, vs. 3:13-21.
36.  Fee, Philippians, p. 155.
37.  Wiersbe, The Wiersbe Bible Commentary, NT, p. 648.
38.  Robertson, Robertson's Word Pictures of the New Testament, v. 3:13.
39.  John Dummelow, John Dummelow's Commentary on the Bible, Commentary on Philippians, 1909, vs. 12-16. http://www.studylight.org/com/dcb/view.cgi?bk=49&ch=1″.
40.  Wiersbe, The Wiersbe Bible Commentary, NT, p. 648.
41.  Ibid., p. 649.
42.  Fee, Philippians, p. 157.
Pett adds on v.15: "The noun teleios is regularly used to indicate maturity rather than perfection, and in Paul spiritual maturity. Jesus tells us that we are to be 'teleios because our Father in Heaven is teleios' (Matthew 5:48). … a true representation of what the Father is, a spiritual maturity …A person who does not offend in his words is teleios (James 3:2), that is, he reveals his full growth and maturity. In 1 Corinthians 2:6 those who are spiritually mature (teleios) recognize true spiritual wisdom. In 1 Corinthians 14:20 we are to be mature (teleios) in understanding as adults, as opposed to having the immaturity of children….For if anyone has a different mindset it will require God to reveal the truth to him."
Utley says of this (3:15): "Christians can be mature without being sinless (cf.1 Cor. 2:6; 14:20; Eph. 4:13; Heb.5:14; 6:1)."
43.  Trapp, John Trapp Complete Commentary, Commentary on Philippians, v. 3:15.
44.  G. Abbott-Smith, Manual Greek Lexicon of the New Testament (Edinburgh: T. & T. Clark, 1921, p. 410.
45.  Robert E. Neighbour, Living Water Commentary on Philippians, v. 3:17. http://www.studylight.org/com/lwc/view.cgi?bk=49&ch=1.
46.  Barclay, The Letters to the Philippians, Colossians, and Thessalonians, p. 69.
47.  Ibid., pp. 68-69.
48.  Trapp, John Trapp Complete Commentary, Commentary on Philippians, v. 3:19.
49.  Fee, Philippians, p. 163.
50.  Barclay, The Letters to the Philippians, Colossians, and Thessalonians, p. 69.
51.  Fee, Philippians, p. 166.
CHAPTER 4
1.  Pett, Peter Pett's Commentary on the Bible, Commentary on Philippians, vs. 4:1-9.
2.  Ibid.
3.  Thielman, Philippians, p. 215.
4.  Ibid., p. 227.
5.  Barnes, Barnes' Notes on the New Testament, Commentary on Philippians, v. 4:2.
6.  Pett, Peter Pett's Commentary on the Bible, Commentary on Philippians, v. 4:3.
See also Barnes v. 4:3.
7.  Utley, Paul Bound, the Gospel Unbound: Letters from Prison, v. 4:3.
8.  Barclay, The Letters to the Philippians, Colossians, and Thessalonians, p. 73.
9.  Fee, Philippians, p. 168.
10.  Utley, Paul Bound, the Gospel Unbound: Letters from Prison, v. 4:3.
"Origen of Alexandria, Eusebius, and Jerome believed that it refers to Clement of Rome who wrote a letter to the Corinthian church sometime toward the end of the first century (A.D. 95).
11.  Neighbour, Living Water Commentary on Philippians, vs. 4:5-6.
12.  Quoted in Robertson, Robertson's Word Pictures of the New Testament, v. 4:5.
13.  Barclay, The Letters to the Philippians, Colossians, and Thessalonians, p. 75.
14.  Pett, Peter Pett's Commentary on the Bible, Commentary on Philippians, v. 4:5.
15.  Max Lucado on the CBN 700 Club, Nov. 24, 2009.
16.  Wiersbe, The Wiersbe Bible Commentary, NT, p. 652.
17.  Ibid., p. 653.
18.  Coffman, Coffman Commentaries on the Old and New Testament, Commentary on Philippians, v. 4:7
See also Thielman p. 219.
19.  Thielman, Philippians, p. 224.
20.  Fee, Philippians, pp. 181, 178.
21.  Barclay, The Letters to the Philippians, Colossians, and Thessalonians, p. 79.
22.  Ibid., p. 80.
23.  Bible Works (electronic media), Wescott & Hort Greek Lexicon, v. 4:8.
24.  Ibid.
25.  Barclay, The Letters to the Philippians, Colossians, and Thessalonians, p. 80.
26.  Fee, Philippians, p.79.
27.  Utley, Paul Bound, the Gospel Unbound: Letters from Prison, vs. 8-9.
28.  Barclay, The Letters to the Philippians, Colossians, and Thessalonians, p. 79.
29.  Pett, Peter Pett's Commentary on the Bible, Commentary on Philippians, v. 4:9.
30.  Barclay, The Letters to the Philippians, Colossians, and Thessalonians, p. 82.
31.  Trapp, John Trapp Complete Commentary, Commentary on Philippians, v. 4:9.
32.  Fee, Philippians, p. 172.
33.  Dummelow, John Dummelow's Commentary on the Bible, Commentary on Philippians, v. 4:9.
34.  Pett, Peter Pett's Commentary on the Bible, Commentary on Philippians, v. 4:10.
35.  Fee, Philippians, p. 185.
36.  Ibid., p. 186.
37.  Wiersbe, The Wiersbe Bible Commentary, NT, p. 654.
38.  Thielman, Philippians, p. 245.
39.  Barnes, Barnes' Notes on the New Testament, Commentary on Philippians, v. 4:12.
40.  Thielman, Philippians, p. 234.
41.  Stedman, Ray Stedman Expository Studies, Commentary on Philippians, vs. 4:10-20.
42.  Barclay, The Letters to the Philippians, Colossians, and Thessalonians, p. 85.
43.  Guzik, David Guzik's Commentaries on the Bible, Commentary on Philippians, vs. 4:10-14.
44.  Fee, Philippians, p. 188.
Utley adds here (v. 4:15): "There is a series of commercial terms in Phil. 4:15-18 which can be verified and defined from the Koine Greek papyri found in Egypt and the ostraca (broken pottery used as writing material). This first one was a banking term for an open account…. As a rabbi he was not allowed to take money for his teaching."
45.  Kretzmann, Kretzmann's Popular Commentary, Commentary on Philippians,
vs. 4:14-20).
46.  Frank Viola and George Barna, Pagan Christianity? Exploring the Roots of Our Church Practices (Carol Stream, IL: Tyndale House Publishers, Inc. 2002, 2008), p. 176.
47.  Utley, Paul Bound, the Gospel Unbound: Letters from Prison, v. 4:17.
48.  Robertson, Robertson's Word Pictures of the New Testament, v. 4:18.
49.  Trapp, John Trapp Complete Commentary, Commentary on Philippians, v. 4:18.
50.  Stedman, Ray Stedman Expository Studies, Commentary on Philippians, vs. 4:10-20.
51.  Coffman, Coffman Commentaries on the Old and New Testament, Commentary on Philippians, v. 4:21.
52.  Utley, Paul Bound, the Gospel Unbound: Letters from Prison, vs. 4:21-23.
53.  Robertson, Robertson's Word Pictures of the New Testament, v. 4:21.
54.  Barclay, The Letters to the Philippians, Colossians, and Thessalonians, p. 87.
55.  Ibid.