For many years I wondered how our part and God's part exactly corresponded in matters of salvation.  In other words, how did works and faith really fit together?  Fortunately in this  electronic and computer age, we are given some wonderful object lessons and insights that might help us understand this.  They also might encourage us to look more intently into the spiritual realm.  Let's take computers for instance.  I don't profess to be an expert on computers, but because of my work as a writer, I do have eighteen or so years of practical experience working with the things.
I often think of some of my old articles from the past.  They are now crinkled, discolored with age, and some may even have coffee stains on them.  Generally speaking, they are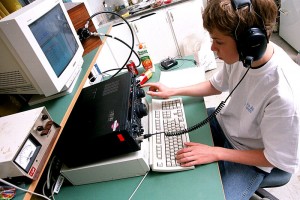 pretty useless in their present state. Yet, these old documents can now be electronically scanned with a simple operation.  After their electronic renewal they can then be distributed all over the world in a flash via E-mail, the web and Internet.  How this corresponds to our old bodies becoming translated spiritually by the resurrection that is to come!  Now we have many limitations but then we will have none.
Let us continue with our thinking in electronic and computer terms.  When we connect with God through Jesus in our initial salvation experience, he instantly "downloads" his whole program of salvation into our lives.  We do not supply this in any way for it comes from above, from heaven.  It is complete and perfect, at least in seminal form.
In Jesus and in him alone, we are given this right to connect with God.  In computer terminology again, this is called "access."  If we have it, we can connect, but without it we are forever locked out.  The scripture sums it up for us in Romans 5:1-2: "Therefore, since we have been justified through faith, we have peace with God through our Lord Jesus Christ, through whom we have gained access by faith into this grace in which we now stand. And we rejoice in the hope of the glory of God."  
Over the years I have probably lost hundreds of pieces of information because I simply forgot to stop and save them before some power failure or computer glitch wiped them out.  How this compares to the salvation of Jesus.  The Bible says, "Everyone who calls on the name of the Lord will be saved" (Rom. 10:13).  How tragic that so many souls will be lost because they have not called upon God to save them.
A COMPLETE SALVATION PACKAGE
What a complete salvation package we are given from heaven!  In 2 Peter 1:3-4, the apostle describes this blessing in more detail: "His divine power has given us everything we need for life and godliness through our knowledge of him who called us by his own glory and goodness. Through these he has given us his very great and precious promises, so that through them you may participate in the divine nature and escape the corruption in the world caused by evil desires."
Paul, in the glorious introduction to Ephesians  exclaims: "Praise be to the God and Father of our Lord Jesus Christ, who has blessed us in the heavenly realms with every spiritual blessing in Christ" (Eph. 1:3).  It is quite true that everything in heaven was given to us along with Jesus.  In Colossians 2:9-10 (NKJV), Paul says: "For in Him dwells all the fullness of the Godhead bodily;  and you are complete in Him…"  As we see, God's program provides us with completeness and wholeness.  There is nothing we can do to add to the program either. To try and do so would be to contaminate it with our own
corrupted thinking.
In Luke 17:20-21 Jesus said:  "…The kingdom of God does not come with your careful observation, nor will people say, 'Here it is,' or 'There it is,' because the kingdom of God is within you."  There is a real sense in which the kingdom of God is already downloaded into our lives if we know Jesus. However, much like a program given to us on a computer download we have to open it up and use it in order to really possess it.  Then we are amazed by the marvelous things we can accomplish with that which is freely given to us.
Let us remember that it is Jesus and him only who provides all these things. It is unfortunate in our high-tech day that we spend so much time with "virtual reality," not realizing that is Jesus alone who gives us reality.
VIRUSES AND MALICIOUS SCRIPTS
Once we are saved we must not think that Satan relaxes his program and ceases to trouble us.  Like computer software, these heavenly gifts can be damaged and contaminated by viruses sent from the devil and his agents.  These spiritual viruses can show up in many forms.  They can come as false doctrines, divisive teachings or just plain sin.  For instance, false teachings on the deity can lead us to a defective understanding of who Jesus really is.  Although we may be strong in other areas, these infected  areas will lag behind.  There are many other ways our faith can become polluted.
How do we correct this?  Some time ago a friend inadvertently sent me an E-mail with a virus attached.  Although I was alert and had virus protection on my computer, this one somehow slipped through.  In doing so, it damaged my E-mail program so that it could no longer be used.  This event made me think a lot about the false input we get from Satan. If we only knew how damaging false teaching is to our lives, to our households and even to others as we pass it along!  What did I have to do to correct this?  I had to get rid of the infected program and then download a completely new and uncontaminated E-mail program.  No half-way steps would do.
So when we are damaged by false doctrine, false ideas or other sin, we need to ask the Father to let us download that whole section all over again. We need a restoration and cleansing from God. First, of course, we must renounce and forsake our old and mistaken concepts. Our renewal can come from looking again into the face of our perfect Lord; from earnest prayer; from sincere repentance; from diligent seeking in the word; from receiving proper teaching.  Often this can come from the input of righteous and holy friends.  If they have the pure and undefiled edition they can share it with us.
WHAT IS OUR PART?
Because of sin's contamination our part is minimal.   We cannot even will to do good and carry it out completely: "As it is written: 'There is no one righteous, not even one; there is no one who understands, no one who seeks God'" (Rom. 3:10-11).  Through the fall, our whole lives and spirits are hopelessly contaminated by the sin virus.  Our will power is thus full of holes.  God's solution for this is included in the heavenly program.  The scripture assures us: "for it is God who works in you to will and to act according to his good purpose" (Phil. 2:13).  We see a similar idea in Hebrews 13:21-22, that God desires to "equip you with everything good for doing his will, and…work in us what is pleasing to him through Jesus Christ."
God has made provision for everything.  He has even given us his Holy Spirit to help, counsel, comfort and empower us.  Without his help we do not even have the power to "click on" to the good things God has provided.  So God will help us through his Holy Spirit sent from heaven.
Our part is to cry out in our need and then let God give us aid.  There is one scripture I use more and more as I get older in the Lord.  It is the simple formula found in Romans 10:13, "…Everyone who calls on the name of the Lord will be saved."  The complete idea in this verse is that we will be delivered or made whole.  In Psalm 18:3, David says:  "I call to the LORD, who is worthy of praise, and I am saved from my enemies."
I am convinced that "calling on the Lord" is not something we do only once.  We need to call to him often, every day, and in doing so we will be delivered.   Then we need to totally depend on Jesus and his Holy Spirit to help us carry out his program in our lives. Through the Holy Spirit, given to us forever, we can now begin to open the vast array of wonderful gifts that are given and available to us in the salvation package. In 1 Corinthians 2:9-10 it is written: "'No eye has seen, no ear has heard, no mind has conceived what God has prepared for those who love him'  —but God has revealed it to us by his Spirit." 
Now through God's Holy Spirit we can both comprehend and utilize the wonderful and amazing spiritual programs made available to us.  Hopefully this will encourage us to launch out and explore a bit in the wonderful spiritual world that Jesus has provided.
                                                                                                    -Jim Gerrish
September, 2002
Picture credit Wikimedia Commons