A growing number of Christians today are refusing to celebrate Christmas.  They feel it is an utterly pagan rite.  While it is certainly true that there are some pagan influences in this holiday, there are numerous biblical ones as well, and the biblical ones appear to outweigh the pagan ones.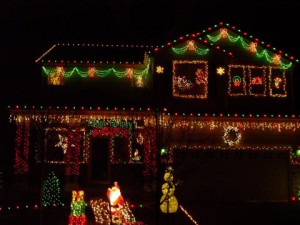 It seems that in the Bible we have a mandate from the Lord to "redeem the time" (Eph. 5:16), that is to preserve the good and the true, wherever it is found, while we reject the evil and the false.  Every day we see good and evil all around us, yet we do not reject life because of the evil.  Even in the church we see wheat and tares growing together just as the Lord said it would be.  We certainly cannot reject the church just because there are evil people in it.  So, how then can we reject Christmas?
It is true that we do not know the exact time of Jesus' birth, but we do know that he was born.  That alone is cause for great celebration.  Obviously, millions of Christians all over the world still honor his birth.  While western Christians hallow the date on December 25th, many in the east, like the Armenians and Greek Orthodox, celebrate Christmas at various times during the month of January.
The added blessing is that pagans the world over, are happy to celebrate Christmas with us.  Just imagine, millions of pagans pausing several days each year just to think about Jesus.  Somehow their hearts are strangely warmed by his nearness.  They sing songs about his birth; give gifts to each other in his honor; and even retell the miraculous story of his birth.  What is so bad about that?  It all seems like a divinely planned worldwide evangelistic outreach.
Of course, there are some pagan things that we should remove from Christmas.  We should get rid of Santa Claus, his elves and his reindeer. We should get rid of Frosty the Snow Man and other silly additions to the Christmas story. These things have absolutely no significance for Christianity and only create confusion in young minds. We should strive to remove the crass commercialism that has gotten attached to Christmas.  Our gift giving should be kept simple and meaningful in the spirit of that first holy night.
But with that we should probably stop. There is no real need to throw out the Christmas tree with its lights and glittering decorations.  The tree has always been a beautiful biblical symbol.  The Christmas tree can picture for us the Tree of Life mentioned so often in the Bible, and so exemplified in Jesus.  Its lights and ornaments speak of the incredible joy and gladness that the Light of the World has brought to us.  The gifts underneath the tree are appropriate symbols of the gift of salvation that Jesus has provided.  What a joyful and meaningful holiday!  Why should Christian people want to spurn it?
CHRISTMAS IN THE BIBLE
There is much about Christmas in the Bible, even if it is not called by that name.  The prophets speak of the Messiah's coming to Israel and to the world.  Although they wrote hundreds of years before the event, they are extremely accurate in their predictions.
Isaiah speaks of the one coming who would be none other than God: "For to us a child is born, to us a son is given, and the government will be on his shoulders. And he will be called Wonderful Counselor, Mighty God, Everlasting Father, Prince of Peace" (Isa. 9:6).  In the mysterious prophecy of Isaiah 7:14, the prophet says: "…The virgin will be with child and will give birth to a son, and will call him Immanuel."  In Matthew 1:23, the gospel writer tells us that "Immanuel" is to be translated "God with us."
The prophet Micah is even more precise.  Micah 5:2 tells us exactly where Immanuel would make his appearance.  He says: "But you, Bethlehem Ephrathah, though you are small among the clans of Judah, out of you will come for me one who will be ruler over Israel, whose origins are from of old, from ancient times."  So, the little town of Bethlehem was destined to bring forth the Savior of the world.
There are numerous scriptures that speak of his coming, his work and his life. Genesis speaks of the Lord's coming from the tribe of Judah: "The scepter will not depart from Judah, nor the ruler's staff from between his feet, until he comes to whom it belongs and the obedience of the nations is his."  The prophet Daniel speaks of his coming prior to the destruction of the Temple in A.D. 70 (Dan. 9:25-26).
In Isaiah 11:1-15, the prophet speaks of a "Branch" springing forth from the stump of Jesse (David's house).  This "Branch" will display the Spirit of the Lord, including his wisdom, counsel, knowledge, righteousness and faithfulness.  Isaiah speaks of his coming ministry around the Sea of Galilee (Isa. 9:1-2).  The prophets also speak of his parables (Psa. 78:2-3); his miracles (Isa. 35:5-6).  Unfortunately, the prophets realized that the Messiah would not be well received by Israel.  Isaiah says: "He was despised and rejected by men, a man of sorrows, and familiar with suffering.  Like one from whom men hide their faces he was despised, and we esteemed him not… We all, like sheep, have gone astray, each of us has turned to his own way; and the LORD has laid on him the iniquity of us all" (Isa. 53:3,6).
The Bible not only tells of his rejection by Israel, but of his trial, crucifixion, resurrection and ascension to heaven.  It also makes plain that this rejected Messiah will be gladly received by Gentile nations. The whole Bible is in full agreement with the good news announced by the angels at his birth: "Today in the town of David a Savior has been born to you; he is Christ the Lord" (Lk. 2:11).
God's word gives this precious promise to all people: "…Everyone who calls on the name of the Lord will be saved" (Rom. 10:13).  God's word assures us that in the end of the age, this Messiah will return to Israel and to the world in glory, majesty, honor, power
and victory.
WHY SHOULDN'T WE CELEBRATE?
In light of these glorious truths, why shouldn't we Christians of all people celebrate Christmas?  It marks the greatest event in all human history.  Should we not expect that God would greatly publicize such an event?
Christmas tells us that we live on a visited planet.  God himself came to this earth to live here as a man.  He came to experience everything we experience.  He made himself acquainted with our grief.  He overcame the prince of darkness on the latter's own turf.  He purchased for us an eternal salvation.  Why should we not shout out this truth?  If we remain silent, indeed the very rocks may cry out (Lk. 19:40).
As the blessed Advent season comes upon us this year, let us turn on our beautiful lights; let us give meaningful gifts to one another; let us join in the festivities and shout out the news to all men everywhere:
Joy to the world! The Lord has come;
Let earth receive her King;
Let every heart prepare him room,
And heaven and nature sing….*
              – Jim Gerrish
*by Isaac Watts, arranged from George F. Handel.
First published, December, 2002.