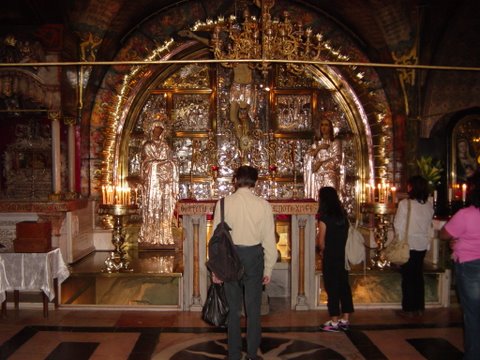 The Easter season is the time of year when thousands of pilgrims from all over the world converge upon Jerusalem.  Many of these pilgrims try in some way to commemorate and even reenact the awesome event of the crucifixion of Christ which happened almost two thousand years ago.  Large groups are often seen carrying crosses and walking sorrowfully along the Via Dolorosa in Jerusalem's Old City.  This may be a small picture of the awful crucifixion but let us endeavor to get the real picture of this event fixed in our minds.
Crucifixion was a cruel punishment that was practiced by the Phoenicians, Carthaginians and Egyptians.  It involved cruel lashings with whips laced with bone and bits of metal.  After this the condemned person was often made to carry the cross beam to the place of crucifixion.  The person was then stripped and nailed to the cross.  A placard was often displayed stating the person's crimes.  Sometimes large groups of political criminals were crucified together.  On one instance Alexander Jannaeus crucified 800 prisoners together while their families watched.
In 1968 at Givat ha-Mitvar, a northern suburb of Jerusalem, the remains of a crucified man were found.  The rusty nail was still affixed in his heels.  Interestingly, the man's legs had been folded up under him with the nail piercing both heels at once.  Such a position might well have increased the helplessness and suffering of the condemned.
Over the years many physicians have commented on how one might suffer and die on a cross.
Certainly such a death was one of utmost agony and shame.  Physicians tell us that in crucifixion the blood would sink to the lower extremities and the blood pressure would drop drastically.  The pulse rate would then rise as the heart was deprived of blood, resulting in fainting spells.  We are told that it could take from two to three days for a condemned person to die.  Sometimes the legs were broken to hasten the process and also a stupefying potion to ease the pain could be offered (Mk. 15:23).  Can we even imagine that to such a death the co-equal of God descended (Phil. 2:5-8)? This horrible cross became the central theme of Christianity.  Let us try to grasp it and understand four things the cross accomplishes.
THE CROSS PUTS AN END TO MAN'S EFFORTS TO REACH GOD
Religion all over the world is a sad story of man's attempts to reach God.  The world was literally sprinkled with altars of various kinds.  Indeed, the ancient land of the Canaanites which makes up Israel today had many pagan altars. At different times and places even human beings were offered upon such altars, in a vain attempt to placate God.
However, we learn in the Bible that the true God is unapproachable.  He is hidden in his holiness and between God and humankind there remains a great chasm affixed.  Paul asks in Romans 10:6 "Who shall ascend into heaven? (that is to bring  Christ  down from above)."  The truth is that we mortals cannot reach God.  We cannot keep his law or follow his direction.  The scripture testifies about us saying: "For all have sinned and fall short of the glory of God" (Rom. 3:23).
In our sinfulness we cannot even seek after the true God.  In fact, the Bible assures us that God becomes the seeker after us.  The first question God asked of sinful man in the Garden was this: "Where are you?" (Gen. 3:9).  How far will God go to find man?  The cross tells us that God will go to the uttermost.  He will come to earth and die in shame to seek fallen man.  In Philippians 2:8 we read of Jesus: "And being found in appearance as a man, he humbled himself and became obedient to death- even death on a cross!"
God has gone the whole journey to reach fallen and sinful man.  He has bridged the gap through the cross.  So before the cross there is nothing we can do but bow down and surrender our hearts and lives to him, as we accept his full and free forgiveness
and salvation.
THE CROSS PUTS AN END TO MAN'S SELFISH PRIDE
Some theologians have labeled "selfish pride" as the root of all sin.  Indeed this may well be the case.  We see in scripture that sinful man following Satan's example has loved to exalt himself.  Man's attitude is expressed very well in Frank Sinatra's old song, My Way.
He says:
And now, the end is near; And so I face the final curtain.
My friend, I'll say it clear, I'll state my case, of which I'm certain.
I've lived a life that's full.  I've traveled each and ev'ry highway;
And more, much more than this, I did it my way.
We see from the two trees in the Garden of Eden that man in his natural state greatly favors the Tree of Knowledge more than the Tree of Life.  He does not want to depend on God or do things God's way.  He spurns God's true knowledge as revealed in the Gospel.  For this reason man fears the cross.  It is a scandalous idea to him.
But the very genius of the cross is that it kills this pride.  The cross of Jesus alone pierces man's prideful head.  The idea that the God of the universe has suffered the ultimate humiliation is too much for man's pride.  We read in Isaiah 53:3-5 of Jesus:  "He was despised and rejected by men, a man of sorrows, and familiar with suffering.  Like one from whom men hide their faces he was despised, and we esteemed him not.   Surely he took up our infirmities and carried our sorrows, yet we considered him stricken  by God, smitten by him, and afflicted. But he was pierced for our transgressions, he was crushed for our iniquities; the punishment that brought us peace was upon him, and by his     wounds we are healed.
Preachers have long pointed out that Jesus was crucified on the Hill of the Skull (Mk. 15:22).  They have stated how this indicates that the cross alone is able to penetrate into the skull of humankind and bring an awakening to God's redemption and salvation.
Thus our preaching must always be simple.  What can we add to what God has done?  Paul preached a simple Gospel "not with words of human wisdom, lest the cross of Christ be emptied of its power" (1 Cor. 1:17).  What a simple plan that God has!  On one occasion our Lord said "But I, when I am lifted up from the earth, will draw all men to myself" (Jn. 12:32).  It is not knowledge, logic or fancy preaching that draws people but it is the
cross of Jesus.
Therefore we should never glory in ourselves, in man or in man's knowledge.  In Galatians 6:14 Paul says: "May I never boast except in the cross of our Lord Jesus Christ, through which the world has been crucified to me, and I to the world."  The simple invitation of Jesus to a full salvation still stands after all these centuries.  Jesus says in Luke 9:23: "If anyone would come after me, he must deny himself and take up his cross daily and follow me."
THE CROSS PROVIDES A PERMANENT SOLUTION TO THE SIN PROBLEM
The Jewish faith was a faith of sacrifice for sin.  Our fathers were commanded in the law to offer sacrifices as they awaited the permanent solution for sin.  Because of this, rivers of blood must have flowed from the Temple Mount in Jerusalem as millions of animals were offered over the centuries.  We must remember though that the sacrificial system was only a sort of "virtual reality" as humankind awaited the perfect sacrifice.  We see this in Hebrews 10:4, where the scripture says: "it is impossible for the blood of bulls and goats to take away sins."
The sin problem was a problem so complex that only God could solve it.  It is amazing that God actually solved it before sin came into being.  Before the world was formed we read that the true Lamb was slain (Rev. 13:8).  In Psalm 40:6-8 we are introduced to a talking Lamb who says:  "Sacrifice and offering you did not desire, but my ears you have pierced; burnt offerings  and sin offerings you did not require. Then I said, 'Here I am, I have come- it is written about me in the scroll.  I desire to do your will, O my God; your law is within my heart.'"
The scripture is emphatic that through this heavenly Lamb, the crucified Son of God, he has perfected us forever (Heb. 10:14).  We no longer have to come to God with doubts, fears and forebodings.  Hebrews 10:22 tells us that we can now draw near to God with
full assurance.
We might ask exactly what the cross has done about our sin.  It has done several things.
First of all our "old man" was crucified with Christ and nailed to the cross as we see in Romans 6:6: "For we know that our old self was crucified with him so that the body of sin might be done away with, that we should no longer be slaves to sin."  In the past preachers have been known to say "the blood deals with what we have done but the cross deals with what we are."  Paul puts it simply in Galatians 2:20: "I have been crucified with Christ and I no longer live, but Christ lives in me. The life I live in the body, I live by faith in the Son of God, who loved me and gave himself for me."  It is an almost incomprehensible truth that we Christians died with Christ almost two thousand years ago.
There is a second way that the cross deals with our sin.  The judgments against us were nailed to the cross as we see in Colossians 2:14: "having canceled the written code, with its regulations, that was against us and that stood opposed to us; he took it away, nailing it to the cross."
There is a third way that the cross deals with our sin. Through the cross we are reconciled to God and peace was made between us and God.  In Colossians 1:20, Paul says that through Christ God has been able: "to reconcile to himself all things, whether things on earth or things in heaven, by making peace through his blood, shed on the cross."
THE CROSS PUTS AN END TO THE QUESTION OF WHETHER OR NOT GOD
LOVES US
Over the ages whenever the Gospel is preached there is one verse that stands out.  It is found in John 3:16 and is almost a simple summary of all that we have been saying.  It reads: "For God so loved the world that he gave his one and only Son, that whoever believes in him shall not perish but have eternal life."
Through Jesus, God has come the whole distance to find us and to save us.  He has bridged the sin chasm with the cross of Christ.  Because of this cross there can never be a doubt that God loves us and that he has given his only precious Son for our salvation.
-Jim Gerrish
This article is a condensed and updated sermon preached at Christ Church (Anglican), in Jerusalem's Old City, March, 1997.