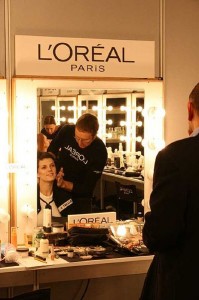 Undoubtedly, billions in various world currencies are spent annually for health and beauty aids.  However, in our search for health and beauty we often overlook an excellent source.  This source provides health and beauty aids that are free for the taking.  The best thing about these aids is that they are absolutely guaranteed to work. We have God's word on it. Of course, the source I am speaking of is the Bible, the word of God.
SOME UNHEALTHY PRACTICES
According to the Bible, there are a lot of things we do that are positively unhealthy.  Today many people are rushing to attain wealth.  They are quite greedy for it.  Even some popular Christian doctrines are based upon greed, the sanctified kind of course. Yet, the Bible says, "So are the ways of everyone who is greedy for gain; It takes away the life of its owners." (Prov. 1:19 NKJV).  This sounds a bit unhealthy doesn't it?
Also, many people in the US are trying to "keep up with the Joneses."  That means that they are supposed to envy the Jones family and do their best to get a better house, car and job than the Joneses have.  Unfortunately, the Bible speaks in disparaging tones concerning such endeavors.  In Proverbs 14:30, the Bible simply states that, "… envy rots the bones." In some strange way, when we envy other people, it destroys our physical makeup and makes us sick.
There are a lot of other unhealthy things we do.  Sometimes we are deceitful.  Deceitfulness is a very sophisticated form of lying.  By using deceit we can let other people believe a lie without actually telling them one.  We seem at first to get away with this tricky business. However, the Bible says in 1 Peter 3:10: "For, 'Whoever would love life and see good days must keep his tongue from evil and his lips from deceitful speech.'"   Thus, we see that there is something about deceit that will eventually kill us.  Perhaps it raises our blood pressure and gives us ulcers and other ailments.
Then, there is the whole business of adultery, fornication and other sexual sins.  Our society is crazed with the subject of sex.  It is an amazing paradox that some who are involved in the pursuit of illicit sex are "health nuts" in other areas of their lives.  The Bible says that adultery and fornication will ruin our health and even kill us. Our actions may also cause other innocent people to die, as we see in the case of King David's adultery with Bathsheba.  Illicit sex can kill. In Proverbs 7:27, the author speaks of the loose woman in these words: "Her house is a highway to the grave, leading down to the chambers
of death."
Modern developments have clearly illustrated the unhealthiness of illicit sex.  According to the Joint UN Program on AIDS at the end of 2001, the number of those infected globally with HIV, the virus that causes AIDS, now stands at 40 million.  Much of this plague has been the result of illicit sex. Several months ago, figures mentioned in the Jerusalem Post show that about eight million, including 1.5 million children, have already developed the disease, and six million have died.  Some nine million children under the age of 15 have lost their parents to this fatal disease. We are also told that AIDS reduces the average life expectancy by 50 percent, and that active homosexuals who are twenty years old are finding it difficult to live to age forty.  The Bible assures us that illicit sex is unhealthy and we now have millions of statistics to prove it.
The way of sin and rebellion is and has always been a hazardous business.  In Proverbs 13:21, we see that "Misfortune pursues the sinner…"  The Apostle Paul speaks even more clearly.  He says that "There will be trouble and distress for every human being who does evil…" (Rom. 2:9).  Or as the Prophet Ezekiel says, "…The soul who sins is the one who will die" (Ezek. 18:4).
Well, so much for an unhealthy life style.  Now let us consider a healthy one.
A BIBLICAL HEALTH PLAN
We sometimes think that God is some sort of old meanie sitting up in the heavens.  For his pastime he makes up a bunch of rules that take all the fun out of life.  However, in Deuteronomy 10:13, we see something very different and revealing. We are told that all God's laws are given for our own good.  God's laws guard, preserve and shelter our lives.  After all, God not only made the world but he made us.  He is intimately acquainted with all the intricacies of our physical bodies. He certainly knows what is best for us.
Consider obedience to our parents.  In Proverbs 30:17, we are told that "The eye that mocks a father, that scorns obedience to a mother, will be pecked out by the ravens of the valley, will be eaten by the vultures" (Prov. 30:17).  Not so healthy!  On the other hand, in Ephesians 6:2-3 we read: "'Honor your father and mother' —which is the first commandment with a promise— 'that it may go well with you and that you may enjoy long life on the earth.'"  There is something about honoring parents that causes things to go well for us and also causes our lives to be extended.  Those who fail to honor parents will likely fail to honor and respect other authorities.  In some cases, such people may run amok of the authorities and find themselves severely punished or even killed.
In Proverbs 11:19, we read that "The truly righteous man attains life, but he who pursues evil goes to his death."  In Proverbs 3:8, we read that if we fear God and depart from evil it will be health to our flesh and strength to our bones. The Bible also says that God's words will bring life and health to our whole bodies (Prov. 4:22).  We thus see that righteousness is better for us than oat-bran muffins.  Again, in Proverbs 3:2, we are told that keeping God's commands will add long life and peace to us.  Also, they will give us "…life, prosperity and honor." (Prov. 21:21).  God even adds wealth and riches to the other blessings we may already have (Psa. 112:3).
Many today are involved in all sorts of exercise programs for the sake of their health. Yet in 1 Timothy 4:8 (NKJV) we read: "For bodily exercise profits a little, but godliness is profitable for all things, having promise of the life that now is and of that which is to come."  With all its sweat and exertion, bodily exercise only profit's a little, while the exercise of a godly and righteous life profits a lot. Godliness is healthy.
Now someone will remember a mean old man who lived to be a hundred.  Another may remember a righteous person who died young.  Sometimes it's God's merciful plan to extend the life of a wicked person or to take a righteous person at a young age for his purposes as he did in the case of  Stephen.  However, the righteous tend to live longer.  That is the rule.  The righteous also tend to be happier.  They have continual joy in their hearts because of the Lord.  The Bible says in Proverbs 17:22: "A cheerful heart is good medicine, but a crushed spirit dries up the bones."
A BIBLE BEAUTY COURSE
The Bible even offers a free beauty course to the women of  faith.  In 1 Peter 3:3-6 we read: "Your beauty should not come from outward adornment, such as braided hair and the wearing of gold jewelry and fine clothes. Instead, it should be that of your inner self, the unfading beauty of a gentle and quiet spirit, which is of great worth in God's sight.  For this is the way the holy women of the past who put their hope in God used to make themselves beautiful. They were submissive to their own husbands, like Sarah, who obeyed Abraham and called him her master. You are her daughters if you do what is right and do not give way to fear."
Here we learn that a quiet and submissive spirit in a woman is greatly prized by God.  It also gives the woman an inner spiritual radiance resulting in great beauty.  Sarah made herself beautiful by submission to her husband.  Just imagine, Sarah was probably in her 70s when mighty Pharaoh was overwhelmed with her beauty and temporarily placed her in his harem.
God is not saying that women cannot wear nice clothes and jewelry.  He is not saying that the woman always has to look drab, as in some pagan societies.  He is saying that real beauty is an inner thing that can be cultivated by attitudes and acts.  Although it goes against the spirit of this age, a woman's beauty can come from submission to her husband.  It comes in allowing him to be the head of the family and the priest before God.  What a safe and blessed place for the woman of God.
LIFE ABUNDANTLY
In John 10:10, Jesus says of his sheep, "… I have come that they may have life, and have it to the full."  To believe in the Lord Jesus and follow him in simple obedience to his word will tend to make us happy, healthy, blessed and beautiful in this life.  It will also give us eternal life in the world hereafter.
Does this mean that the righteous person will never have problems?  They are virtually guaranteed.  In Psalm 34:19 we read: "A righteous man may have many troubles, but the LORD delivers him from them all…" 
Through all life's difficulties the Lord is standing by to restore our souls in times of adversity.  He even sets a table before us in the very presence of our enemies (Psa. 23:5).  He makes our cup run over.
                                                                                                              – Jim Gerrish
This updated article is presented courtesy of Bridges For Peace, Jerusalem.
Picture credit Wikimedia Commons