FIRST CORINTHIANS
Bringing Order In The Churches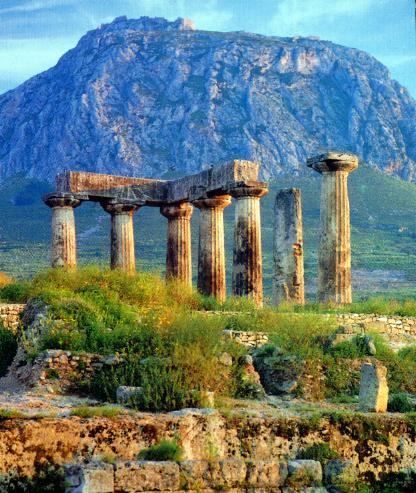 Temple of Apollo, Ancient Corinth, Greece
Wikimedia Commons

By
JIM GERRISH  
All Scripture quotations, unless otherwise noted, are from: The Holy Bible: New International Version®, NIV®, Copyright© 1973, 1978, 1984, 2011by the International Bible Society. 
Copyright © Jim Gerrish 2015
INTRODUCTION
Paul came to the city of Corinth on his Second Missionary Journey (AD 49-52).  He came alone, after being a short time in Athens and actually speaking to the Athenian philosophers.  He had encountered much difficulty after founding the first churches in what was later to become Europe.  He and his team had to flee from Philippi and from Thessalonica after founding churches in these cities.  The Jewish agitators followed him and his team to Berea, making it necessary for Paul to flee alone to Athens (Acts 17:15).  After spending time there and actually addressing the Athenians at the Areopagus, Paul traveled on alone to Corinth (Acts 18:1ff.)  He came in weakness and much distress because of his concern for the welfare of the new churches (1 Cor. 2:3).
At Corinth, Paul must have been comforted to make the acquaintance of Aquilla and Priscilla, Jews who were forced out of Rome due to the decree of Emperor Claudius.  Paul began working with them in their common trade of tentmaking. In time, his helpers Silas and Timothy came from Macedonia to join him.  Corinth was large enough to have a synagogue, so as his custom was, he attended each Sabbath and began reasoning with the Jews and with the Gentiles who had attached themselves to the synagogue.
It was a productive time for Paul in Corinth as Crispus, the ruler of the synagogue, became a believer, along with his whole household (Acts 18:8). Many others believed as well.  When tensions mounted with the Jews, Paul moved next door to the house of Titus Justus and focused his ministry on the Gentiles.
The Lord assured Paul that he had many people in Corinth (Acts 18:10), so Paul stayed a total of a year and a half in the city.  At last, the Jews made a united attack on Paul and his company.  This happened while Gallio was the proconsul. (v. 12).  The mention of this proconsul and the dating of his service enables us to accurately fix the stay of Paul in the city. 1  Gallio would not hear the case against Paul, which further infuriated the Jews.
It would help us to understand some things about the city of Corinth.  It was an ancient city, but was destroyed by the Roman consul Lucius Mummius Achaicus in 146 BC.  However, it was rebuilt in 46 BC by Julius Caesar.  Corinth had always been a great commercial center, since it was established on an isthmus controlling two seas, the Aegean to the East and the Ionian to the west.  The city also had considerable military importance.
Unfortunately, "Corinth was a place where all the evils of the pagan world were on display." 2  It was the center for the Corinthian goddess Aphrodite.  At one time her temple had some 1,000 female prostitutes attached to its worship. 3  In time Corinth gained a terrible reputation for its immorality.  Radio preacher and Moody pastor, Warren Wiersbe says, "About the lowest accusation you could make against a man in that day would be to call him a 'Corinthian.'" 4
No doubt, partly because of the low standard of morality, Paul had a great deal of future trouble with this church.  He probably wrote this letter around AD 55, but he likely wrote a total of four letters, with two of them being lost.  He probably wrote most from Ephesus during his long stay there.  There has never been much doubt that Paul wrote this letter.
Since the church had many problems, such as immorality and discord, 1 Corinthians turned out to be the longest letter of the apostle.  We can be thankful for this letter because it gives us a very good look at life in the earliest Christian churches.  In fact, we probably know more about the Corinthian church than any other church in the New Testament. 5
CHAPTER 1
Paul, called to be an apostle of Christ Jesus by the will of God, and our brother Sosthenes, 1 Corinthians 1:1
We note here that Paul is quick to use the term apostle (apostolos).  In the Greek language it means someone who is sent out or specially commissioned.  In Paul's case he was especially commissioned and sent out by the Lord Jesus (cf. Gal. 1:1).  Smith notes how this word usage here is technical and has probably been influenced by the Hebrew institution of saliah. 1  Paul was not far removed in his position from the original twelve founding apostles.  Although apostleship to a lesser degree became an ongoing gift to the church (cf. 1 Cor. 12:28-29; Eph. 4:11), there were none later who stood in the position of the original twelve plus Paul, who was apostle to the Gentiles.
It seems obvious in reading the letter why Paul declares his apostleship. The Corinthians had challenged his authority (cf. 1:12; 9:1-27). 2  Interestingly, Paul does not use the title "apostle" when writing to the beloved Philippians and Thessalonians, or to his dear friend Philemon.
We see here that Paul has Sosthenes in his company.  Although it is impossible to be certain, many commentators feel that this man should be identified with the Sosthenes in the Acts 18:17 account.  In that passage we learn that Sosthenes, the synagogue ruler, was beaten by frustrated Jews and perhaps some frustrated Greeks, or both.  The Jews may have been frustrated by his losing their case before Gallio and the Greeks, if they participated, may well have just been expressing their latent anti-Semitism toward the Jews.  There is another possibility.  If Sosthenes is the same as in Acts 18, we see that he has now become a beloved brother and helper of Paul.  We know that the former synagogue ruler Crispus was converted (Acts 18:8), and it seems possible that Sosthenes may have already had such leanings.  That would have certainly helped bring down the pent up wrath of the Jews upon him.
In any case, it was surely a pleasant thing for the Corinthian Christians to realize that one of their own number was now associated with Paul in his great ministry. 3   It is thought by some that this Sosthenes was actually the scribe or amanuensis for this letter.4
"To the church of God in Corinth, to those sanctified in Christ Jesus and called to be his holy people, together with all those everywhere who call on the name of our Lord Jesus Christ— their Lord and ours:" (1:2).  The expression, "the church of God," is seen in the Greek "tēi ekklēsiāi tou theou."  This states that the church belongs to God and not to any other as the genitive case makes clear. 5  The word for church (ekklēsiāi) has the meaning of assembly or congregation.  In the Greek Bible or Septuagint (LXX), this word is used to translate the Hebrew qahal, or the congregation of Israel. 6
The next word we encounter in this verse is the word "sanctified."  In the Greek language the word is hagiazo, and it means to make holy or to consecrate.  The Scottish great, William Barclay, tells us that the root idea of this word is that of separation or being set apart. 7  Thus, the Christian is one set apart and made holy for the work of God and for the glory of God.  This concept must have sounded really strange in a depraved city like Corinth.
The whole matter of being holy, set apart, or being saints of God is largely misunderstood today.  In the first place, we can never be a saint alone.  We do not see the Bible talking about Saint Paul, or Saint Andrew.  We are saints together.  Secondly, the word "saint(s)" is always in the plural except in Philippians 4:21, where, and even here it is used in a corporate sense. 8
It seems that Paul is using several expressions here that are all theologically loaded with special meaning.  The expression "in Christ" is a very popular one with the apostle.  Mackay tells us that the phrase appears some 169 times in Paul's epistles. 9  We may never understand the fullness of this expression, that we believers are included in Christ.  We are with him, hidden in him and included in him.
We are called (klētois) to be a holy people, his people.  We are all called much like Paul himself was called (Acts 9:1-19; 22:3-16; 26:9-18) to be set apart for God's service. We are called with all his other people, both in the local area and through the whole world.  Wiersbe says, "Each church has two addresses: a geographic address ('at Corinth') and a spiritual address ('in Christ Jesus')…'sanctified' or 'set apart' by God." 10
In our introduction we spoke somewhat of the city of Corinth, where this church was located.  The city was both famous and infamous.  It was the famous capital of Southern Greece or what was known as Achaia. It was famous for its Corinthian brass, which was a mixture of gold, silver and copper.  It was also noted for the Isthmian Games and for the worship of the goddess Aphrodite. 11  Corinth was famous as a shipping center.  Since it was located on an isthmus between two seas, cargoes or whole smaller ships were transported the short distance overland between the bodies of water.  Ancient seamen were anxious to avoid sailing around the dangerous promontory of Malea. 12  Today there is a canal that connects the seas.
Of course, Corinth was also quite infamous for its drunkenness and its loose sexual morals.  The Greek word "korinthiazomai" was known all over the empire and it meant, "to live like a Corinthian." 13
"Grace and peace to you from God our Father and the Lord Jesus Christ" (1:3). This is a standard greeting found in most of Paul's epistles.  The word for grace (charis) is adapted from the Greek "chairein" which means "greeting." 14  As we mention on other occasions the Father and Son are linked together and treated as one here and in many other places.
PAUL'S THANKSGIVING
I always thank my God for you because of his grace given you in Christ Jesus.
1 Corinthians 1:4

The apostle had the unusual habit of thanking God for people (cf. Rom. 1:8; Phil. 1:3; 1 Thess. 1:2).  This would be a good habit for all of us to get into.  It was appropriate for Paul to praise the people because he would soon launch into a critique of many of their ways. Theodoret of Cyr (c. 393 – c. 458/466), ancient bishop, theologian and commentator says of this: "Paul takes care to sweeten their ears before starting to admonish them." 15
"For in him you have been enriched in every way— with all kinds of speech and with all knowledge— God thus confirming our testimony about Christ among you. (1:5-6). The Greek word for "enriched" is ploutos and it is the word from which we get "plutocrat," meaning a very wealthy person.  The Corinthians were especially wealthy in spiritual gifts.16  We will have a listing of these spiritual gifts later in chapters 12 through 14. Here Paul emphasizes the gifts related to speech and knowledge.  He will speak of these particular gifts later in 12:8.
The Corinthians, like all the other Greeks, were no doubt impressed with the wisdom of their philosophers.  Paul knew that this knowledge, if it was ever true, was but a passing thing.  The apostle realized that true knowledge is found only in Jesus.  He will later speak in Colossians 2:3 of the mystery of Christ, "in whom are hidden all the treasures of wisdom and knowledge."
Therefore you do not lack any spiritual gift as you eagerly wait for our Lord Jesus Christ to be revealed. (1:7). Here we have one of Paul's most favorite words, the word charisma (charismati).  This word speaks of a gift that is freely given by God to humanity.  It is a gift that is totally undeserved and could never be earned by our effort. 17   Paul is not speaking about natural gifts here but about spiritual gifts.  These gifts are meant to glorify Christ and edify the church.
In this verse Paul speaks of the saints eagerly awaiting the revelation of the Lord Jesus Christ.  The word for "revelation" is "apokalupsis" and it is one of the several words that speak of the coming of the Lord.  We should note here that in the New Testament, the Greek words for his coming are apparently not distinguished. The words "epiphany" (appearing), "parousia" (advent), "hemera" (day), and "apocalypse" (revelation) are all used interchangeably. For instance, in 1 Corinthians 3:13, we learn that the day (hemera) shall reveal (apokalupto) every man's work.  In 2 Timothy 4:8, the righteous are crowned on that day (hemera) – also those who love his appearing (epiphania).
When we read the above verse we must realize that we have lost something very important in our Christian lives.  For the most part, we are not eagerly awaiting the coming of the Lord Jesus.  We have lost the early Christian excitement about this event.  Some of this lack of concern may be due to a massive influx of false theology and escapist eschatology in the last couple of centuries.  Also, it may be due to our absorption with the things of this world.
"He will also keep you firm to the end, so that you will be blameless on the day of our Lord Jesus Christ" (1:8).  This verse reminds us of some other great passages in the holy word of God.  For instance, Jude, in thinking of the last day pressures, lauds "…him who is able to keep you from stumbling and to present you before his glorious presence without fault and with great joy…" (Jude 1:24).
We cannot escape the fact that early Christians greatly desired that they would be found blameless on that last day.  We see in Scripture that the pressures of the end time will cause many to fall away from the faith and deny the Lord. The Lord will make us firm (bebaiōsei) and keep us that way amidst all the grave trials of the last day. This word has the meaning of "a properly guaranteed security." 18
"God is faithful, who has called you into fellowship with his Son, Jesus Christ our Lord." (1:9).  The nineteenth century American theologian, Albert Barnes, reminds us of Philippians 1:6: "… he who began a good work in you will carry it on to completion until the day of Christ Jesus."  Barnes says, "he will not commence anything which he will not perfect and finish." 19
For the first time in the epistle the word "fellowship" (koinéōnian) is used.  We are called into fellowship with God and that results in a fellowship with the redeemed.  This word means association, partnership, and community. It is a friendship based on Christian knowledge shared in common.20  We see it often in the New Testament.
Paul is here placing great emphasis on Jesus Christ as Lord.  Indeed, this was the perhaps the earliest confession of the church.  The church father, Chrysostom (c. 349-407) remarks how the name of Christ is mentioned more often in this epistle than in any other. 21
CHURCH CONFLICT AND DIVISION
I appeal to you, brothers and sisters, in the name of our Lord Jesus Christ, that all of you agree with one another in what you say and that there be no divisions among you, but that you be perfectly united in mind and thought. 1 Corinthians 1:10
This epistle is certainly different from many of Paul's other writings.  Usually he begins with a rather lengthy doctrinal section and then he develops the ethical teachings based upon his doctrine.  The Book of Ephesians is a clear example of this.  In Ephesians he has the first three chapters on doctrine and the last three on ethical teachings based upon that doctrine.  In this epistle, Paul plunges directly into his ethical teaching regarding divisions in the church. 22  The apostle has just spoken of the wonder of that fellowship we have with God and that precious fellowship must extend to the Body of Christ, the church.
In the church there must be unity.  This does not mean that we have to always agree on everything.  In the earliest church there were many things that they could not agree upon, such as circumcision, the kosher diet, food sacrificed to idols, and the proper day for meeting.  Still the Bible declares that they were of one accord or one mind (i.e. Acts 1:14; 4:24; 5:12).  God was therefore able to do great things through them.
Obviously, the Corinthians were not in one accord, and the work of the Lord was being hindered because of this.  Paul charges them that there must not be divisions in their midst.  The word for divisions is schismata. In the Greek language it originally was used to denote political parties (cf. Acts 14:4; 23:7).  It is from this word that we get the English word "schism." 23   Pastor, college director and web commentator, David Guzik says: "Although we derive our English word 'schism' from this Greek word, it does not really mean a 'party' or a 'faction;' it properly means 'tear, or rend.'… Paul's plea is that they stop ripping each other apart, tearing up the body of Christ…." 24
Rather than being divided and torn asunder, the apostle advises that they be perfectly joined together.  The Greek word is katērtismenoi.  Barnes says: "The word …denotes properly to restore, mend, or repair that; which is rent or disordered Matthew 4:21; Mark 1:19, to amend or correct that which is morally evil and erroneous Galatians 6:1, to render perfect or complete Luke 6:40 … that their minds were to be disposed toward each other with mutual good will, and that they should live in harmony." 25
"My brothers and sisters, some from Chloe's household have informed me that there are quarrels among you" (1:11).  Several commentators feel that Chloe was probably a wealthy and notable Christian lady who may have had business interests in traveling between Ephesus and Corinth. 26  The message had not come from Chloe herself but from members of her household.  This could have included her children, servants or slaves.  The great Greek scholar, A.T. Robertson, feels that it could have been even Stephanas, Fortunatus, Achaicus (1 Cor.16:17) who brought the news of schisms. 27
We see here that there were quarrels within the church.  The word is erides, meaning contentions and disputes.  We should not miss the fact that such things are listed as works of the flesh in Galatians 5:19-21 (cf. 2 Cor. 12:20; 1 Tim. 6:4).
"What I mean is this: One of you says, 'I follow Paul;' another, 'I follow Apollos;' another, 'I follow Cephas;' still another, 'I follow Christ'" (1:12).  The Corinthian church had fallen into parties.  Adam Clarke, the early British Methodist theologian, says that there were "Paulians, or followers of St. Paul; Apollonians, or followers of Apollos; Kephians, or followers of Kephas; Christians, or followers of Christ." 28  If Paul had been a lesser preacher he may have been content to gloat over the fact that some were following him.  However, he was quite upset that such a thing could happen.
We know from Scripture that Apollos was a mighty preacher and that he greatly confounded the Jews (Acts 18:24-28).  He was from Alexandria in Egypt, a place famous for its intellectual activity and rhetorical style.  Alexandria became a center for the allegorical method of preaching, a technique of squeezing the deeper meanings from the word of God. 29.  We can imagine that he attracted a number of followers, unlike Paul, whom some criticized for his poor speaking (2 Cor. 10:10).  Evangelist and commentator, Ray Stedman, tries to recover some of the comments that might have been shared about Apollos: "I am sure there were many in Corinth who were saying, 'Oh, I love to hear Apollos! He's a great preacher, a warm, capable, eloquent man, who can make the Old Testament come alive!" 30  Bible professors, Charles Pfeiffer and Everett Harrison, report on a church woman who once confessed, "I almost weep every time I hear my minister pronounce that blessed word Mesopotamia!" 31
Some in Corinth were following Cephas or Peter.  We are not told that Peter ever visited Corinth.  It is entirely possible, since the epistles of 1 and 2 Peter were addressed to folks living in the northern part of Asia Minor. He must have traveled at least that far. However, the Corinthians were surely acquainted with his teaching. It is to be noted that Peter was regarded as the apostle to the Jewish people (Gal. 2:7).  Some may have become attached to him because they favored certain Jewish doctrines. 32
Last of all, there was a party that claimed to be of Christ.  There have been a lot of such parties through church history.  New Testament Professor, Craig Keener, says of Paul, "…his point is that any division is wrong, even one based on the claim to be of
Christ alone…" 33
CAN CHRIST BE DIVIDED?
Is Christ divided? Was Paul crucified for you? Were you baptized in the name of Paul?
1 Corinthians 1:13

Keener sees Paul's argument here as a reductio ad absurdum, or an argument that reduces the opponent to an absurd position. 34  Of course, Paul was not crucified for them and they were not baptized in his name.  "Paul now attacks their divisions at their root. There is only one Jesus Christ, and to him, and to him alone, should all look." 35  Barnes goes on to add here, "If there is anything that will recall Christians of different names and of contending sects from the heat of strife, it is the recollection of the fact that they have been purchased by the same blood, and that the same Savior died to redeem them all." 36   It is the cross that always brings the believer back to reality.  The great F.B. Meyer says, "Everyone needs a Calvary in the heart." 37
 "I thank God that I did not baptize any of you except Crispus and Gaius, so no one can say that you were baptized in my name. (Yes, I also baptized the household of Stephanas; beyond that, I don't remember if I baptized anyone else.)" (1:14-16). It is pretty obvious here that Crispus was the former ruler of the synagogue, who had now become a believer in Christ, along with his household (Acts 18:8).  Gaius was obviously Paul's host (Rom. 16:23).  Paul also remembers baptizing Stephanas.  He later says of him, "You know that the household of Stephanas were the first converts in Achaia, and they have devoted themselves to the service of the Lord's people…" (1 Cor. 16:15).
It seems that Paul did not personally baptize many people.  This task was probably left to local leaders, no doubt to promote unity in the local situation.  This in no way indicates that baptism was not important to Paul.  Indeed, baptism functioned as an earthly seal to the heavenly work. 38   Hodge says here: "While therefore it is unscriptural to make baptism essential to salvation or a certain means of regeneration, it is nevertheless a dangerous act of disobedience to undervalue or neglect it." 39
"For Christ did not send me to baptize, but to preach the gospel— not with wisdom and eloquence, lest the cross of Christ be emptied of its power" (1:17).  Obviously, the command to baptize was included in Christ's great commission of Matt. 28:19.  However, Paul had the primary task of preaching the gospel to the Gentiles (Acts 26:17-18).  Others could be left to do the baptizing.
Several commentators feel that Paul was still smarting over his Athens experience.  It may be that Paul decided to present the gospel in a very simple manner after that.  The Athenian philosophers were certainly eloquent and they made great speeches.  However, the true knowledge of God was hidden from them.  They did not find God in all their wisdom and their city was filled with idols as a result.  When Paul was there he said: "For as I walked around and looked carefully at your objects of worship, I even found an altar with this inscription: TO AN UNKNOWN GOD. So you are ignorant of the very thing you worship— and this is what I am going to proclaim to you" (Acts 17:23).
The early writer Dio Chrysostom describes some of these Greek intellectuals with these uncomplimentary words: "They croak like frogs in a marsh; they are the most wretched of men, because, though ignorant, they think themselves wise; they are like peacocks, showing off their reputation and the number of their pupils as peacocks do their tails." 40
CHRIST, THE SECRET OF REAL WISDOM
For the message of the cross is foolishness to those who are perishing, but to us who are being saved it is the power of God. 1 Corinthians 1:18
The cross is foolishness to the world.  We can only imagine how the "learned" folks of the first century must have scoffed at the whole idea of the cross.  The Roman cross was for criminals, for the scum of the earth.  It was like the electric chair or the gas chamber today. So for Gentile and Jew, the cross just didn't make any sense.  To the Greek way of thinking God could never come down to earth and suffer as a man.  To the philosophers the great characteristic of God was apatheia.  This meant more than apathy but it involved a total inability to feel.  If God were to be acquainted with our sorrow it would mean that man had somehow influenced God and therefore was greater than God.  Plutarch even felt that if we involved God in human affairs it would be an insult to him.  Of course, the idea of the God-man was a revolting one to that society. 41
Keener says of New Testament times: "Those viewed as 'saviors' were normally gods, kings, wealthy benefactors or miracle workers.  Roman society was built around power and status; power was concentrated in the male head of the household, in wealthy and aristocratic families, and so forth.  Associating power with a crucified man – the epitome of weakness – thus made no more sense to ancients than it does to modern people outside Christ." 42
Australian Bible teacher, Leon Morris, relates a piece of graffiti discovered in Rome.  It is a picture of a worshipper standing before a crucified figure.  The figure has the body of a man but the head of an ass.  The inscription reads: "Alexamenos worships his god." 43  That is a good example of how the worldly wise in the first century looked upon the Christian's cross. As James Burton Coffman, the 20th century prolific commentator and preacher says, "A crucified Savior was simply beyond the boundaries of human imagination." 44
In Jewish thinking the cross was a sure and certain sign that the person on it was cursed of God (Deut. 21:23).  Only the worst criminals went to the cross.  It could never be a symbol of something good in Jewish eyes.
For Paul the cross was everything.  It was the power of God to salvation (Rom. 1:16). It was not only the power of God but it was the wisdom of God as well (1 Cor. 1:24).  Paul would later say: "For I resolved to know nothing while I was with you except Jesus Christ and him crucified" (1 Cor. 2:2). He had apparently made this determination when he first came from Athens in great weakness, and began his ministry to the Corinthians.
How we have turned away from the cross in our western societies!  Recently the Feminist theologian Delores Williams made this statement: "I don't think we need folks hanging on crosses and blood dripping and weird stuff." 45  In the last half-century we have almost stopped singing hymns and songs about the cross.  We have almost stopped preaching sermons on the cross as well.
Guzik says, "For Paul, the message of the cross was the gospel. …So, preaching a high moral standard is not preaching the gospel, preaching the universal fatherhood of God is not preaching the gospel, and preaching the universal brotherhood of man is not preaching the gospel. The gospel is the message of the cross." 46
"For it is written: 'I will destroy the wisdom of the wise; the intelligence of the intelligent I will frustrate.'" (1:19). Here Paul quotes from Isaiah 29:14.  Today we are literally surrounded with a false wisdom coming from this present evil age.  We don't have to look far to see that much of this wisdom is pure folly.  We seem to have so little true wisdom around in these postmodern days.  We are also surrounded with a so-called knowledge and information, but much of it is based upon consensus rather than upon truth.
"According to Google chairman Eric Schmidt, 'Between the birth of the world and 2003, there were five exabytes of information created.  We [now] create five exabytes every two days.'  An Exabyte is one quintillion (1048) bytes.  It is hard to visualize such a large number.  One Exabyte is roughly 20,000 times the amount of information contained in all of the books ever written.  It would take 50,000 years to watch a one-exabyte DVD-quality video." 47
Sometimes it helps us to stop and take a quick look at the lives of some of our most famous worldly "wise men."  The popular historian, Paul Johnson, helps us do that very thing in his book entitled Intellectuals. His information is quite shocking.  He mentions that over the past two hundred years there has been a great increase in the influence of these so-called "intellectuals."  He points out how for the first time in history, and with great audacity, these worldly-wise men have arisen to mightily shape our modern world.  Let us consider just a few of the most notable of them who have exerted the greatest influence upon us.
Jean-Jacques Rousseau (1712-78).  He is probably the most influential of these "intellectuals."  It is of note that Rousseau, like most Johnson mentions, had a tragic family life. All his adult life he was prone to quarrel ferociously with virtually everyone he dealt with. He lied habitually, and on the back streets of Turin he often exposed his bare bottom to women. Johnson calls him a mentally sick person.  He simply didn't know how to live.  Concerning Therese, his mistress of thirty-three years, he remarked that he never felt a single glimmer of love for her.  When she bore a child he persuaded her to abandon the baby in order to save her "honor."  The four other children she bore to him were treated in exactly the same manner.  His only love, Sophie d'Houdetot, long after his death, simply referred to him as an "interesting madman." 48
Karl Marx (1818-1883).  Although Marx presented himself as the hero of the working class, Johnson mentions that he never in his whole life visited a mill, factory, or other industrial workplace.  According to Johnson, Marx's major work, Capital, is filled with discrepancies, distortions and errors.  His work reflects a disregard and even contempt for truth plus a fundamental failure to understand capitalism.  Johnson relates how its content compares with Marx's own character: his taste for violence, appetite for power, inability to handle money and, his tendency to exploit those around him. His mother once wished that her son would accumulate capital rather than merely writing about it.  Marx's children lived tragic lives and died tragic deaths, mostly by suicide.  Finally, during a very dark period of his family's existence, Marx stooped to father a child through the faithful family servant, Lenchen.  The child was kept hidden lest the image of this "great revolutionary leader" be damaged. 49  For sure, Marx must take much of the credit for an estimated 83 million deaths world-wide due to the spread of international Communism.
Jean-Paul Sartre (1905-1980).  Sartre possessed a personal philosophy that later became known as existentialism.  His personal life, like so many of the so-called intellectuals, was despicable.  He was notorious for not taking baths and was disgustingly dirty.  He was sexually promiscuous and on one occasion even maintained four mistresses at the same time.  One dangerous and well-known problem according to Johnson was that he also tended to seduce his female students. In addition, Sartre could consume phenomenal amounts of both alcohol and barbiturates.  Yet, because he was a popular writer and a sort of high priest of many young people, his works received wide acclaim and distribution.  By the 1950s, Sartre's ideas and his existentialism became much in vogue for the beatnik generation.
Johnson also describes him as the academic godfather of the numerous terrorist groups that began to arise in the late 1960s.  His work did much to inflame Africa and contribute to its many civil wars and murders.  Also, the hideous crimes committed in Cambodia and the death of possibly a third of that nation can be traced directly to his philosophy. 50
There are many more sad stories of these supposed intellectuals.  It is interesting that many of the ancient Greek philosophers were concerned with morality. Such has not been the case with our modern and postmodern philosophers.  We can now see why God is determined to destroy the "wisdom" of the wise.
WISDOM AND FOOLISHNESS
Where is the wise person? Where is the teacher of the law? Where is the philosopher of this age? Has not God made foolish the wisdom of the world? 1 Corinthians 1:20
Lutheran pastor and commentator, Paul Kretzmann asks: "What has become of all the learned Greeks whose wisdom was praised so highly? Not one sinner has ever been converted by their sayings and writings; not one person has obtained salvation by following their rules of conduct." 51  The early church father Origen (c. 184 – c. 253) said, "The wisdom of this world and the wisdom of God are not the same thing.  God's wisdom is the true one, without any additives to corrupt it.  The world's wisdom is foolish, even though the simplicity of God's wisdom makes those who have it appear foolish in the eyes of the world." 52
One interesting thing about the wisdom of this world is that it simply does not work.  This sort of wisdom didn't work in the lives of the philosophers themselves and it does not work today. Although people today despise it, God's wisdom works.  It has been proven true through hundreds of generations of the godly.  Philosophers are happy to attack God's wisdom and his law. However, we do not see them disputing the law of gravity for instance.  They never try stepping off a four story building in order to dispute this law.  The wisdom of this world is truly foolish and God is showing it up for what it is every day.
"For since in the wisdom of God the world through its wisdom did not know him, God was pleased through the foolishness of what was preached to save those who believe" (1:21).  It is interesting that the Greeks in all their wisdom did not find the true God.  They had a statue to him that was labeled "the unknown god."  Paul was happy to introduce them to this true God.  Unfortunately, in their "wisdom" they were unable to accept him.
God's wisdom is totally unlike man's wisdom.  The prophet Isaiah says, "For my thoughts are not your thoughts, neither are your ways my ways, 'declares the LORD.' As the heavens are higher than the earth, so are my ways higher than your ways and my thoughts than your thoughts" (Isa. 55:8-9).
Humankind could not be reached by so-called wisdom.  God had another plan and that plan was to reach people through the foolishness of preaching.  That is God's way and it is the only way to be saved today.  Here is the simple and seemingly foolish message.  We are all sinners, and thus we are permanently alienated from God. We must repent of our sins and turn from them.  Then in simple faith we must receive Jesus into our hearts, Jesus who is God's true sacrifice for sin.  When we do this, the Bible says that we are saved.  It really does not depend on what we know or what we do.  It is just a simple step of faith.  All this sounds like foolishness to the world, but it is God's way and it is guaranteed to work.
THE STUMBLINGBLOCK OF CHRIST CRUCIFIED
Jews demand signs and Greeks look for wisdom, but we preach Christ crucified: a stumbling block to Jews and foolishness to Gentiles, but to those whom God has called, both Jews and Greeks, Christ the power of God and the wisdom of God. 1 Corinthians 1:22-24
The Jews are a very practical people.  They look for God's work to be verified with miraculous signs (Jn. 2:18; 6:30).  Unfortunately, they expected a messianic deliverer to come with great signs and wonders, and that this messiah would deliver them from Roman subjection.  This caused them to miss the real Messiah who came as a Suffering Servant and who delivered people primarily in the spiritual realm.  Dummelow sums up the peculiarities of the two groups of people: "The Jews will not believe unless a miracle is wrought before their eyes; the Greeks will accept no truth that is not commended by philosophical speculation" 53  The Jews had little interest in speculative thought and the Greeks had little patience with miracles.  Rather, they were prone to consider them as superstition. 54
In the face of both these groups, Jews and Gentiles, Paul preached the simple message of Christ crucified. This was a stumbling block to Jews as we have seen.  The Greek word for stumbling block is skandalon.  It is the picture of a trigger mechanism found on an animal trap. 55  So the cross was a scandalous thing to Greeks and Jews.  The cross was pure foolishness to the Greeks or Gentiles.  Trinity Evangelical professor, Jay Smith, reports: "The Roman historian Tacitus referred to Christianity as 'the pernicious superstition'…The Roman biographer Suetonius called it a mischievous superstition…" 56  "The Greeks and Romans looked on one crucified as the lowest of criminals, so how could such a one be considered a savior?" 57
We should note here that the word "crucified" (stauroo) is in the Greek perfect passive.  Morris says, "not only was Christ once crucified, but he continues in the character of the crucified one.  The crucifixion is permanent in its efficacy." 58   To those who call upon the Lord Jesus and trust in him it is "…Christ the power of God and the wisdom of God."  In his later message to the Romans Paul could say: "For I am not ashamed of the gospel, because it is the power of God that brings salvation to everyone who believes: first to the Jew, then to the Gentile" (Rom. 1:16).
Paul continues saying: "For the foolishness of God is wiser than human wisdom, and the weakness of God is stronger than human strength." (1:25). Paul's statement here is what we call anthropomorphic speech. This is a common way of describing God in Scripture, as having human or personal characteristics.  Of course, God cannot be foolish and it is impossible for him to actually have weakness.  If God could be foolish, his foolishness would be much wiser than the best of human wisdom.  If he could be weak, his weakness would be much stronger than the greatest of human strength.
God, through the foolishness of preaching the gospel, is able to save to the uttermost all those who believe in his Son Jesus.  Chrysostom said: "For the philosophers could not achieve what a few unlearned men accomplished, namely, the conversion of the whole world." 59
FOOLISH THINGS TO SHAME THE WISE
Brothers and sisters, think of what you were when you were called. Not many of you were wise by human standards; not many were influential; not many were of noble birth.  1 Corinthians 1:26
We are not to think that the early church was made up just of slaves and of people in the very lowest orders of society.  There were some Christians who were in the upper classes.  Some of these were people like Dionysius of Athens (Acts 17:34), Sergius Paulus, who was actually the proconsul of Crete (Acts 13:6-12); some noble women of Thessalonica and Berea (Acts 17:4, 12).  There was Erastus, who was probably the city treasurer at Corinth (Rom. 16:23). 60   We remember that some supportive people in Jesus' life were quite well off, like Nicodemus, Lazarus, and others.
However, the early church was primarily made up of common folks, people of the lowest classes and even a considerable number of slaves.  It is reported that Abraham Lincoln once said, "God must love the common man, he made so many of them."  Around the year AD 178, Celsius made a bitter attack upon Christians.  He ridiculed them because they were just common folks.  He said, "We see them in their own houses, wool dressers, cobblers and fullers, the most uneducated and vulgar persons." 61
When we think about it, the common folks of the world have made quite an incredible contribution to the welfare of the human race.  Stedman tells the story of Dr. George Washington Carver, who became an outstanding African-American scientist.  Even in the days of segregation, he somehow managed to become educated. One day he prayed, "Lord, teach me the secrets of the universe."  Carver reported that God said to him, "George, that is too big a subject for you. I want you to take a peanut, that is more your size, and work on that."  Carver began to work on the peanut and he subsequently found over 325 different uses for it.  His discoveries revolutionized southern technology. 62
God has not called many mighty people but he has made a lot of his called ones mighty. We think of David the shepherd boy who was overlooked by the father, but chosen to be king of Israel instead of all his brothers. We think of the little slave girl who helped bring healing to Naaman, the leprous commander of the Syrian army (2 Ki. 5:1ff.). Morris says of these and other miraculous works of God, "It came about because God chose to work his marvels through people who were, from the human point of view, the most unpromising…" 63   Trapp adds, "The eagle and lion were not offered in sacrifice, as the lamb and the dove were." 64
"But God chose the foolish things of the world to shame the wise; God chose the weak things of the world to shame the strong" (1:27).  Clark in quoting Shemoth Rabba says: "There are certain matters which appear little to men, yet by them God points out important precepts. Thus hyssop in the sight of man is worth nothing, but in the sight of God its power is great; sometimes he equals it to the cedar, particularly in the ordinance concerning the lepers, and in the burning of the red heifer." 65  Ambrosiaster (fourth century) once wrote: "The two most "foolish things of the world: are in particular the virgin birth of Christ and his resurrection from the dead." 66
"God chose the lowly things of this world and the despised things— and the things that are not— to nullify the things that are, so that no one may boast before him" (1:28-29). Early 20th century Wesleyan-holiness preacher, William Godbey, tells of an evangelist by the name of Merrit who once met up with a beggar in New York City.  The beggar had just been released from eleven years in the penitentiary and was without friends or help.  Merrit told the man how fortunate he was being a nobody, because that was exactly the kind of person the Lord wanted to save.  As Merrit witnessed to him, the beggar was brought to tears and then finally to a full salvation.
Armed with his new faith the poor beggar went out looking for a job.  When one employer asked of his recommendation he was forced to say that he had none.  Attempting to explain, the beggar said, "I was eleven years…"  But before he could get the sentence out, the prospective employer interrupted saying, "If you have followed any business eleven years, I will take you in."  So the poor beggar had his job and discovered to his glee that his employer was also a Christian. Sometime later, when the beggar tried to explain his boss said, "the Holy Ghost moved me that moment to stop you so that you could get a job; for if I had known that you were just out of eleven years in the penitentiary, I would not have touched you with a forty-foot pole; but now I want you to stay with me eleven years." 67     God not only has a simple gospel but he so often uses simple people to proclaim it.  In doing so he confounds the wisdom of the wise. The Lord once said to the proud leaders of Israel, "…What people value highly is detestable in God's sight" (Lk. 16:15).  Conversely, some things people detest are highly valuable to God.
OUR WISDOM, RIGHTEOUSNESS, HOLINESS AND REDEMPTION
It is because of him that you are in Christ Jesus, who has become for us wisdom from God—that is, our righteousness, holiness and redemption. 1 Corinthians 1:30
The wisdom of God that he freely gives us is not just some secret knowledge but it is a person, Jesus Christ.  We see wisdom personified in Proverbs 8:22-31, and we see it more clearly in Colossians 2:2-3.  Paul speaks of Christ, "in whom are hidden all the treasures of wisdom and knowledge" (Col 2:3). 68
Jesus is many other things to the believer.  He is our righteousness. Jeremiah speaks of Jesus saying: "In his days Judah will be saved and Israel will live in safety. And this is the name by which he will be called: 'The LORD is our righteousness'" (Jer. 23:6 NRS). When we put on the breastplate of righteousness, we are really putting on Jesus (Eph. 6:14).  The truth is that we have no righteousness of our own.  It is all in him.  Chrysostom once said: "He gave us Christ so that we should never need anything else for our salvation." 69
The Lord is also our holiness or our sanctification.  We have that sanctification instantly when we are born again into the Kingdom of God (1 Cor. 6:11).  This is known as positional sanctification.  However, there is a progressive sanctification that should be an ongoing thing in the life of the believer (cf. Jn. 17:17; Eph. 5:26; 2 Cor. 7:1).  At last, there is a prospective sanctification, that will only be complete when the Lord returns and changes our mortal bodies to the immortal ones (cf. 1 Thess. 5:23; 1 Cor. 15:52). 70
At last, the Lord Jesus is our redemption.  This word, apolutrōsis, is taken from the slave markets of old.  It has the meaning of being bought with a price or released.  In a real sense we were bought from the slavery of sin and released into the freedom of God's children. 71
"Therefore, as it is written: 'Let the one who boasts boast in the Lord'" (1:31).  Here, Paul quotes from Jeremiah 9:23-24.  People today are boasting in a lot of things, like their education, their experience, their wealth, and their jobs.  As Christians we dare not boast in any of these things because they are all passing away.  If we are to boast we must boast in the Lord Jesus.  He will abide with us when all else has turned to dust and ashes.  He will abide with us forever.